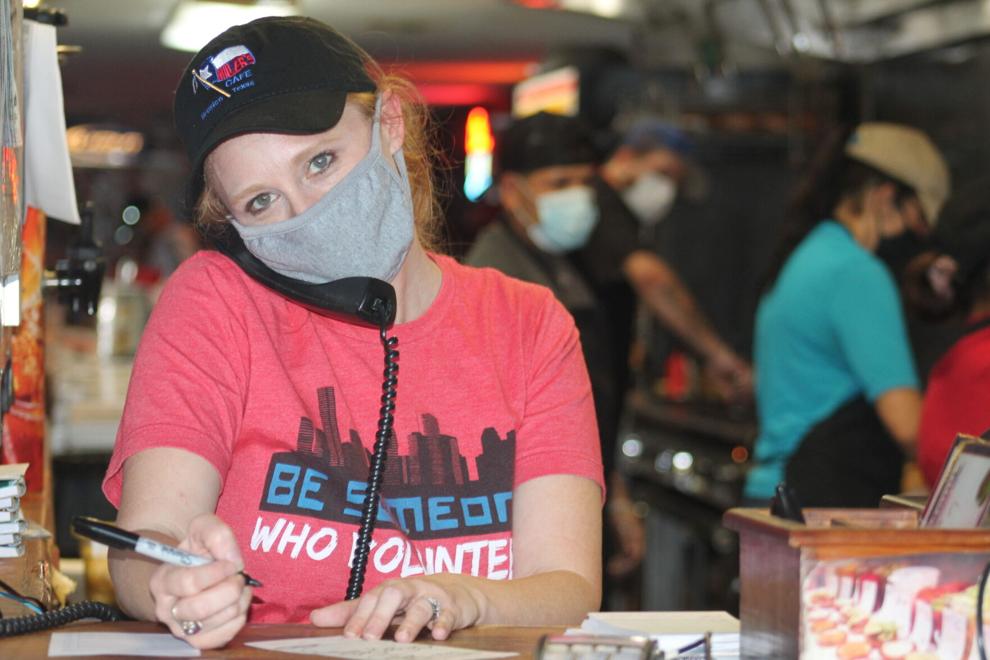 Miller's Café was called out and criticized last Saturday night, when a group of demonstrators stood outside the front entrance, waved flags and chanted in protest of the restaurant's mask-wearing policy.
Two days later, the popular Garden Oaks burger joint was the center of the city's attention and overwhelmed with support from longtime customers as well as some new ones.
Miller's co-owners John White and Jessica Beer said their Monday sales were about triple what the restaurant typically makes, thanks in large part to a planned visit by Houston Mayor Sylvester Turner, who had seen video of the weekend protest and asked Houstonians to join him in supporting the local business with a total of four locations in the region. Houston City Council member Abbie Kamin also patronized the Miller's location at 3830 N. Shepherd Dr., which is part of the district she represents, and so did former Houston Rockets star Robert Reid.
Beer said another customer, who didn't want to visit the restaurant because he's at high risk for complications from COVID-19, called in to leave a $50 tip without even placing an order.
"We've been in tears today. It's been so amazing," Beer said late Monday afternoon. "There's some crappy people in the world and some people that are pretty stupid, like the guys in front of our restaurant Saturday night. With this experience (Monday), it just shows how many more good people there are in this world. It's beautiful."
Citing video footage and the accounts of staff members, White said about 25 people approached the restaurant at around 6 p.m. Saturday, Jan. 2. He said two walked in without wearing masks, even though restaurant patrons are required to wear masks when not in the act of eating, per executive orders by Texas Gov. Greg Abbott and Harris County Judge Lina Hidalgo that are aimed at slowing the spread of COVID-19.
When asked to put on masks by the restaurant cashier, White said, the two people said everyone in their group had a medical issue that precluded them from having to wear masks and that, "By us forcing them to wear masks, we were taking away their constitutional rights." White said an argument ensued between his cashier and the would-be customers, who were asked to leave and then began protesting outside with the rest of the group.
White said the group later moved next door and protested outside of Life Savers Emergency Room at 3820 N. Shepherd Dr. His wife, Beer, said some of the protesters were holding either United States flags, Donald Trump flags or Mexican flags.
"My best guess is they were a group of people that were maliciously out looking to start a fight," White said. "It didn't matter if it was us or another business down the street. I think they were trying to find a location to pick a fight and do their thing."
Kamin, who said she is a big fan of the sweet potato fries at Miller's, called the incident "unfortunate" because the restaurant is attempting to keep its employees and customers safe. Turner, who ordered a hamburger with no onions and extra pickles and tomatoes, said, "This foolishness has to stop. Put on your masks. The pandemic is still very much here."
Gerolyn Cole, a Heights-area native and longtime customer of Miller's Garden Oaks location, which opened in 1991, echoed those sentiments. She wore two layers of masks while picking up a to-go order Monday afternoon.
Cole said she decided to get Miller's for lunch after hearing about the weekend protest.
"COVID is real. It's not some kind of manufactured disease or anything," she said. "I wear the masks, not only for my protection and health, but for others as well. I don't want to be the reason why somebody else is getting exposed, because you don't know how it impacts you."
Amy Miller, who does not live in the area and had never eaten at Miller's, said she decided to try it after hearing about what had happened over the weekend. Even before her order was ready, she vowed to be a return customer.
"I stand in solidarity with people who have common sense and have some care about their fellow man," she said.
Beer said Miller's is "eternally grateful" for all its customers, especially after what has been a difficult year. She and White said the business struggled shortly after the local onset of the pandemic in March and the social distancing restrictions that followed, which required restaurants to initially close their dining rooms and then to limit dine-in capacity to a fraction of their building occupancies.
White said Miller's had to lay off six employees, reduce its inventory and temporarily close its location in the downtown tunnels, which he said he hopes to reopen later this month. He said the restaurant likely would not have survived without receiving loans through the Paycheck Protection Program and Small Business Administration.
Sales have recently climbed to about 75 percent of their pre-pandemic levels, White said, so Miller's can see brighter days ahead. Monday was especially encouraging, when the local eatery enjoyed the support of an entire city.
Turner said it's important for Houstonians to patronize small businesses such as Miller's. He also said he wanted to show last weekend's protesters that they were outnumbered and ineffective.
"It's too cool. This is a blessing in disguise," Beer said. "It's a shame what happened. It's a shame people are out there doing this kind of thing. But in the bigger picture, it's pretty amazing for people to be so kind."