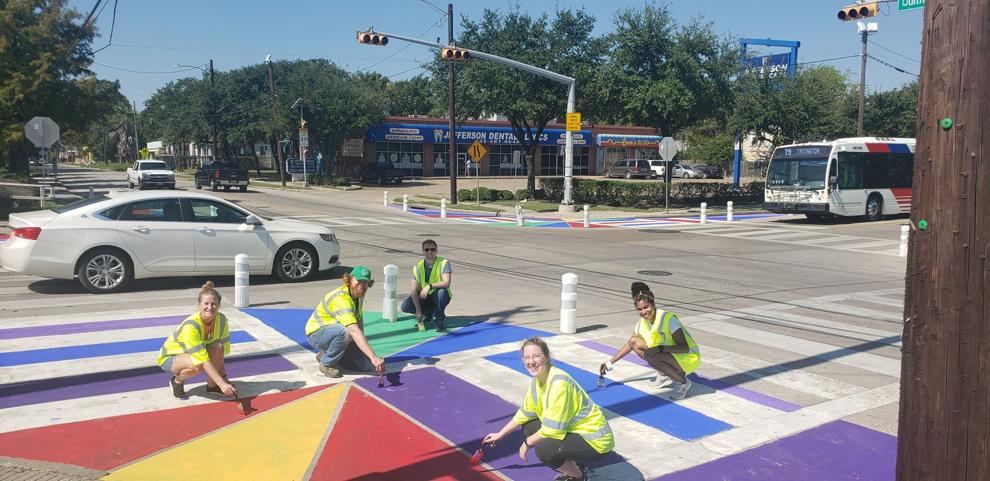 The crosswalk markings already were there. So were the rings of small plastic barricades that surround each corner of the intersection of Quitman and Fulton streets, providing cyclists and pedestrians with some protection from a steady stream of motorists.
To further distinguish the space for walking and riding from the area dedicated for drivers, representatives of Houston Public Works and the Houston Planning & Development Department spent the morning of Oct. 8 working as much as street artists as traffic engineers. They filled in the buffer zone for pedestrians and cyclists with brightly colored paints, creating somewhat of a kaleidoscope effect with blue, green, purple, red and yellow.
"We wanted to add a little more definition in places around the corners," said Ian Hlavacek, a managing engineer for the city who took part in the painting project. "We could have done that a lot of different ways, but figured we'd do it creatively and add some paint for the neighborhood.
"We're really trying to define that area as a place not to drive," he added. "Most people were getting that message already, but this further establishes that."
Adding splashes of color to a gray slab of concrete is a temporary feature and part of an ongoing transformation of a well-traveled intersection in the Northside neighborhood. Construction for the Quitman Corridor Partnership Project is expected to take place next year, when bike lanes, ADA-accessible sidewalks and ramps, landscaping and streetlights will be installed along Quitman between Houston Avenue to the west and Elysian Street to the east.
The project is a joint initiative by the city, METRO, Harris County Precinct 2 Commissioner Adrian Garcia and the Greater Northside Management District, with the idea to promote multimodal transportation and provide increased connectivity to Houston's expanding trail network. A virtual community meeting about the project is scheduled for 6 p.m. Tuesday, Oct. 19, with meeting and project information available at http://www.greaternorthsidedistrict.org/QuitmanCorridor.shtml.
"It's going to become a one-of-a-kind, elite project for the city," said Anibeth Turcios, the deputy director of the Greater Northside Management District. "It'll definitely be an enhancement. That has been the biggest priority in terms of safety and pedestrian enhancements for us."
In the meantime, the intersection of Quitman and Fulton has become a testing ground of sorts for city traffic engineers, with Hlavacek saying they wanted to make it safer while also providing community members with a preview of what's to come. The traffic signals there starting flashing red last December, according to Turcios, who said the city initially placed orange, water-filled barricades where the aforementioned plastic bollards are now located, with those having been installed in July.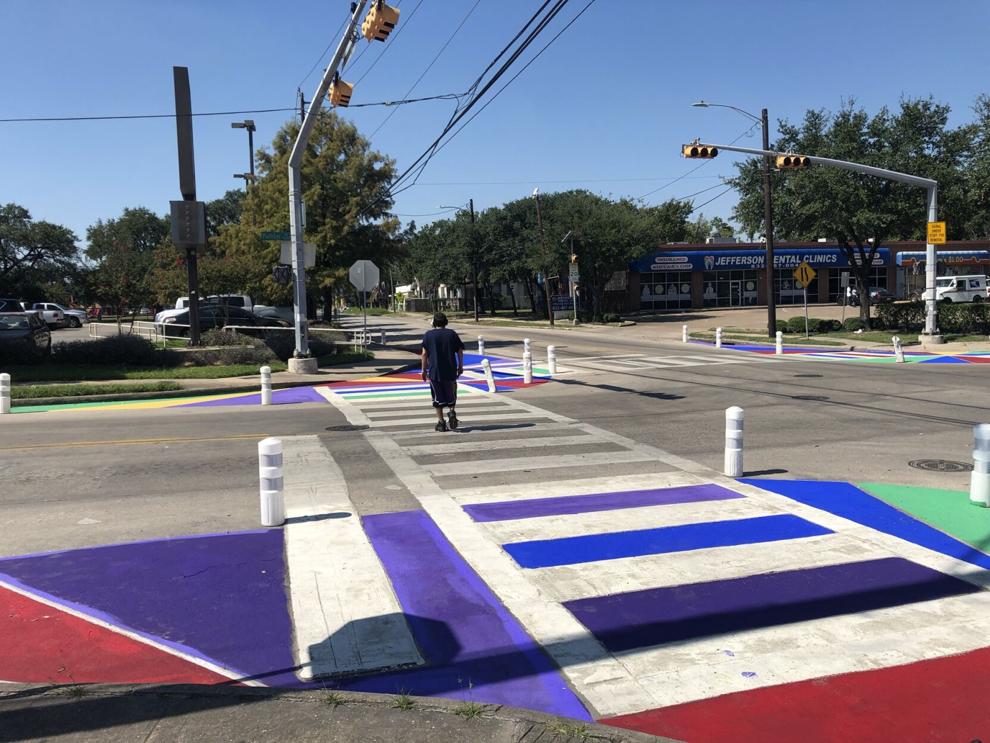 Converting an intersection from one with green, yellow and red traffic signals to a four-way stop is unusual, according to Hlavacek, who acknowledged that the changes have been met with mixed reactions from residents. A community member wrote on Twitter that some pedestrians feel less comfortable crossing the intersection without the traffic signals, because they view motorist movements as less predictable with that configuration, and Turcios said drivers have expressed dissatisfaction with having to stop at the intersection.
"The change from it being a traffic light is not particularly popular as most people don't understand why it has changed," another Northside resident wrote on Twitter.
Hlavacek said the idea was to slow down vehicular traffic, and the changes have been effective in that regard. Turcios said she's noticed that drivers approach the intersection – where there is one lane going in each direction – more slowly and cautiously.
The buffer zones created by the bollards, which are now marked with bright colors, also significantly reduce the crossing distance for pedestrians and the amount of time they spend in conflict with vehicles, according to Hlavacek. He said the crosswalks are about 50 feet long from curb to curb, and the buffer zones, which extend about 15 feet into the street from each end of the crosswalks, cut the effective crossing distance by more than half.
Hlavacek said the work was relatively inexpensive, too. He said the city spent "a couple thousand" dollars on the bollards and a "couple hundred" on the paint.
"It's a cheap but effective solution right now, because we know something nicer is going to be coming," he said.
As for how colorful paint job has been received by residents, Hlavacek said the initial feedback on Oct. 8 was mostly supportive, although one longtime community member grumbled that the intersection "looks like a circus."
Turcios said it's been a talking point and a welcome addition to the neighborhood, which recently unveiled a mural that depicts flowers, a sunny sky and the image of late Judge Alfred J. Hernandez at the south entrance of the tunnel that's named after him.
"Art is definitely a big component of some of the beautification efforts we do," Turcios said. "It makes it to where more tourists or residents themselves or patrons from businesses take pictures and come and visit again, because they enjoyed the visit."