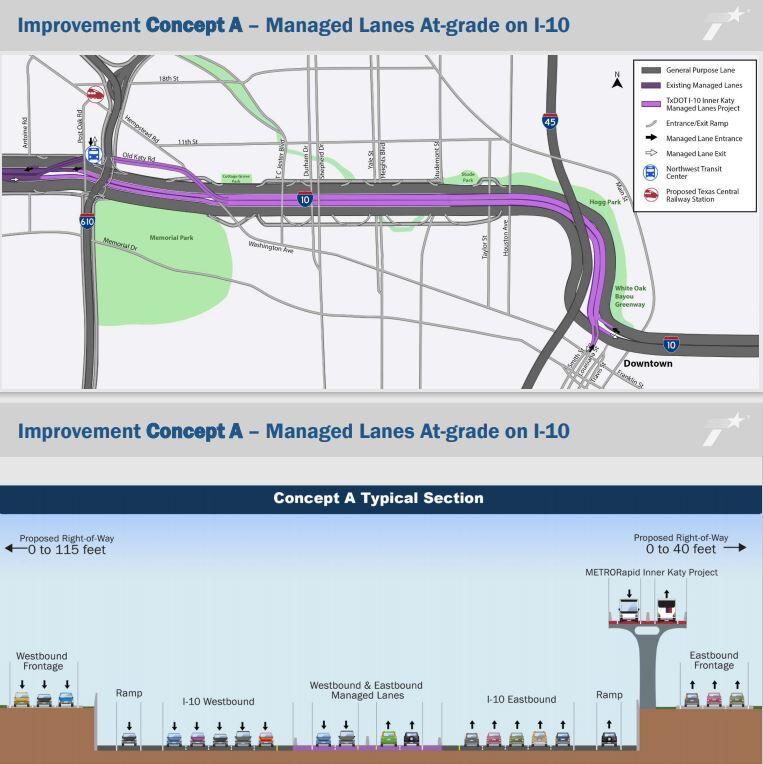 The public input period is open until March 12 for a proposed infrastructure project aimed at increasing mobility and connectivity on the stretch of Interstate 10 that runs through the Greater Heights.
During a Feb. 25 virtual public meeting for the I-10 Inner Katy Managed Lanes project, which covers the stretch of freeway from Loop 610 to the west and I-45 to the east, the Texas Department of Transportation (TxDOT) said the earliest construction could begin would be early 2027. TxDOT is presenting three potential design concepts that call for increased lane capacity for high-occupany vehicles, including elevated bus lanes.
Construction funding has not yet been identified yet, according to TxDOT's presentation, so the timeline for the project is subject to change depending on fund availability.
The process of public involvement and developing potential alternatives based on feedback would continue through 2023, and TxDOT's right-of-way acquisition and the environmental clearance process would take place from 2023-27.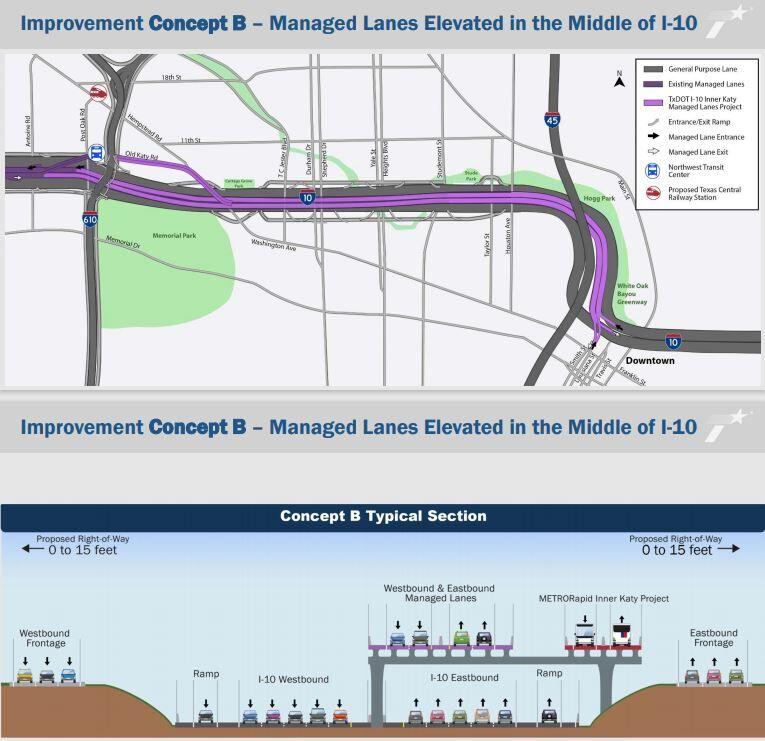 TxDOT said the project is needed as the region continues to experience significant population and job growth. Population is expected to grow to 10.6 million, with jobs expected to grow to 4.7 million by 2045, according to TxDOT. In 2019, the peak hours' demand for I-10's current capacity of 10 general-purpose lanes was 22,000 vehicles per hour, according to TxDOT – which exceeds the current capacity of the lanes. That is expected to grow to 31,000 by 2045.
As growth continues, TxDOT said that will lead to greater demand on the freeway system that links residential communities to job centers.
"If changes are not made to address the growth in traffic demand, the result will be a steady increase in congestion on I-10," TxDOT said.
Traditionally, expansion would entail involve adding lanes in either direction on I-10. However, TxDOT said that avenue would require acquiring additional right-of-way on both the north and south sides of I-10, impacting nearby properties such as businesses and Memorial Park. It also would not address the 6-mile gap TxDOT said exists in the network of managed lanes between the Northwest Transit Center and major activity hubs.
TxDOT's three proposed plan options would each connect managed lanes from the current terminus of the I-10 Katy Freeway to Downtown Houston and provide connectivity to other high-capacity systems.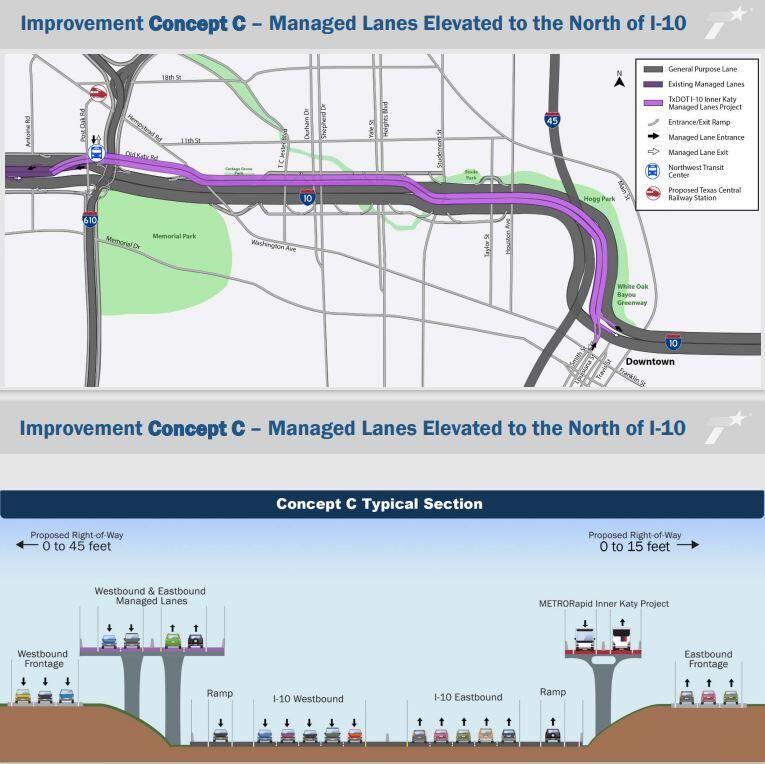 "By providing solutions that are focused on high-capacity modes of travel, increased growth can be accommodated with fewer additional lanes on I-10," TxDOT said.
TxDOT is accepting public comment on the proposed plans for a subsequent summary report. All comments must be submitted through the project website's virtual meeting at https://www.txdot.gov/inside-txdot/get-involved/about/hearings-meetings/houston/022521.html, via email at hou-piowebmail@txdot.gov or by mail to TxDOT Houston District, Public Information Office, P.O. Box 1386, Houston, TX 77251.