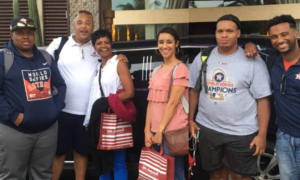 Drevian Nelson already had a father in his life, but he didn't mind having another. That's partly because he was still grieving the loss of his mother, who died of breast cancer in 2011, when he met Daryl Wade three years later.
Wade, a Waltrip High School graduate and the director of the Houston Astros Youth Academy, took an interest in Nelson when he joined the academy as a 14-year-old in 2014. Wade helped train Nelson on the baseball field, where he later was drafted out of North Shore High School by the Los Angeles Angels, and also taught him lessons off the field.
Wade helped Nelson channel his emotions and fine-tune his thoughts en route to winning the Breaking Barriers Essay Contest, administered by the Jackie Robinson Foundation, during the 2018 RBI World Series in Cincinnati. Wade has continued to serve as a mentor since Nelson became a professional baseball player, keeping in regular contact with Nelson and offering advice about exercise and nutrition, how to handle his money and how to be a good citizen.
Nelson said his experience with Wade is not unusual among pupils of the youth academy, which launched in 2010 and serves more than 10,000 kids from across the Houston area.
"He's always been there, always makes sure everybody's good. He calls and checks up on us every once in a while," Nelson said. "He gives everybody that father figure that some of us don't really have coming from different parts of the community."
Wade, 61, who grew up in the Acres Homes and Inwood Forest areas, is being highlighted on Father's Day by the Texas Council on Family Violence (TCFV), which is recognizing a handful of male role models across the state. His professional role as a molder of young men was a factor for Wade, this year's lone honoree from Houston, but TCFV CEO Gloria Terry said the tenets of his personal life also made him deserving.
Wade and his wife, Euletha, have four adult children as part of a blended family – they had two kids apiece in previous marriages – but the word "step" is not part of their household vernacular. One of Wade's three sons said he taught them all about the importance of respecting women and practicing chivalry on dates, such as opening doors and pulling out chairs.
Terry said Wade first caught the council's attention when he spoke during a domestic violence awareness event at Minute Maid Park last fall during the World Series. Terry said Wade shared a "powerful" story about witnessing instances of domestic violence when he was in college, and initially wanting to punish the abusers, before his college baseball coach intervened and convinced Wade that more violence was not the solution.
"Daryl Wade embodies everything that we would want to point to," Terry said. "If we want to change the landscape and we want to elevate good men who make an impact, this is a good person to highlight."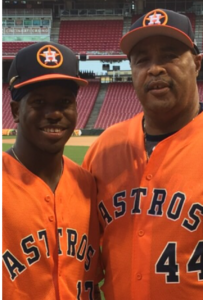 Wade considers Independence Heights native Joe Fonteneaux, his college coach at historically black Paul Quinn College in Waco, as a father figure for him. Wade said Fonteneaux taught him the importance of taking interest in players' personal lives and prioritizing education over athletics, which helped the Paul Quinn players develop a special bond with each other and their coach. The players reunited every summer for 28 consecutive years, and in 2013 they all offered to provide a kidney to Fonteneaux when he needed a transplant.
Wade said he tried to foster that sort of camaraderie as a high school coach at Devine and Aldine Nimitz and later as athletic director for Aldine ISD and then Houston ISD from 2007-10. He then helped start the Astros' youth academy, where he said his chief objective is to develop "major league citizens" and help kids get to college.
The youth academy, which has its headquarters at Sylvester Turner Park in Acres Homes, provides free baseball and softball instruction, league play and character-building curriculum to youngsters from all backgrounds from all parts of the city. In February 2019, Wade said there were more than 150 products of the academy who were playing college baseball or softball on athletic scholarships.
Twila Carter, who oversees the youth academy as the executive director of the Astros Foundation, said Wade's pupils are just as presentable as they are successful. She said they usually are the best-dressed team when they travel, which she attributes to Wade's leadership.
"Daryl Wade is one of the finest individuals I've ever known," Carter said. "He's just a great, good Christian man. Kids and education are his passion."
Wade said he's proud of his Father's Day recognition and credits the support of his family while growing up in the area. His mother was a teacher who had a stint at Oak Forest Elementary.
He's also proud of his children. Patrick Campbell is an educator in Aldine ISD, Patrick Wade works for the Harris County Sheriff's Office, Desherria Campbell works in human resources and D.J. Wade has a criminal justice degree and works in risk management for a major hotel chain.
"My dad has always been there for us," D.J. Wade said. "Basically, wherever we wanted to go, he would make sure we get there. He would make sure that whatever we needed, we got it."