Dear Tabby,
We are new boat owners and we would like to start taking our dog out on the boat with us. Any tips for keeping her safe and happy while on the boat?
Boat Enthusiasts in Brooke Smith
Dear Boat Enthusiasts,
It's almost officially summer and with summer comes longer days and more time spent on or near the water. If you have a boat, you will undoubtedly enjoy time on the water this summer and bringing your favorite pet along can only add to your enjoyment. However, boating with dogs has its own set of health and safety matters to consider.
Let's go over a short list of what you might need to remember when taking your dog with you on the boat.
Life Jacket
You probably already have life jackets for the humans who will be riding on your boat, but did you know that your dog could benefit from having a life jacket too? Even if your dog is a strong swimmer at the shoreline, when out in the middle of a large body of water, all bets are off. And, adding to that equation are boat wakes and debris in the water--your dog could have real trouble swimming if she goes overboard. Make sure to get a life jacket that will be comfortable for your dog, ideally brightly-colored so that you can easily spot her if she goes in, and that fits properly.
Sunscreen
Yes, there is sunscreen especially formulated for dogs and your dog could probably use some on her ears, nose and other vulnerable areas of her body. The sun's rays can be even more intense on the water, so be sure to keep your dog covered so that she doesn't get a painful sunburn.
FIrst Aid Kit
Have a first aid kit handy in case your dog needs bandages, antibiotic ointment or even motion sickness medication (generally vets recommend 2 to 4 mg per pound of your pet's body weight of medications such as Dramamine--but please check with your vet first to make sure that it's safe for your dog).
A Leash
While the leash is the first thing you grab when going on a walk with your dog, you might not think to bring it along on the boat. But you will need the leash when taking your dog for much-needed potty breaks during a day of boating. Even though humans can (ahem) find alternative places to potty while on the open water, dogs still need a good patch of grass, so plan your boating trip so that you have land-lubber potty breaks scheduled throughout the day.
Fresh Water and Shade
Please make sure that your dog has plenty of places to escape from the harsh rays of the sun while on the boat. Also bring plenty of drinking water for your dog. Don't rely on your pooch drinking water from the lake--that can cause her stomach to get upset.
Enjoy your boat and keep your dog's health and safety in mind when planning time out on the water this summer! "Baby step" your dog into the boating life and don't hesitate to leave her at home if it doesn't seem like she will enjoy it.
Do you have a question for Tabby? Email her at deartabbyquestions@gmail.com.
Pet of the Week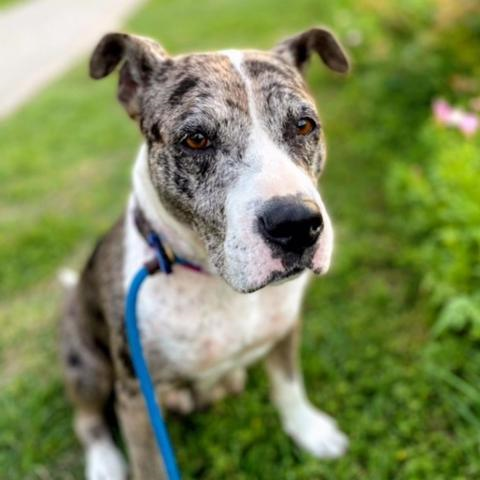 Meet Potbelly (AKA Belle). Potbelly is a 2.5-year-old bulldog mix who showed up in rescue with a belly full of puppies (hence her name). Potbelly was a good mama, but now she's ready for her new life to begin. Potbelly is sweet, calm and loveable and would likely do well with kids as well. Cats are probably a no-go for Potbelly though. To learn more about Potbelly, go to: www.k-9angelsrescue.org.