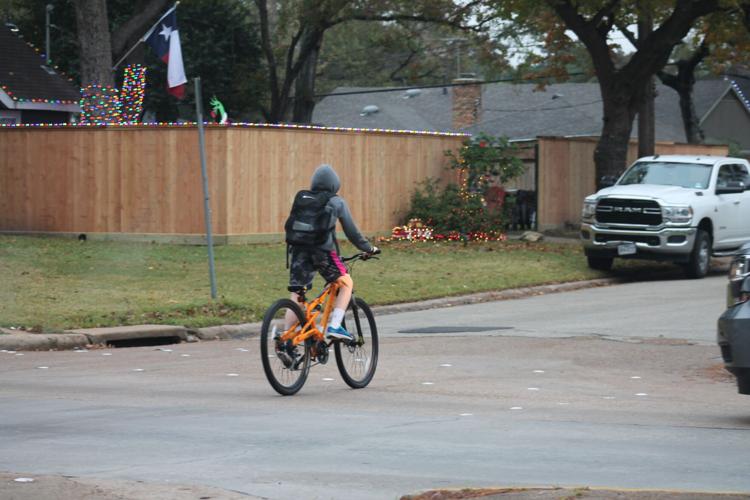 Stella Stevens' oldest daughter is part of a group of Frank Black Middle School students who ride their bikes together to and from campus. There is safety in numbers, but the number of vehicles that cross their path is cause for concern.
To make it from their home in Candlelight Plaza to the school at 1575 Chantilly Ln. in Oak Forest, Stevens' daughter and her classmates have to cross a pair of four-lane thoroughfares in Ella Boulevard and West 43rd Street. The best place to cross Ella is at its intersection with Thornton Road, but doing so is not exactly easy.
Stevens said the traffic signal for travelers along Thornton can stay red for several minutes unless a car or truck approaches the intersection and trips the sensor underneath the street, prompting the light to turn green.  A few kids on their bicycles do not weigh enough to be recognized by the sensor, Stevens said, and there have been recent incidents in which the students decided to stop waiting and crossed the intersection even though the light remained red.
She said there even was an instance when a fellow mother blocked traffic on Ella so the kids could cross.
"One day I was behind them, and the kids eventually just crossed," Stevens said. "I was like, 'Oh my God, I know there's no traffic, but it's totally not safe.' You never know what's going to happen."
Fortunately for parents of school-aged children who live in Candlelight Plaza as well as nearby Shepherd Park Plaza and Garden Oaks, crossing Ella should not be as tricky once school resumes in January for the spring semester. The City of Houston has promptly responded to their request for pedestrian traffic signals at Ella and Thornton and also is in the process of installing them at the intersection of Ella and Wakefield Drive, which is further to the south and similar in orientation.
Houston Public Works spokesperson Erin Jones said Tuesday that the pair of pedestrian signals, which will allow walkers and cyclists to activate the crossing signals by pressing buttons at the intersections, are expected to be installed and activated before the end of December. The work will cost the city a total of $25,000, Jones said.
While the project was initiated by requests from parents of Frank Black students, it also could benefit students of nearby Oak Forest Elementary and Waltrip High School. There also are private schools and churches a little to the northwest of Frank Black along West 43rd.
"We're putting in those signals to help children cross the street safely to get to school," Jones said.
Stevens and Heidi Skiff, another Frank Black parent who lives in Candlelight Plaza, said they are pleasantly surprised the city has reacted so quickly to the neighborhood's concerns. Stevens said a group of parents submitted 311 requests to the city earlier this fall, triggering a traffic study by public works, and Skiff said she followed up by sending an email to Houston City Council member Abbie Kamin on Nov. 20.
According to Kamin's office, its director of constituent services, Ngan Nguyen, then coordinated with public works and helped to expedite the project. A plan was in place by Dec. 4, and last weekend the city began working to replace the electrical conduit at the intersection with a larger one that can accommodate the pedestrian signals in addition to the existing traffic signals.
"In my experience with other things, things go fairly slowly with the city," Skiff said. "That's where I feel like Abbie Kamin's office was very instrumental in kind of bringing this to light and expediting the request to actually get the work done. I was very impressed."
A spokesperson for Kamin's office said public works' traffic study after the 311 requests initially determined that the intersection needed a complete reconstruction, which would have to be done through the city's Capital Improvement Projects program and would come with a much more extended timeline. So Nguyen requested the pedestrian-activated signal as a more immediate solution.
To help ensure the fulfillment of other public safety requests from the community, Kamin encouraged residents to report issues through 311 and then contact her office to follow up.
"Safety is top priority for my office and our District neighborhoods," said Kamin, who represents the area as part of District C. "… I'm glad we were able to move quickly on this opportunity to make a positive change and improve safety."
Frank Black parents and stakeholders also have requested a traffic signal at the intersection of 43rd and Chantilly, which is at the northwest corner of the campus. There is a school crosswalk sign there as well as stop signs for drivers on Chantilly, but no other traffic-control measures.
Jones said public works is in the process of conducting a traffic survey at that intersection, which is now a point of emphasis for the parents who pushed for the pedestrian signals along Ella. In the meantime, Skiff said she's glad to know their concerns were heard and a solution to some of the problematic spots is on the way.
"It's a huge relief, because I think it's important for these children who are now in middle school to have some independence and be able to ride themselves to school and home from school," Skiff said. "But as a parent, having kids riding in a big city, you want to make sure they're safe."