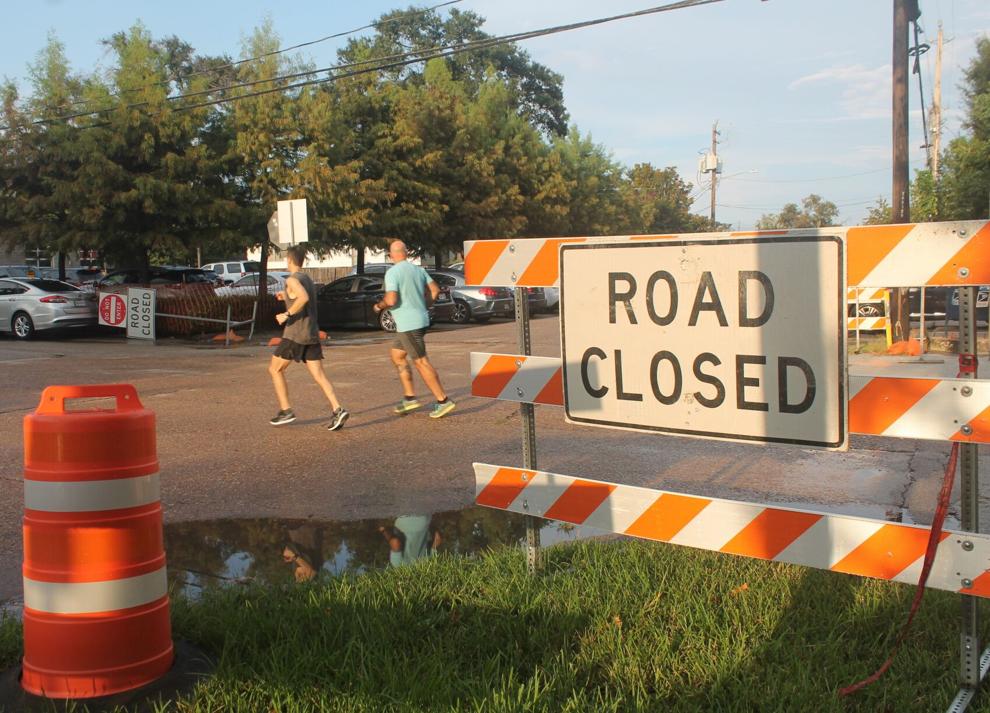 A few years from now, Garden Oaks and Shepherd Park Plaza residents who live a little bit east of Ella Boulevard should have smoother streets with better drainage capacity and more room to operate – by car, by bike and by foot.
In the meantime, though, they might not like dealing with construction and street closures. Many residents and businesses in the area will temporarily lose running water and access to their driveways, and some must permanently part ways with trees on their properties.
The City of Houston and one of its contractors began construction this week on Phase 2 of the Garden Oaks-Shepherd Park Drainage & Paving Project, a three-pronged initiative that aims to reduce structural flooding risks in the neighborhoods while improving road and sidewalk conditions.
The area to be overhauled includes parts of Golf and Wakefield drives as well as Chamboard Lane to the north, with the work slated to be done in sections and completed by the fall of 2023.
"The bad news is because this is construction, there will be some inconveniences," Houston Public Works' Kenya Williams told residents during a virtual public engagement meeting held Aug. 26. "The good news is they are only temporary."
The cost of Phase 2 construction is $23.7 million, according to the city, and the work will cover 21,626 linear feet of storm sewer capacity, 16,560 linear feet of new sidewalk, 5,500 feet of water lines and 3.37 miles of new pavement.
Construction is starting on Golf between the southern edge of Garden Oaks and West 41st Street to the north, along with the 900 block of Wakefield, which is between Golf and Alba Road to the east.
That block features popular bars, breweries, distilleries and other businesses and saw significant flooding during Tropical Storm Imelda in 2019 – less than a year after the first phase of the project was completed immediately to the east and north.
As a result, that stretch of Wakefield was added to the second phase at the urging of Houston City Council member Abbie Kamin, who represents the area as part of District C. It will be repaved and receive new drainage infrastructure like the other streets included in the project, along with curbs, gutters and 5-foot-wide sidewalks on either side of the road.
New sidewalks also will be installed in the Shepherd Park Plaza portion of the project, but not in other parts of Garden Oaks, which is keeping its open-ditch aesthetic at the request of the neighborhood.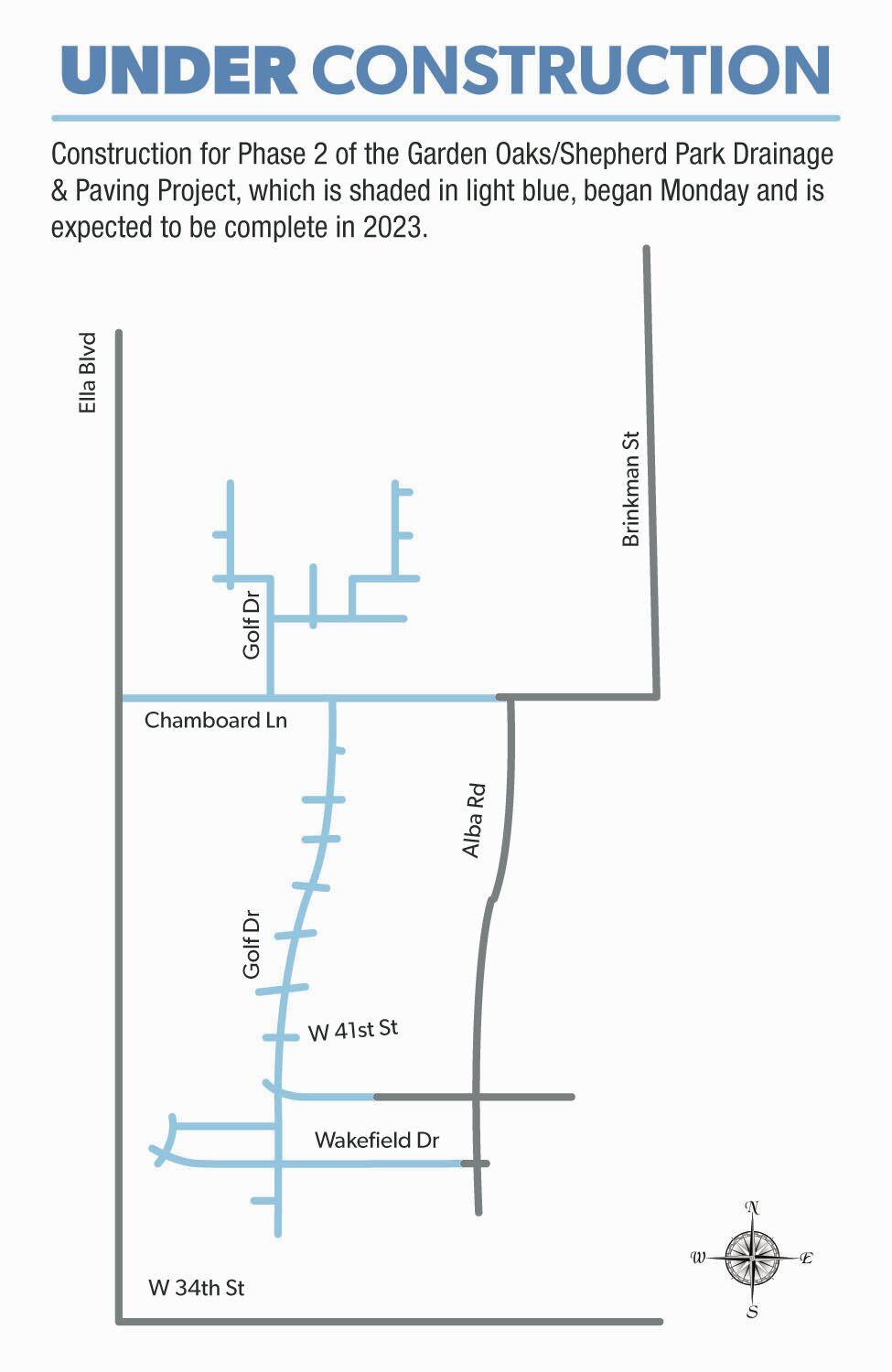 Phase 3 of the project, which will include the eastern part of Shepherd Park Plaza as well as the southeast part of Garden Oaks – the eastern part of Wakefield along with stretches of West 43rd Street and Sue Barnett Drive – is in the design phase and does not yet have a construction timeline.
"We have to continue to push hard for additional flood mitigation for the district, full stop," Kamin wrote in an email. "We've made great progress but are not out of the woods and with increased development in some areas, including Greater Heights, we're seeing additional flooding."
What to expect
Garden Oaks Civic Club president Tonya Knauth thanked Kamin for pushing for the inclusion of the well-traveled Wakefield block and said she hopes the neighborhood's overall flooding risks decrease after the completion of Phase 2.
She also said she's glad Golf, a popular through road pocked with potholes, is getting a facelift in the form of new pavement and 12-foot by 10-foot concrete culverts underneath the road.
But Knauth, who lives along Golf, acknowledged that the area will be difficult to navigate during construction.
Representatives from Houston Public Works and Total Contracting Limited, which has been enlisted by the city, said during the public engagement meeting that street and intersection closures will be needed.
They also said every resident and business in the project area will briefly lose water at some point and will not be able to access at least part of their driveways for a period of 21 days.
"I'm optimistic that they're going to work with people," Knauth said. "But I guess it's going to be challenging."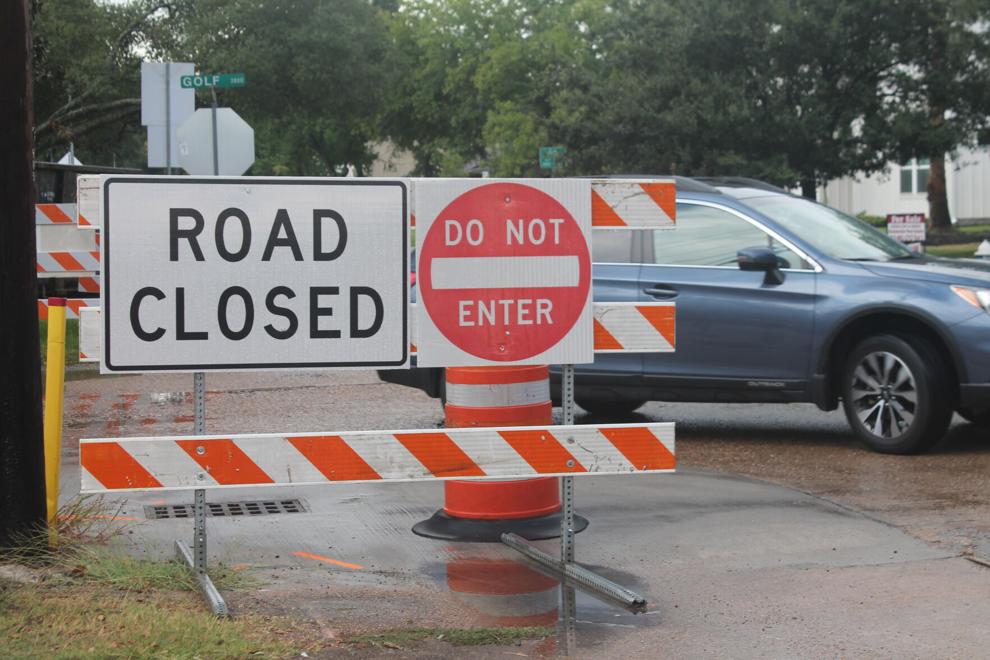 Parmjit Kang, a managing engineer for public works, and contractor Maher Matta both said they would be receptive to community members' individual needs and would try to accommodate them in terms of minimizing tree removal as well as impacts to driveways and front yards in the city's right-of-way.
For example, Matta said temporary driveways could be created on a street that's under construction, or residents with driveways wide enough for two vehicles could have only one half repaved at one time.
He also said the construction team will work with businesses to schedule water shutoffs at times that will have a minimal impact on operations.
"Please reach out to the project team. Let us know what your needs are," Matta said. "We will try to do our best to accommodate as much as we can."
Impacted residents and businesses are encouraged to contact Matta at 713-501-3771, public works project manager Ismat Ara at 832-395-2394 and public works inspector Charles Jones at 281-382-7971 with requests or concerns.
Additional contacts and more information about the project are available online at engagehouston.org.
City representatives also encouraged community members to take photos of pre-construction conditions on their properties to ensure that any damage can be repaired once the construction work is complete.
"We saw some evidence of those kind of issues when the first phase of the project came through," Shepherd Park Plaza Civic Club president Jesse Yoburn said. "Some people had to kind of fight with the city to get their yard restored."
Yoburn said those problems were ultimately resolved, though, and he said the neighborhood was generally pleased with the results of the first phase of the project.
Knauth said she also expects to see benefits to the community once the work is complete, even if it's a hassle while it's ongoing.
"Most of us in Garden Oaks have experienced a remodel or construction project. We get it," she said. "It's not easy to live through, but the end result is hopefully going to be a major improvement."