Dear Tabby,
Our house gets stinky from our dog. I don't like to use a bunch of chemicals in the home to clean, but I am at my wit's end trying to keep our house from smelling like dog all of the time. Any tips of safer ways to de-funk our dog house that don't include lots of chemicals and/or candles?
De-funking Dog House in The Heights
Dear De-Funking,
To love a dog is to also be willing to put up with the less-than-savory odors that often come along with them. In addition to keeping your dog clean and washing his or her bedding often, there are a few ways to keep odors at bay without introducing toxic chemicals into your home.
Many conventional cleaners and air fresheners that are on the market contain VOCs (volatile organic compounds), which are dangerous to both humans and animals. VOCs have been known to cause irritation of the eyes, nose and throat in animals and humans as well as cause cancer. For these reasons alone, it's important to consider what you're using to clean and deodorize your home for the health and safety of both you and your pets.
The good news is that there are natural, homemade solutions that are a breeze to mix up that can help to de-funk your home.
All-natural air freshener
Instead of reaching for a store-bought air freshener, mix up a batch of all-natural air freshener.
Using a spray bottle combine the following:
- 12 drops of essential oils (use whatever scent your prefer)
- 2 cups of water
- 3 tablespoons of rubbing alcohol
Use this solution to spray on bedding, blankets or in the air to help freshen the air in your home.
Help for stinky carpet
If you have carpets that could use a scent boost, simply mix together the following and put in an old shaker bottle (a recycled parmesan cheese shaker is great for this!). Boom! Instantly helps stinky carpet.
- 1 cup baking soda
- 1 tablespoon ground cinnamon
Mix the ingredients and shake onto the carpet. Let sit for an hour and then vacuum up.
Soothing, homey stovetop simmer pot
As we approach the holiday season, a simple stovetop simmer pot helps to make the house smell cozy and clean. Just make sure to only use a simmer pot on the stove when you're at home and don't leave it unattended.
Combine the following in a pot and simmer on low for as long as you'd like. Add water as needed:
- 1 sliced orange
- 1 sliced lemon
- 1 bay leaf
- 2 whole cinnamon sticks
- 4 whole cloves
After adding the above ingredients, fill the pot halfway with water and enjoy! Your home will be ready for hosting guests at the drop of a hat!
Do you have a question for Tabby? Email her at deartabby questions@gmail.com.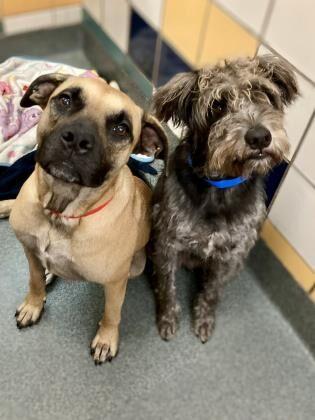 Pets of The Week
Meet Falcon and Ruth. These two are a bonded pair who need to be adopted together. They have been together since they were puppies and rely on one another for companionship and support. Falcon is a male terrier mix and Ruth is a female hound mix. Both are about 1 year old and ready to find their new beginning with a family who will give them the love they so deserve. To learn more about these sweethearts, as well as to learn about all of the fun Halloween happenings at Citizens for Animal Protection this month, go to www.cap4pets.org.