Dear Tabby,
We will be buying Christmas gifts for many of our family's dogs this year. Any tips on choosing the right gifts for each dog?
Secret Santa Shopping in The Heights
Dear Secret Santa,
It's the holiday season and with that comes shopping 'til you're dropping for all of your two-legged and even four-legged family members. While it can be daunting to try and find the perfect gift for the humans on your list, it can often feel just as stressful to find gifts for the pets as well. The good news is that most of the pets on your list will just be excited to be remembered this season, but finding fun, engaging and personality-appropriate gifts for the dogs in your life will make opening gifts on Christmas morning that much more fun.
Here are a few things to consider when shopping for the various dogs on your list.
Consider the pet's age
Whether you're shopping for puppies, seniors or middle-aged dogs, there are special toys and treats that will suit each during the various stages of a dog's life. For instance, the puppies or younger dogs on your list would probably enjoy a teething or chewing toy (as will their pet parents, who are dealing with a "mouthy" puppy). Older dogs might not care much for a chew toy but would really appreciate a nice, supportive new bed or other pet supplies made for the older dog.
What is their activity level?
If you're buying for high-energy dogs, consider action toys, such as ball launchers or other toys that encourage them to run and burn off steam. Alternatively, a less-active dog might prefer a cuddly stuffie or treats (perhaps low-calorie).
Who does the dog live with?
If the dog you're shopping for lives with kids and is active, it might be fun to look into buying a gift for the dog that the whole family can appreciate. Agility sets are a fun way to get the kids involved in exercising a dog, as are hiking supplies, so the whole family can enjoy the outdoors with the family dog. If a dog on your list lives with a less-active family or older people, consider a gift that will fit their lifestyle, such as a gift card for a pet-friendly eatery.
What is the owner into?
Since most dogs will love any treat or toy, it might be fun to consider a special interest of the dog owner and get the dog something that reflects that interest. Is the dog owner a huge sports fan? Find gear with his or her team name for the dog, such as dog jerseys, or toys with the team logo. Because, really? Sometimes pet gifts are more for the human than for the pet, right?
Don't forget the kitties!
Lastly, cats love gifts, too, so don't forget to include the kitties in your family this holiday season! The good news is cats don't need fancy toys. A bag of catnip, some treats and maybe a feather toy will delight any cat on your shopping list!
Happy shopping and happiest of holidays to you and yours!
Do you have a question for Tabby? Email her at deartabby questions@gmail.com.
Pet of the Week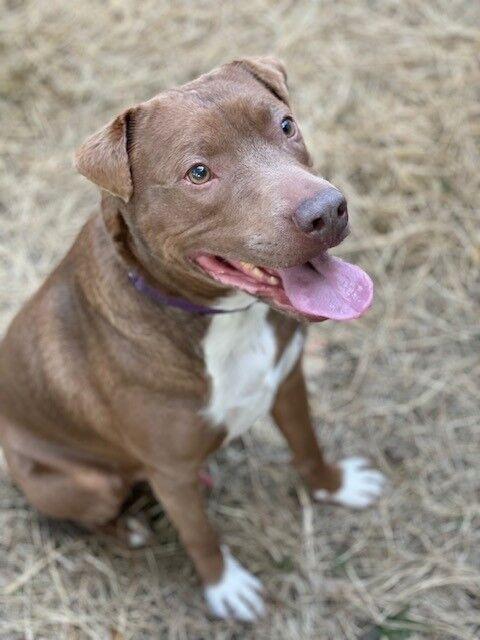 Meet Teddy! This 5-year-old chocolate charmer with soulful eyes is hoping for a new home for Christmas. Teddy arrived to rescue in rough shape, but he's now on the road to recovery and learning to love and trust. Teddy loves going on walks and learning new tricks. He can be shy at first but warms up quickly once he knows he's safe. Teddy has a sweet personality and just needs a lucky break to start his new beginning. To learn more, go to www.friends4life.org.