Mardie Paige already had spent more than three years on a waiting list to have her home evaluated and possibly repaired after it was damaged during Hurricane Harvey in 2017.
Then Winter Storm Uri struck the Houston region last month, causing Paige's water pipes to freeze and eventually burst. She and her husband have not yet been able to get them fixed – because of the cost and also because of a shortage of plumbing supplies and professionals – so their longtime Independence Heights home has been uninhabitable for nearly a month.
"I'm not the only one," Paige said.
Paige, the Super Neighborhood Council 13 president who has been staying with her daughter in the Spring area, is among many Independence Heights residents who are still dealing with the devastation caused by a mid-February storm that led to widespread power outages, water-supply issues and damages to homes. The recovery process has been slow in the historic, predominantly Black neighborhood, where several community members continue to lack running water, fresh food and even electricity.
Tanya Debose, executive director of the Independence Heights Redevelopment Council, estimated that about a quarter of the 5,000 homes in the neighborhood are still coping with issues caused by the storm, whereas more affluent parts of the city have been quicker to get their pipes fixed and water restored.
"It's a situation where people are still in shock and the rest of the world has gone on," Debose said.
Debose has led a coalition of neighborhood volunteers, churches and local nonprofits to help meet the needs of community members, particularly the elderly and those with young children. She keeps a list of Independence Heights residents who need help and has worked on a daily basis to provide water, hot meals and supplies.
A community-wide supply distribution and block party was held last Sunday to provide resources and lift spirits. Among those who participated, according to Debose, were Houston Mayor Sylvester Turner, Houston City Council member Karla Cisneros and Harris County Precinct 1 Commissioner Rodney Ellis.
The neighborhood also has set up a GoFundMe page (https://www.gofundme.com/f/independence-heights-winter-storm-relief), which as of Wednesday morning had raised more than $5,100 with a goal of $10,000.
"It's a great story to me about Tanya and her friends and neighbors that are coming together," Garden Oaks resident Georgia Lister said. "It's really a great example of community, coming together and doing what you've got to do."
Debose thanked Lister and others in neighboring subdivisions such as Garden Oaks, Oak Forest and the Heights for chipping in to help. Debose said they had a big hand in convincing Ohio-based Matthews 25: Ministries to set up a free laundry service – as part of the Tide Loads of Hope program – for a few days last week at True Light Missionary Baptist Church.
Debose said nonprofits such as Rebuilding Together Houston and the St. Bernard Project (SBP), which plans to build an affordable housing complex in Garden Oaks, also have provided aid for Independence Heights.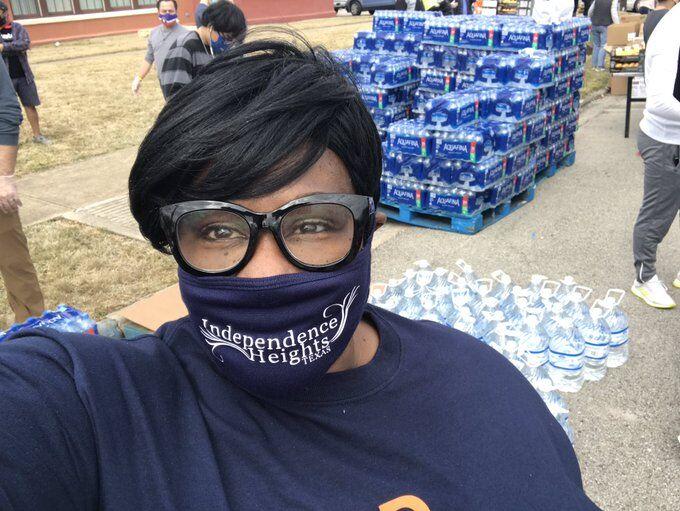 "They have really given us energy to really help doing this effort," Debose said. "They have contributed every day."
Debose said Independence Heights still has a long road to recovery, though, and that the neighborhood needs much more than money to fix its problems. Construction and plumbing materials, along with manpower to repair homes and distribute supplies, are just as crucial.
Every little bit helps, according to Anthony Halley, the senior pastor at True Light Missionary Baptist Church on North Main Street. He said something as simple as having clothes cleaned last week alleviated stress for community members who have coped with Hurricane Harvey, a pandemic, a winter storm and ongoing gentrification, which is causing property values and taxes to skyrocket and essentially pricing some longtime residents out of their homes.
"We have to remember this is a neighborhood that has been hit many different ways," Halley said. "These are problems that have stacked on top of other problems."
Along with donating through the aforementioned GoFundMe page, Debose said Houstonians interested in helping Independence Heights residents can visit bouncebackih.org to connect with the neighborhood, learn about its needs and find ways to get involved.
The 65-year-old Paige, who has lived in Independence Heights her entire life, said the neighborhood and its residents have a long history of fending for themselves. But in the wake of a crippling winter storm, she said assistance is welcomed and appreciated and might at some point be reciprocated.
"If you have a way to send plumbing, have a way to send sheetrock, have a way to send anything, please send it through the Independence Heights Redevelopment Council (bouncebackih.org)," Paige said. "That way we can keep a record of it, say thanks and maybe next time, if you need something, we can help you out."