A group of Garden Oaks children took turns sitting behind the wheel of a patrol vehicle for the Harris County Precinct 1 Constable's Office. They blared the siren, flashed the lights and used the microphone to make funny comments that made their friends laugh, with a 9-year-old boy named Noah Fox telling everyone they were under arrest.
Another kid who lives on the same street even got to handle the handcuffs used by deputy Emilio Ontiveros, who would not normally allow such hijinks while on duty.
"But today's a special day," he said.
The playful scene unfolded Tuesday evening on Lamonte Lane a little west of Alba Road, where neighborhood residents gathered for one of many National Night Out events held across the area and beyond. Officers from the constable's office as well as the Houston Police Department and other law enforcement agencies toured communities and visited with residents who had congregated outdoors on a clear, pleasant evening, with the aim of strengthening relationships and increasing awareness in order to combat crime.
Ontiveros stopped by a Garden Oaks home where roughly 20 neighbors had gathered in the driveway to enjoy food, drinks and each other's company. As a night-shift deputy, he said most of his visits to the neighborhood occur when residents are asleep and "something bad happens."
"Now I get to see all the faces I work for, and it's lovely," Ontiveros said.
Similar National Night Out gatherings were sprinkled throughout neighborhoods such as the Heights, Garden Oaks, Oak Forest and Shepherd Park Plaza, with at least one group of residents setting up a bounce house. The Heights Ice Baby Sno Cones truck was the main attraction at the Norhill Esplanade in Woodland Heights, where nearly 100 residents got together to meet each other and the constable's deputies who serve them.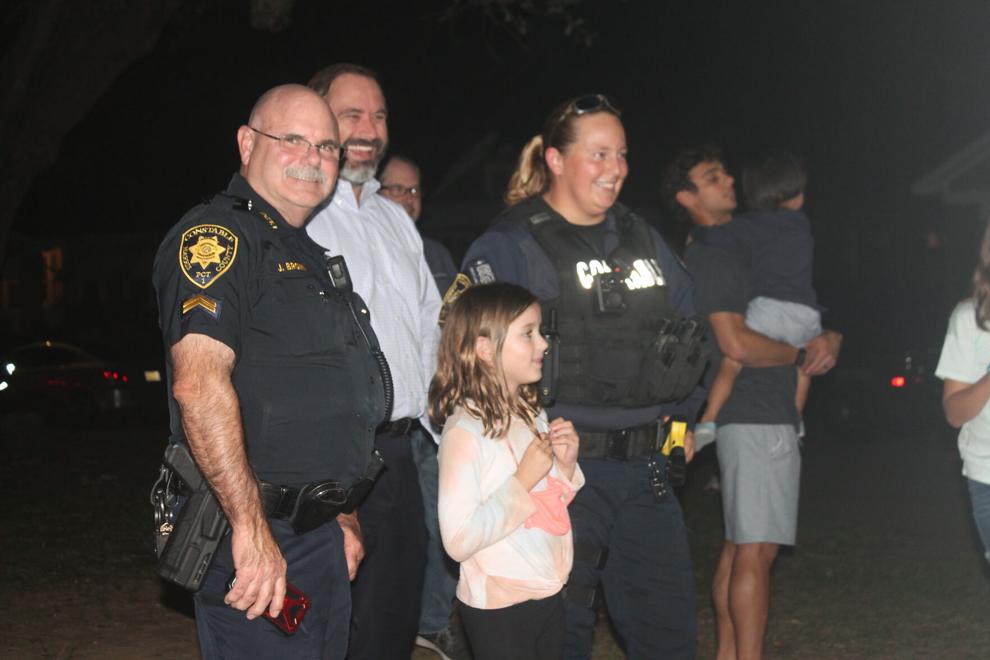 Doug Carroll, treasurer of the Woodland Heights Civic Association, said it was a much-needed outdoor escape. National Night Out was scrapped last year on account of the COVID-19 pandemic, which has limited the opportunities for community camaraderie.
"We've been doing Zoom meetings and they're very boring," Carroll said. "It's nice to actually see people outside."
Candlelight Plaza, a Northwest Houston neighborhood with a little more than 300 homes, held a subdivision-wide block party near the intersection of Alba and Bethlehem Street. An estimated 75-80 residents gathered there, according to event organizer Candace Helstrom, the president of the Candlelight Plaza Civic Club.
A vintage Dodge truck owned by resident Bradley Cayce was used to block off one side of the street and also as somewhat of a teaser for a future event. At the neighborhood's annual chili cookoff next month, a Christmastime hay ride in the bed of the truck will be up for auction.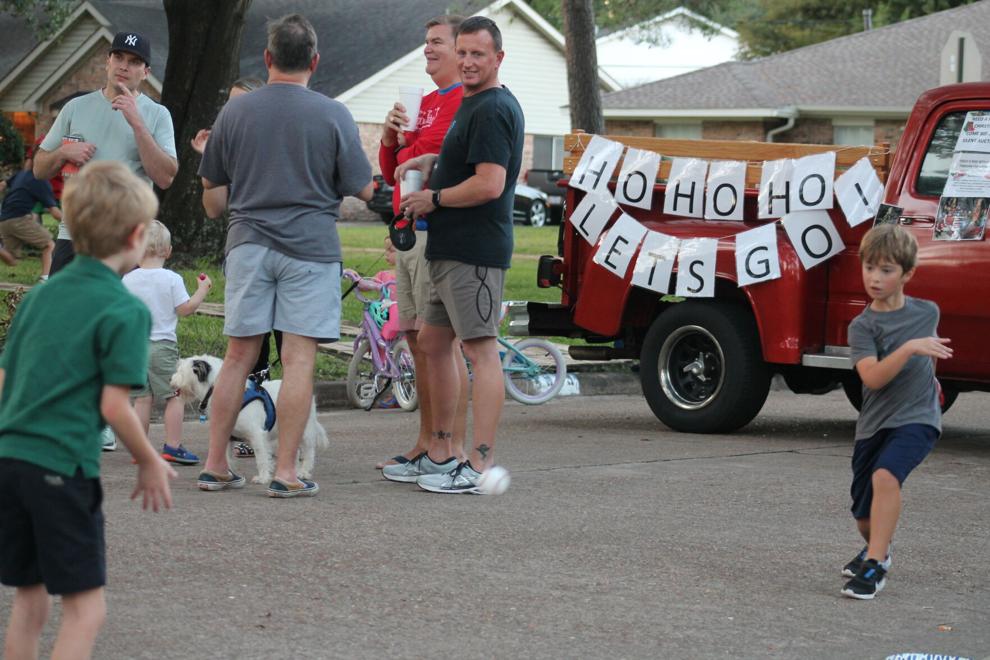 "We've had all these people around here that we haven't seen in forever," Cayce said. "So it's good to get out."
Neighborhood kids were bounding around at most of the local National Night Out events, with two boys rolling a baseball back and forth in Candlelight Plaza. Those in Garden Oaks, near the intersection of Alba and Lamonte, were playing his Ontiveros' patrol vehicle.
David and Kelly Morrissett gave their 2-year-old son, Connor, a close-up look – "He's really shy, but he loves police cars," his mother said – while Fox and some of the older youngsters got inside the vehicle and tested out some of its features. When Fox told his neighbors they were under arrest, it drew laughs from the small crowd, including Ontiveros.
"It was hilarious," Fox said. "It was exciting."