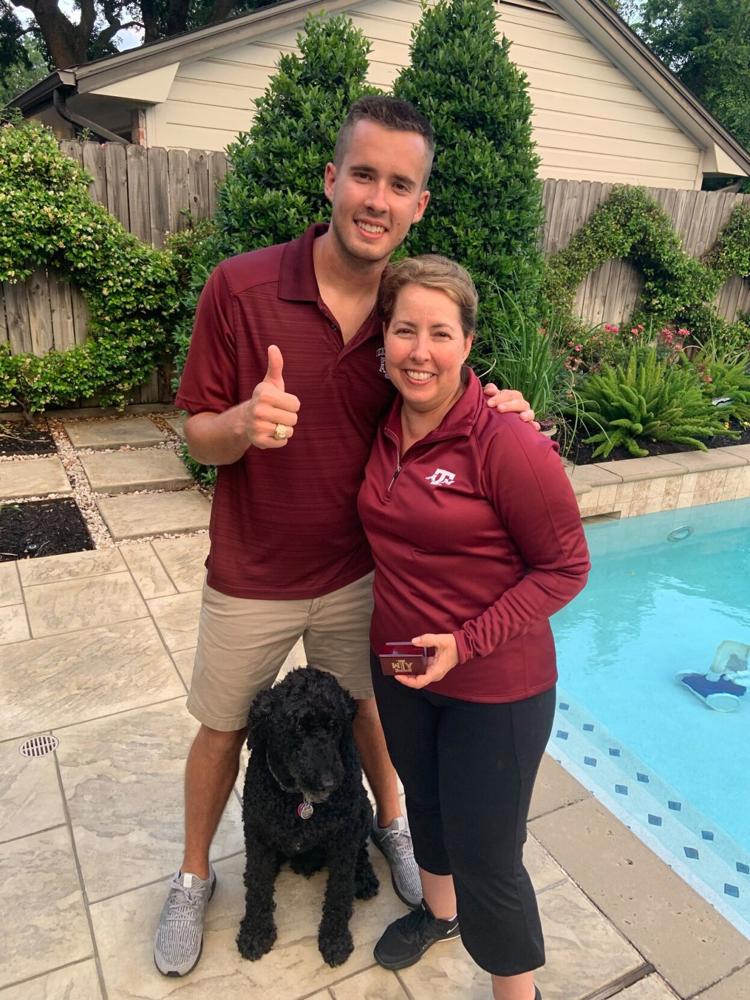 Celebrating the big 1-0 this week is James Komarek of Garden Oaks. An excellent student at Garden Oaks Montessori Magnet who never, ever expected to have a birthday while in quarantine, James thoroughly enjoyed a parade of friends who drove past his house and showed him some birthday love.
Among those driving by with balloons, signs, shouts and honks were the Gerosa, Odinet, Cruise, McCosh, Russell, Vincent, Winston, Torchia, Perry, Beare and Whelan families (to name a few!). Now one decade old, James decided on Domino's Pizza as his takeout dinner of choice followed by birthday cake with his parents Mary Sharon and Chris Komarek and big brother Charles. Happy birthday, James!
Congratulations to Mitchell Bonte of Lazybrook who received his Aggie ring on Tuesday. In lieu of A&M Ring Day, a highly anticipated academic milestone (representing 90 hours of hard work!) and beloved Texas A&M tradition, Mitchell's ring was delivered to his home here in Houston and his mother, Vonda Bonte, presented him with his ring. Dad Sean, brother Kenneth and sister-in-law Alicia are thrilled for Mitchell. Gig 'em!
Happy birthday wishes to a few of our fabulous community neighbors: Radu Badalac of Oak Forest (April 11), Susan Porterfield of Ella Lee Forest (April 14), Veronica Flores-Paniagua of Oak Forest (April 22), Johnny Rojas of Oak Forest (April 25), Terry Carroll of Mangum Manor (April 27), Emily Roberts of Garden Oaks (April 28), Thais Diefenbaker of Oak Forest (April 28), Tyler Sowers (April 28), Cheryl McCosh of Garden Oaks (May 1), Zeph Capo of Shepherd Forest (May 1) and Adam Chaney of Oak Forest (May 2).
How fun to see Dr. Andrea Hauser along with her daughters Luciana and Emilia of Ella Lee Forest, riding bikes with their dear friends Silvia Arce and Jeffrey Carrette and their children, Andres and Camila, of Oak Forest. The group surprised me in my driveway Monday evening as they were enjoying the gorgeous evening together. My, how time flies! Their children are so tall, so beautiful – and growing up quickly!
St. Rose of Lima Catholic Church is hosting a "Drive Thru Food Drive" on Sunday, May 3. There are many in need of food and assistance on a regular basis in Houston, but many more need help now in the wake of the COVID-19 situation. St. Rose of Lima's St. Vincent de Paul Society Food Pantry is open and serving our neighbors in zip codes 77008 and 77018.
While adhering to CDC guidelines, the group of dedicated volunteers who operate the food pantry are providing food, toiletries and in some cases, financial assistance to those friends, neighbors and parishioners in need.
Because the pantry's shelves have borne the weight of feeding more than 120 households with a whopping 4,800 pounds of food in just the past week, leaving empty shelves which need restocking to continue to serve, St. Rose is hosting a Drive Thru Food Drive. No time was reported for this event at the time of publication.
Some of the items needed are canned meats, ramen, cereal, canned pastas, canned soups, boxes of cornbread, pancake mix, canned beans and bath soap. Any non-perishable food items and toiletries are welcome donations. If you cannot make it to the Drive Thru Food Drive at the pantry located at 3737 Brinkman St. directly across the street from the church itself, donations can be dropped off in the parish office Lobby at 3600 Brinkman St. (between 34th Street and Wakefield Drive) between the hours of 10 a.m.-noon or 3-5 p.m. Monday through Friday or at the pantry on Wednesday, Thursday or Saturday from 9:30-11:30 a.m. For more information, call 832-320-4181.