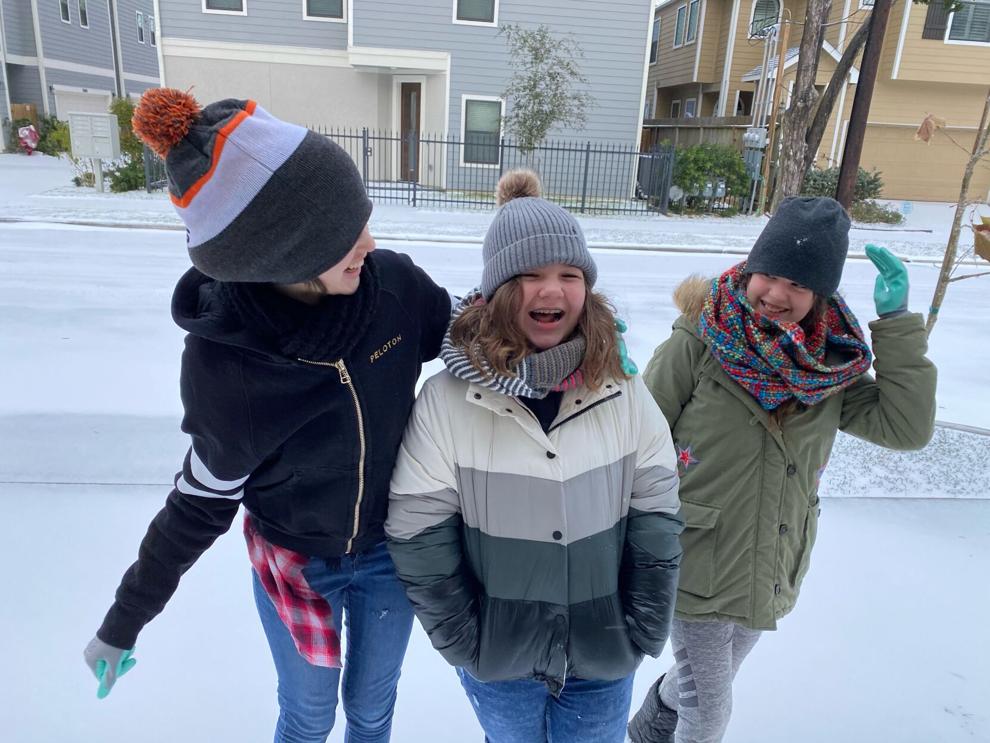 When Mia Heil saw a homeless man underneath the bridge at Loop 610 and Ella Boulevard on her way home from work last weekend, she knew it was unsafe for him to be there with freezing temperatures coming.
So the owner of Oak Forest Academy made a reservation for the man at an area hotel and then inquired on local social media pages if anyone could connect her with police or firefighters who might help her make contact with the man and ask him if he would like a place to stay.
Two Houston Police Department officers answered the call, and they all met the man Heil now knows as Mr. Miller.
"The minute we asked him, he said he would go (to the hotel)," Heil said.
Heil had booked him a room from last Saturday through Friday thinking the weather would get better. However, when she wanted to extend Mr. Miller's stay through Monday and couldn't get in touch with the hotel, she reached out online again.
"I'm too far away to drive down there to check," Heil wrote. "Is there anyone that's close that may be able to go for me? I need to get in touch with the front desk and check to see if he still has money for food. If I can get in touch with the hotel, they can charge my card and give him cash."
Again, one of the original officers who helped went back to the hotel and connected Heil and Mr. Miller by phone. Heil said he is grateful.
"He's a very nice guy," Heil said. "He has been homeless since his father died. He knows someone in Lubbock and we're trying to get him there."
Heil's kindness is one of many examples of local residents helping fellow community members during a week of freezing temperatures, power outages, water shortages and mounting anxiety.
Whether it was neighbor helping neighbor or neighbor helping stranger, the help provided warmed hearts as well as hands.
Timbergrove Manor's Julia Carmack started a charging station at her home because as she said, "It was the right thing to do."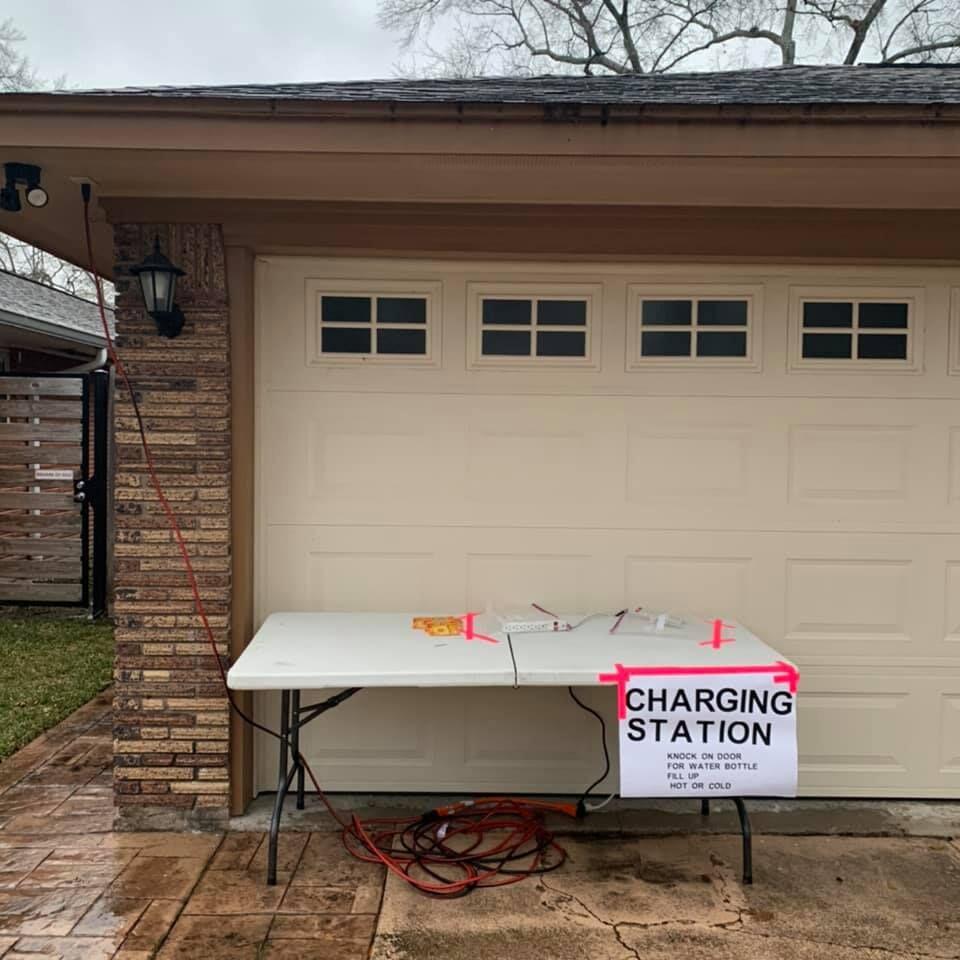 After Hurricane Harvey when her family lost power for a few hours but was basically trapped by floodwaters – and hearing Tropical Storm Alison horror stories – they decided to install a whole-house generator.
"It's the best home purchase we've ever made because we have peace of mind," she said. "We have friends from down the street staying with us and an extension cord running over the fence to another neighbor's furnace controls, but we have extra capacity, so starting the charging station was the least we could do to help the neighborhood."
The Carmacks also filled their bathtub using a WaterBob bag for potable water and offered neighbors hot and cold water, too, as well as hand warmers.
"Probably a dozen people have dropped off power bricks to charge, or stood in the driveway charging phones, and one lady sat in front of our house charging a bunch of devices late last night," she said. "Nobody has taken us up on the water. We've also helped a number of neighbors turn off water service at the street — at least three within a few hundred yards have had burst pipes. We feel privileged to have had the resources to be prepared and (feel) distressed that there is so little we can do to help."
Those with generators helped neighbors with warmth – or with cooling in the case of goods that needed to stay frozen – and kept needed medical devices working.
Sarah-Ann Keyes was looking for someone in the neighborhood with a generator to take a breastmilk stash so it would not spoil. She posted on the Oak Forest Parents Resource page and in short order had a place to bring it.
"A very kind neighbor took it for me," Keyes said. "All other items are replaceable."
Jeremy Joseph in Oak Forest said his neighbor hooked up them and their other adjacent neighbor to his generator.
"We could have heat and keep our toddler warm and (our other neighbor kept) their infant warm," Joseph said. "(He) came and just did it while it was raining."
During the two-day period when many were without power for hours, neighbors opened their homes. Amanda Cruser said her "very kind neighbor" was out of town when her mother had been without power for about 15 hours.
"He offered his home next door to ours for my mom and her dog (who doesn't get along with our dogs) to stay warm," she said. "We are so thankful."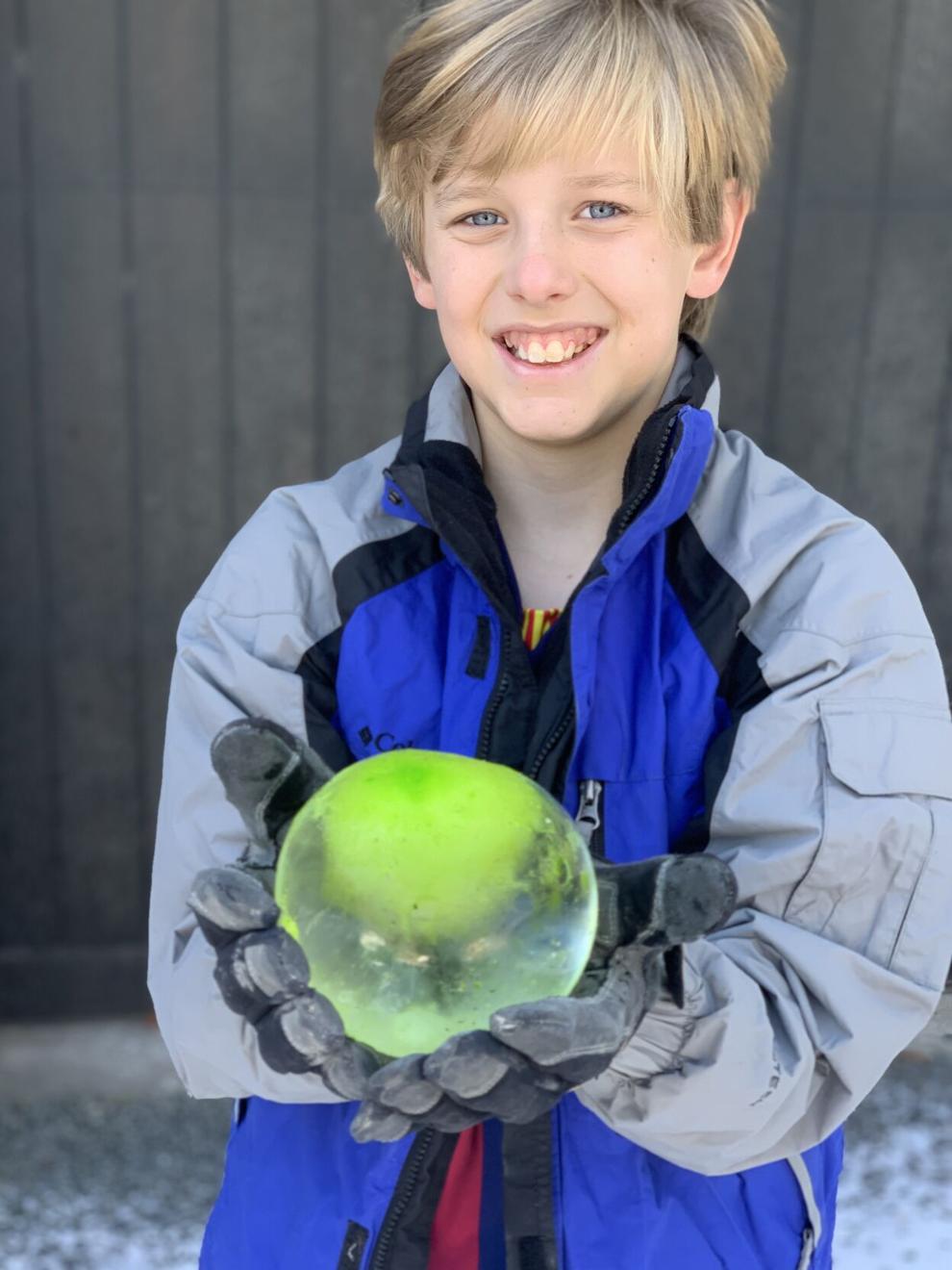 Heights resident Alison Schmieder said what they did was not extraordinary, just neighborly.
"Check-ins with everyone. We housed Woodland Heights friends plus kids overnight who were without power for 30 hours, (and) shared a meal made from what we could rescue from their freezer," she said.
Tatum Kelley in Candlelight Oaks used a neighbor's oven to make a lasagna and pool water from another neighbor to flush toilets.
Those with pools found their help in great demand by Tuesday afternoon, when there was no water pressure in most of area.
Candlelight Place's Shaun Benesch filled up buckets from his pool and even did door-to-door service on Wednesday. He took about 50 buckets to four different places, including an apartment complex.
All these acts, and more, have been a boost during a dark time, both literally and figuratively.
"It's been amazing to see the outpouring of care, love, support, offers of help with basic needs and creature comforts and beyond," Nicole Fowler said. "I am proud of our neighborhood and the people in it. When it gets down to it, we are human, and we help each other when our lives depend on it. Thank you to everyone for making sure everyone is OK."