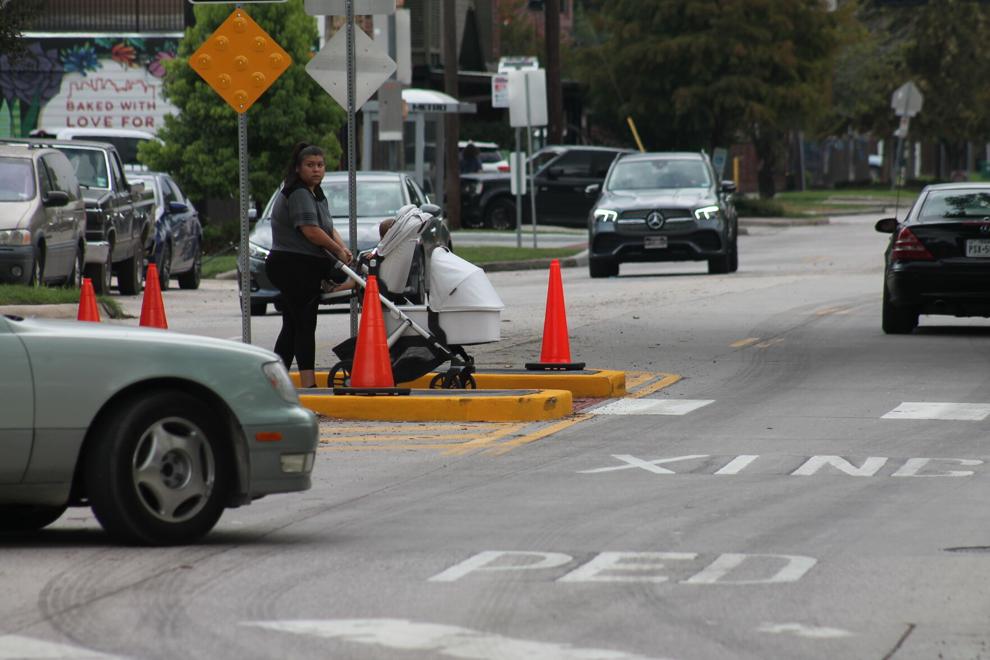 Cars and trucks were cruising up and down Studewood Street, like they normally would on a Saturday afternoon, until a woman pushing a stroller stood at the curb and made it clear she wanted to walk across.
The driver of a truck heading south stopped and waved toward the woman, letting her know it was safe to proceed into the street using the newly installed crosswalk a little south of East 11th Street.
She did so before briefly stopping in the middle of a median refuge island – another new piece of infrastructure that includes two raised slabs of concrete on both sides of the crosswalk – and then the driver of a car that was going north stepped on the brakes, allowing her and the two children in tow to traverse the other half of the road and make it safety to the sidewalk on the other side.
"That's exactly what we're looking for," Ian Hlavacek, a managing engineer with Houston Public Works, said of the drivers yielding to the pedestrian. "That's what we're hoping for."
The recent installation of three median refuge islands on Studewood, which has received both positive and negative reviews from community members, is not the work of the City of Houston, but was done in consultation with the city and with its support, according to Hlavacek. He said implementing more pedestrian-friendly infrastructure on that Heights thoroughfare had long been a goal of the city and aligns with its Vision Zero initiative, which aims to end all traffic fatalities and serious injuries by 2030.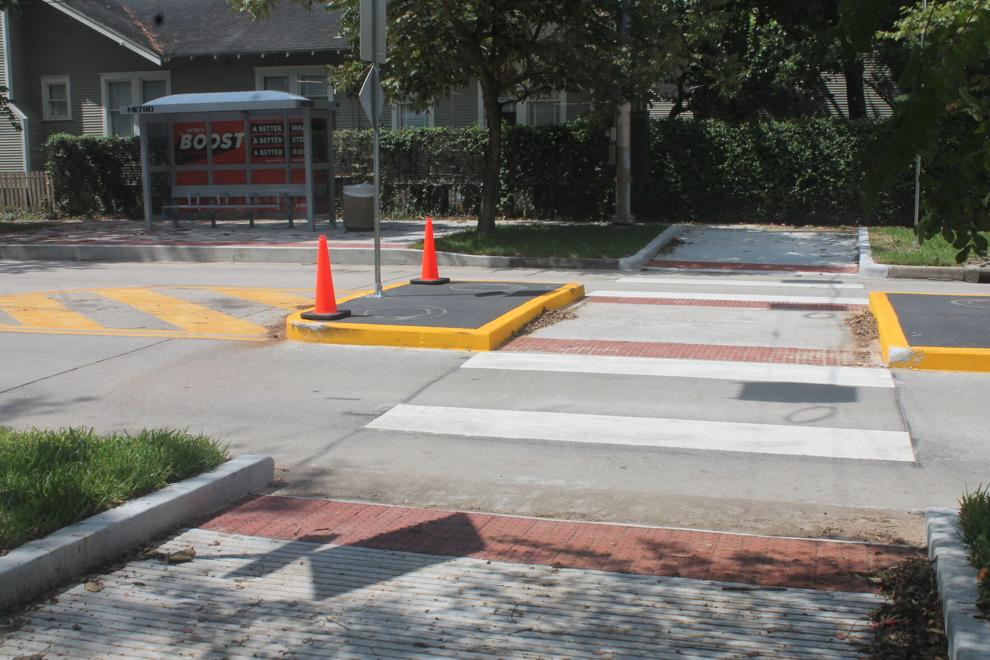 METRO had funding for the work, thanks to the $3.5 billion bond passed by Harris County voters in 2019 to expand public transit options in the region, and installed the refuge islands as part of its ongoing BOOST project on the 56 Airline/Montrose route. The transit authority is spending more than $1.18 million to improve a 1.5-mile stretch of Studewood between White Oak Drive to the south and Cavalcade Street to the north.
As part of a construction project that began in March and is expected to last through November, 14 bus stops along Studewood are being augmented with features such as lighted shelters, digital signage and expanded loading and unloading pads. METRO also is improving pedestrian crossings and sidewalks along that stretch and adjusting traffic signals in an attempt to improve bus speed and reliability by reducing the time they spend at red lights.
METRO program manager Yuhayna Mahmud, who is overseeing the project, said it is largely complete. Left to do is the installation of digital signage at bus stops and the addition of more signage and reflectors at the three refuge islands – near East 10th Street, East 13th Street and East 17th Street – to make them more visible to drivers.
"At the completion of this project, customers will experience a better walk, a better stop and a better ride," METRO spokesperson Tracy Jackson said. "There's improved sidewalks near the routes and improved crosswalks and pedestrian safety."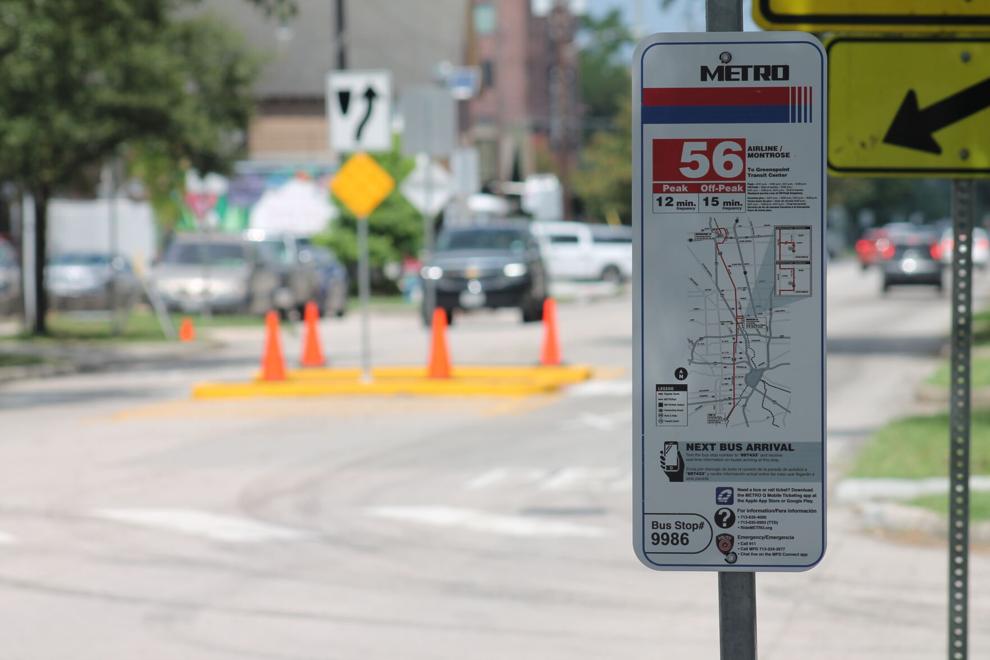 The newly installed refuge islands have been welcomed by some Heights residents but not all, with questions posed about the necessity of the work and how it makes the three-lane street safer for all. Some have complained about the islands' lack of visibility to drivers, who already have left black tire marks on the yellow curbs of the islands. Nearby resident Nicholas Calenda said he saw a car hit the curb hard enough to bend one of the wheel's rims.
Calenda and Bennie Richards, another Heights resident who lives near the intersection of Studewood and 17th Street, said they have not noticed any pedestrians or cyclists using the new crosswalk there. The pedestrian crossings are bookended by concrete ramps that lead to sidewalks and nearby bus stop shelters.
"I don't see why they did it," Richards said. "Nobody uses them."
But two other nearby residents, Noelle Jackson and Kim Sturrock, said they have seen the new crosswalks in use and think they make the street safer by enticing vehicles to slow down.
Sturrock said she stood in the middle of a median refuge island while on a recent walk with her dogs and felt "kind of safer" than she would have otherwise.
"I think it'll take people time to get used to it," Jackson said. "A lot of biking events come through here, so we do need to slow it down for people that are walking. I think it'll eventually do what it's intended to do."
It might already be as indicated by the two drivers who stopped in front of the median refuge island last Saturday and allowed the woman pushing the stroller to walk across the street.
"That's what the research shows should happen. I'm pleased to hear that at least anecdotally," Hlavacek said. "It changes the feel of the street. Having that wide-open three lanes, as a pedestrian you feel out of your element. Whereas now, you've got that one little lane to cross."