Dear Tabby,
We're new dog owners and are excited to get out and explore the outdoors with our new addition! We both love hiking and are hoping to take our new dog hiking with us. What do we need to take with us to make sure that our dog is safe and happy?
Hiking With Hounds in the Heights
Dear Hiking With Hounds,
Congratulations on your newest addition! The weather this time of the year is ripe for all outdoor activities and hiking is a super fun way to explore the outdoors with your dogs. Houston has a variety of hiking trails located within the city and most dogs love anything having to do with a walk, so you're all sure to enjoy many fun hikes this spring. 
Here are a few things to consider before packing up and taking Fido along on a hike.
Plan ahead
If you're planning to be hiking for longer than a typical walk around the block, you'll want to make sure you have everything you and your dog might need to stay hydrated and healthy. Water is key, so pack a dog water bottle or a collapsible water bowl and plenty of fresh water for humans and pets alike. Unless you're on an extended, overnight hike, don't plan to feed your dog a large meal immediately before a hike or during a hike. Keep his meals small and short so his stomach doesn't get upset from exercising on a full stomach. Make sure you pack plenty of poop bags as well, so you can clean up any messes your dog makes along the way. 
Hiking first aid
It's smart to be prepared for anything that might happen while on a hike, so add a small first-aid kit to your pack that can be used in case you or your pet encounters any hiking maladies. Antihistamines are good to have on hand, in case of a bug bite (vets recommend 2 mg of antihistamine per pound of your pet's body weight. Vets also advise to get gel caps that can be punctured and squeezed directly in your pet's mouth, in case of a serious snake bite. Then seek medical care immediately). Also have on hand gauze, styptic powder and ointments, in case of a cut or abrasion while on the trail.
Tread lightly at first
The first time you take your dog hiking, take it easy and take cues from him. You don't want to exhaust your dog and risk causing injury. Over time, you should be able to work up to more strenuous hikes, but always pay attention to your dog and don't push him to go further or faster than he seems comfortable with. Hiking is a great way to get exercise and bond with your pets. Happy trails to you and your pooch! 
Do you have a question for Tabby? Email her at deartabbyquestions@gmail.com.
Pet of the Week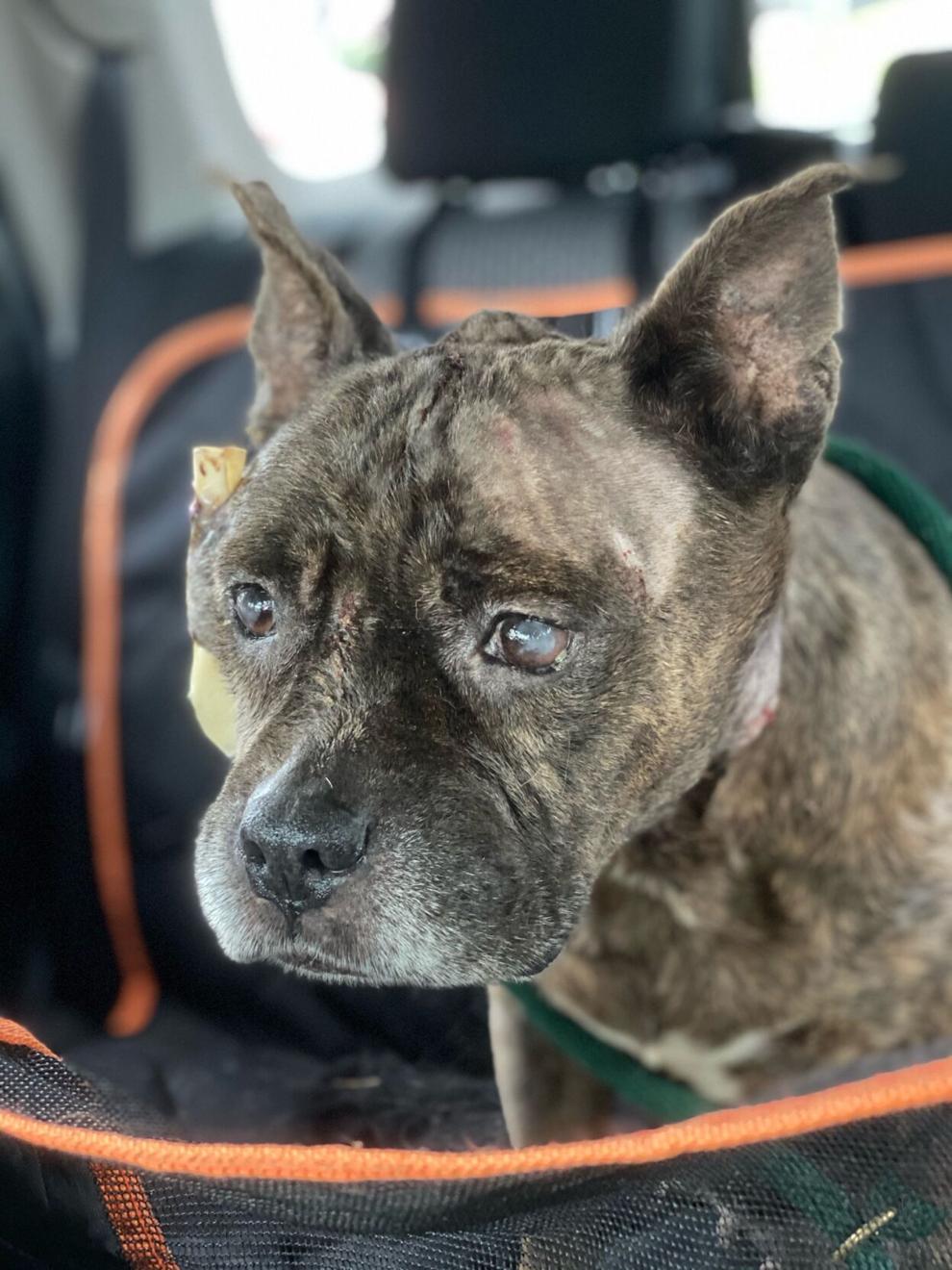 Meet Evie. Evie is a Staffordshire Bull Terrier who was just rescued. This sweet girl has been through the absolute worst of the worst, but somehow, she is sweet, happy and has a tail that won't stop wagging. Evie has never known love or a home to call her own, but all of that is about to change and we can't wait to show her more of the "good life." If you have room in your home and your heart for Evie, please contact Scout's Honor Rescue at: www.scoutshonor.org.