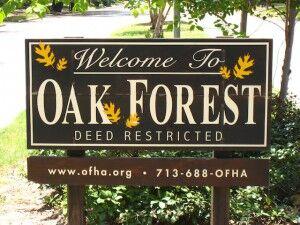 Stephanie Truong said she and her husband spent more than four years scouting out their dream home in Oak Forest.
Not long after purchasing their property last summer, the Asian-American couple had a nightmarish realization.
The language in the neighborhood's deed restrictions, which were written in 1946, said the Truongs weren't even allowed to live in Oak Forest, let alone own a home there. One of the restrictions states that only people of the "Caucasian race" can reside in the community, unless they are employed as servants.
"It was pretty shocking to see that," Truong said. "I was pretty resolved to do something about it."
A year later, and more than 50 years after the racist restriction was deemed unenforceable by the Federal Fair Housing Act of 1968, many of the Truongs' neighbors are similarly moved to act. So are the homeowners in neighboring Garden Oaks, where the same provision remains in deed restrictions that were recorded in 1937, although the language has had lines drawn through it.
There has been a groundswell in both communities to remove the outdated, offensive remnants of their past in the aftermath of the May 25 death of George Floyd, a black man from Houston who died in police custody in Minnesota. The latest example of racial injustice and police brutality has prompted large demonstrations across the country, including in Houston, and compelled residents of Garden Oaks and Oak Forest to explore how they can modify their deed restrictions to match the more diverse, welcoming neighborhoods they have become over the years.
"It's embarrassing," Garden Oaks resident Kip Noser said. "If I were a person of color, it would be personal. It's offensive to everyone, but it's personal. We have to get rid of it."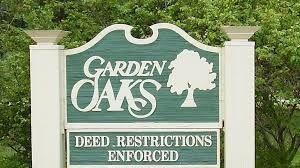 While the push to remove the racist language from the deed restrictions has the support of several residents in both neighborhoods as well as their civic clubs, doing so figures to be difficult. Amending and restating deed restrictions is an exhaustive process under the Texas Property Code, especially in neighborhoods as large as Garden Oaks and Oak Forest, which is at least partly why the longstanding deed restrictions have remain unchanged.
The Garden Oaks Maintenance Organization attempted to revamp the neighborhood's deed restrictions last year during its ongoing bankruptcy case – with the removal of the racial restrictions being among the proposed changes – but its Chapter 11 restructuring plan did not garner enough support from the neighborhood's 1,100-plus property owners. So the restrictions remain unchanged.
In both neighborhoods, rewriting the deed restrictions to exclude the racist language would require the support of at least a simple majority of property owners, and there are more than 5,500 homes in Oak Forest's 18 sections. Even if such an effort is successful, a Houston real estate attorney said the original language in the original deed restrictions would not be erased from Harris County annals.
The attorney, Omar Izfar with Wilson Cribbs + Goren, said the updated deed restrictions would be added to the property records kept by the county, and may be legally controlling, but would not erase the language of the existing set of restrictions. And if a community goes through the extensive, costly process of amending and restating its deed restrictions, Izfar said it might want to consider a more expansive overhaul as opposed to addressing only one restriction.
"The way real property records work, once you record something, it's there forever," he said. "It can't be undone."
'Symbolic' effort
Truong and Tonya Knauth, the president of the Garden Oaks Civic Club, said the effort still would be worthwhile because it would send a message of inclusion to existing and prospective property owners along with eliminating the chance that a potential homeowner could be put off by the unenforceable restriction. Truong called it a "symbolic" effort on the part of the communities.
"I want everybody to feel welcome to buy a house here," Knauth said. "I don't want these vestiges of racism holding on in Garden Oaks."
Knauth, an attorney who specializes in estate planning, said she is in the process of exploring the neighborhood's legal options at the urging of longtime Garden Oaks resident Georgia Lister. Elizabeth Villarreal, the president of the Oak Forest Homeowners Association (OFHA), said the organization is consulting with its attorney and plans to report back to the neighborhood next month.
In the meantime, an Oak Forest resident recently started a public Facebook group called Oak Forest Deed for Change, which had 360 members as of Wednesday morning. Truong, who also is an attorney along with her husband, is among many group members who have pledged to help draft new deed restrictions and walk the neighborhood to gather support for the cause.
Izfar said property owners in a neighborhood can have their deed restrictions rewritten without the support, or even the presence, of a homeowners association.
Nearly 50 residents participated in Monday night's virtual OFHA meeting, which concluded with a discussion about removing the racial restrictions. Villarreal told the group she was "so excited" to see the community mobilizing.
The parallel movements in Garden Oaks and Oak Forest also have garnered the support of State Rep. Anna Eastman, who lives in the Heights and serves all three neighborhoods. When the Texas Legislature next convenes in 2021, Eastman said she wants to propose legislation that would make it easier and less expensive for neighborhoods to update their deed restrictions, particularly when it comes to removing restrictions that already have been deemed unconstitutional or unenforceable.
"I'm not an expert yet on the issue, but I definitely support putting a law in place to make it easier for people to remove these types of deed restrictions," she said. "I think there's a way."
There already is the will in both neighborhoods, which are historic but not necessarily proud of their history. Some of their more recent residents, particularly those of color, want to forge a future of inclusion.
Truong said she and her family have not encountered racism among her Oak Forest neighbors, but reading the language in the deed restrictions made her feel unwelcome.
"It's still a stain on our community," she said. "So if we do this, then that's a message that we're sending that we're trying to right wrongs of the past."