Dear Tabby,
We would like to give our pets Christmas gifts this year (full disclosure: this is all my children's idea). Without buying them a bunch of stuff that they don't need, can you give us some ideas of gifts for our pets that won't break the bank but that also won't clutter our home?
Starting Our Shopping in Shepherd Park Plaza
Dear Starting Our Shopping,
A recent survey of pet owners found a whopping 95 percent of them buy holiday gifts for their pets! So, you won't be the only one stopping by your local pet supply shops to pick out just the perfect gift for your precious pets. Most of our beloved, spoiled rotten four-legged family members want for nothing when it comes to basic creature comforts, but it can be very fun to carefully choose and buy them something special--especially for your kids. Here are some ideas for gifts for your pets that they will appreciate and that you won't find yourself donating or tossing in the trash after a few short months.
Consumables
You definitely can't go wrong with gifting your pets with treats or special pet food. Not only do animals love all things edible, but by purchasing a consumable, you won't find yourself having to store this gift.
A word of warning, though: If you purchase something edible for your pets, don't wrap it and leave it under your tree for long. As you know, dogs and cats have curiously strong sniffers, so it doesn't take much for them to catch a whiff of something under the tree and help themselves to it (and sometimes the wrapping and ribbons that accompany it), and this can cause health issues. Your best bet is to hide the edible gifts somewhere inaccessible to the pets until it's time to give them their gifts.
Practical gifts
Is Rover's bed looking pretty gross and dingy? Has Fluffy's cat tree seen better days? Use the holidays as a good excuse to upgrade your pets' household furniture and pet supplies.
Trust me, your pets will love a new place to sleep or a new cat tree to tear into and it's a great way to get rid of pet items that are past their prime in your home, which in turn helps your home to feel fresher and cleaner for the holidays.
Donate to those less fortunate
Consider enlisting your children's help in researching and finding a charity that could benefit from a donation from your family in lieu of buying your pets more stuff. There are tons of animal shelters and rescues that can always use monetary support, but also charities that help humans who need assistance caring for their own pets.
Part of the fun of the holidays is finding that perfect gift for those you love the most. Our pets love to be loved, and choosing a small token for your pets to show you care goes a long way toward modeling stewardship and selflessness for your children.
Happiest of holidays to you and your pets!
Do you have a question for Tabby? Email her at deartabby questions@gmail.com.
Pet Of The Week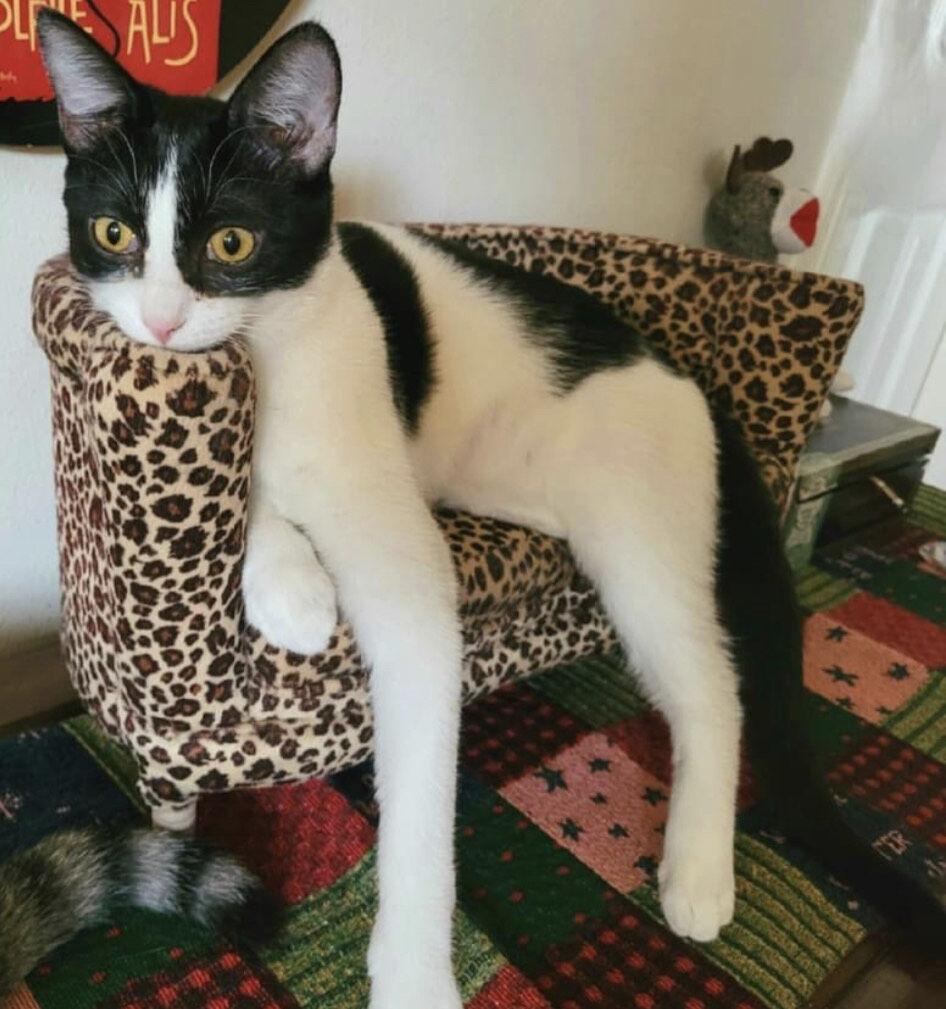 Meet Felisity. Felisity is an 8-month-old Tuxedo girl who's hilarious to watch! In true "Tuxie" form, Felisity is spunky, affectionate and very loyal to her humans. She's quite fearless and is always looking to conquer every cat tree, no matter how tall! What better way to get in the holiday spirit than to give a sweet kitten her forever home? To learn more, go to www.animaljusticeleague.org.