Dear Tabby,
We have several feral cats that we care for in our neighborhood. With the weather getting colder, I worry about their comfort and safety. What can we do to help them stay as warm and healthy as possible this winter?
Worried about Feral Friends in Forest West
Dear Worried,
Bless you for taking care of the feral cats in your area! Feral cats can certainly "earn their keep" in a community by keeping the rodent population down, and caring for them offers an outlet for the humans who take on this responsibility. Thank you for considering their health and safety as the weather turns colder because winter is especially difficult on these small members of your community. Here are a few things that you can do to help make their lives a little easier come wintertime.
Offer shelter
Go to www.friends4life.org to learn more about the feral cat shelters that our local animal shelter makes and teaches people to build out of plastic storage containers. These shelters are inexpensive, easy to make and make a huge difference in the health of our feral cat friends.
Keep fresh water available
Having water available is almost more important than food for feral cats. If we're having a long spell of freezing temps, consider ways to keep outside water sources thawed for feral cats to drink. Bird bath heaters work well and keep outside water flowing during even the coldest of temperatures.
Put out extra food
Feral cats can use all of the caloric help they can get to stay warm in cold weather. Consider adding extra dry food to their feeding stations or even incorporating canned food into their diet to give them extra fat and moisture during the winter months.
Trap/neuter/release
Be sure to stay on top of new arrivals to your feral community and get them neutered and released as soon as possible to keep from having extra litters of kittens come springtime.
Use caution when getting in your car
Cats will climb into the engines of cars to seek warmth, so be sure to give your car a quick knock on the hood before climbing inside and starting it, just in case there is a cat inside.
Feral cats are often misunderstood and undervalued. They don't often require much from humans, but during colder weather, they can certainly benefit from some extra attention and care. In turn, they will help keep our neighborhoods free from rodents and they might even enrich the lives of those who care for them in all four seasons.
Do you have a question for Tabby? Email her at deartabbyquestions@gmail.com.
Pet of the Week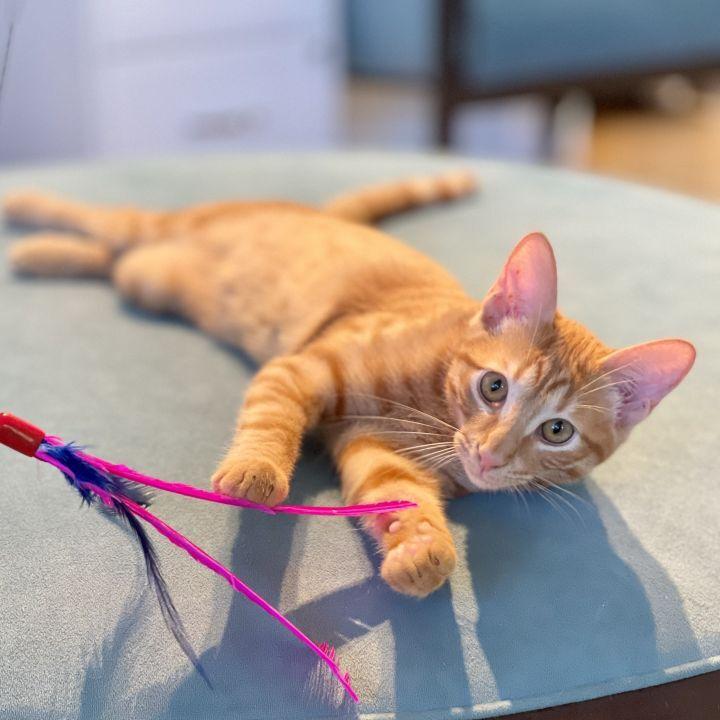 Meet Klaus. Klaus is a 6-month-old cutie who was rescued with his brother, Kai. This playful pair have that fun kitten energy with periods of extreme energy followed by cuddles and purrs for days. They both would certainly look adorable curled up, napping under the Christmas tree, wouldn't they? Perhaps there's room under yours for this adorable pair of sweethearts? To learn more, go to www.saveacatrescue.org.