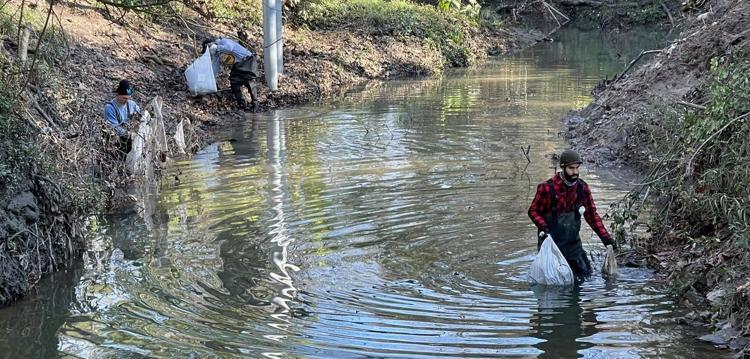 Hunter Dickerson loves being next to nature, and he found a way to live next to it about six months ago.
He bought a home in Shady Acres that overlooks Turkey Gully, the White Oak Bayou tributary than runs through the western part of the Heights area. Dickerson spends lots of time exploring the waterway that's heavily shaded by tree cover, having spotted two species of heron, fish and turtles.
He also has taken it upon himself to try to clean the urban tributary and the area surrounding it, and he encourages his neighbors to do the same. He started a Facebook group called Turkey Gully Conservation.
"I've been obsessed with the gully for years," he said. "When we finally found a house over here we could afford, we were like, 'We've got to do it.' "
Dickerson cleaned the gully last Saturday morning with the help of more than 30 local residents and other Houstonians, including City of Houston employees. A "Keep It Clean Upstream" cleanup event was co-hosted by Super Neighborhood Council 14, Keep Houston Beautiful and the office of Houston City Council member Abbie Kamin.
Volunteers picked up more than 1,200 pounds of trash and debris from in and around Turkey Gully, including lawn chairs, tires, plastic and metal scraps. Some, including Dickerson, put on waders and retrieved trash directly from the waterway.
"There's a real sense of adventure when you get down in the creek and play in the water a little bit and remove debris and climb up the ravines," said Keep Houston Beautiful executive director Amy Reed, who participated along with her daughter. "Also to see the success that we saw in just a couple hours' time with 30 volunteers, it's really incredible the immediate impact an event like this makes."
Reed said Keep Houston Beautiful loaned cleanup supplies for the event such as gloves, trash bags, litter grabbers, shovels, rakes and hand sanitizer. She said the nonprofit provides such supplies to any neighborhood organization that wants to take on a similar cleanup project.
Last Saturday's effort included Kamin, at-large city council member Sallie Alcorn and Houston Public Works director Carol Haddock, according to Super Neighborhood Council 14 president Leigh Killgore, a Timbergrove resident who helped organize the event.
The cleanup focused on a stretch of Turkey Gully that runs through the Timbergrove neighborhood, from Wynnwood Lane to the north to the gully's outfall at White Oak Bayou to the south. Reed said it figures to have a positive impact on wildlife and the local water supply along with preventing some pollution from reaching Galveston Bay.
Keeping the waterway free of debris also helps to reduce flooding risks for nearby property owners such as Dickerson.
"Turkey Gully and flood mitigation in the area are critical needs I am strongly advocating for. As I continue to work on a large-scale flood mitigation plan, we wanted to organize community-led events like this to highlight the need, get even more people involved and build on the strong sense of community our neighbors have," Kamin said in a statement provided to The Leader. "… While we need a long-term solution, efforts like this go a long way to preserve and protect the gully which is cherished by residents of all ages."