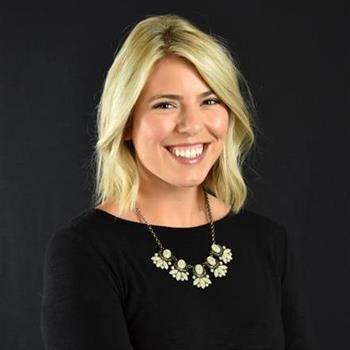 Each year the Delta Upsilon chapter of Delta Kappa Gamma International, an organization that benefits women in the education profession, presents the Young Educator's Award to an outstanding young teacher for their major accomplishments in the field of education. The award was established by longtime Delta Upsilon member Nell Baham in 2013.
This year, Oak Forest Elementary second-grade teacher Katie McCoy received the honor as well as a monetary award and a framed certificate.
"It is in appreciation for teachers who go beyond the call of duty, especially during this difficult time, teaching in the classroom as well as virtually," Baham said.
McCoy went to Sam Houston State University to pursue a career in elementary education and earned a degree in interdisciplinary studies. She began her teaching career in Tomball, where she taught second grade for two years, and is in her third year at Oak Forest Elementary.
"Coming (here) was very special to me because I grew up in Oak Forest and absolutely love this community," McCoy said. "I went to St. Ambrose until eighth grade then graduated from St. Pius X, but I can remember watching (OFE) being remodeled. I quickly realized when I was in Tomball that I wanted to teach in the same community where I lived."
McCoy said the thing she most enjoys about teaching is the interaction with her students.
"I live for that 'aha' moment when they first understand a new concept or see the connection between what they are learning and their lives," she said. "I love listening to their stories, encouraging them when things get tough and learning from them."
McCoy said she is constantly learning from other teachers around her and feels fortunate to have such a "wonderful staff and administration" on which to lean.
"As educators, we are lifelong learners," she said.
McCoy said a tip she would give new teachers is to take the time at the beginning of the year to build relationships with their students.
"Once you establish trust within your classroom, the fun can really begin," she said.
Oak Forest teaching specialist David Church said one of McCoy's strengths is her ability to build positive relationships with her students and colleagues.
"Her students love being in her class, and they know that she cares for each of them and wants them to have the best second grade year possible," Church said.
Previous winners of the award include Oak Forest teachers Veronica Blanco, Elba Rodriguez and Lacy Roberts.