St. Rose of Lima Catholic School Principal Bernadette Drabek said their new two-story, 44,736 square foot educational building came just in time.
"We were out of space," she said. "All the ancillaries were traveling on a cart."
That will not be an issue anymore. After Spring Break –  during which a donor-funded, herculean three-day move occurred – kindergarten through eighth grade students came back to a building that is much different from the 1947 area classrooms they used.
The main entry of the new space opens to an elementary school library, with a STEM-oriented middle school library on the second floor.
There is a specially designed science lab, which Drabek describes as "the most beautiful room in the building," as well as a soundproof music room, language lab, computer lab and 19 large classrooms outfitted with smartboard technology. And the ancillary teachers all have a designated space.
The wings of the building are organized into pods – each with its own bathroom – which was planned pre-COVID but has come in handy during the pandemic.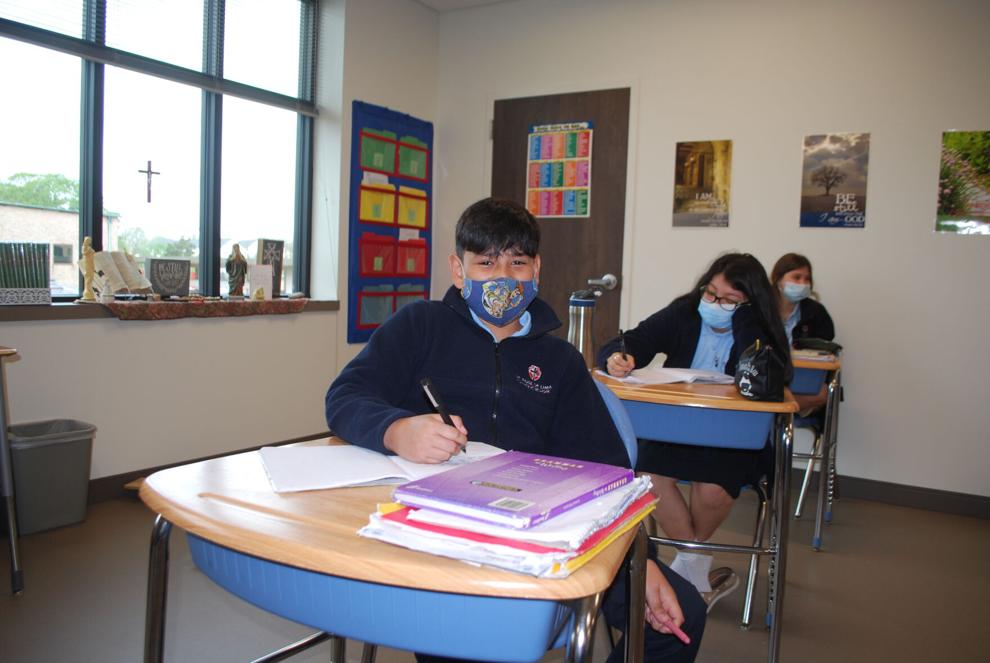 "I'm happy to learn in a more modern space," middle school student Jackson Schultea said. "It is a lot more comfortable."
The building, planned since 2015, cost approximately $10 million, with $4 million of it funded by St. Rose's Faith in Action Campaign. The school took out a loan for the remainder.
"Donors have been very generous," Drabek said.
One giver donated $300,000 and another gave $25,000 for the middle school library, which will have 3D printers.
The classrooms and libraries have not been completely outfitted yet, and that is purposeful, according to Drabek.
"We want teachers to get a feel for what they need, and we can add to it," she said.
The school is now at 435 students with two classes per grade, through fifth grade. The plan over the next three years is to grow gradually to a little more than 500 students, adding two classes for sixth, seventh and eighth grades.
The pre-kindergarten 3 and 4 students are still in the two north wings opposite the new buildings. One of these wings was renovated 12 years ago and the other was added.
These sections house seven classrooms with space for an art room and a resource room.
The old classrooms on the south side of campus will be demolished next year and a new drop-off area will alleviate traffic congestion on Brinkman Street. New awnings will be added as well.
Drabek has been at the school for 12 years, first as a teacher, then as assistant principal and now principal.
"(The building) has been a long time coming," she said. "I'm just so happy with it."