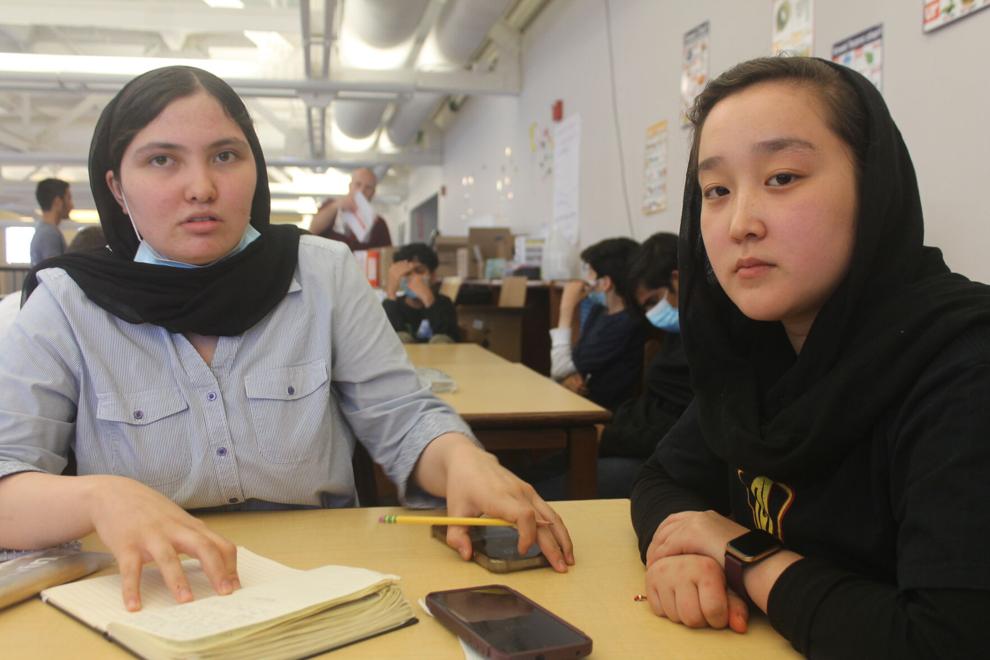 Atifa Habibi and her mother left behind family, friends and the only lifestyle they had known when they fled from Afghanistan about nine months ago. First they sought refuge in Qatar and then arrived in the United States, first in Washington D.C. and later Wisconsin.
It's been a few months since they were relocated to Houston, which has been enough time for the 17-year-old Habibi to take a liking to her new home. She attends Heights High School and is classmates with boys – something she could not do in her home country, Habibi said – and is quickly learning the English language.
Habibi also has gotten a taste of the American dream, saying she likes biology and aspires to become a doctor.
"Here I can read, I can get an education, I can make my future," Habibi said. "It's good for me. I like this."
Habibi is one of more than 20 students at Heights who are recent refugees from Afghanistan, with several more attending Hogg Middle School and Memorial Elementary, according to Kulsoom Karakoc, a Heights teacher who has been assisting the students and helping them adjust to life in the U.S. They are among dozens of Afghan families who were placed in a Memorial Drive apartment complex by Catholic Charities of the Archdiocese of Galveston-Houston, one of five federally funded refugee resettlement agencies in the region.
Rasha Issa, an education coordinator for Catholic Charities, said some of the Afghan families had been working with U.S. military forces or U.S. companies and faced danger when the Taliban returned to power last summer. She said they evacuated first to U.S. military bases in countries surrounding Afghanistan, and later to bases in the U.S. before they were granted humanitarian parole, allowing them to resettle in cities such as Houston and the opportunity to apply for asylum.
Mohammad Asim Sahibzada, who like Habibi is a 17-year-old Heights student from Kabul, the capital city in Afghanistan, said he came to the U.S. with his parents and seven siblings.
"We are happy and our future's got a chance," he said through a translator. "We will have a good education and a good life over here, and we will be safe."
Issa said Catholic Charities has facilitated the resettlement of about 1,300 Afghan refugees this year alone. The organization helps provide core services such as three-to-six months of free housing, food, clothing, healthcare and education while offering an orientation about U.S. laws and customs, public transportation, banking and insurance, according to Issa, who said Catholic Charities also helps refugees find jobs and secure the necessary paperwork along with applying for benefits such as food stamps and Medicaid.
Hekmatullah Anwari, an Afghan refugee himself and mentor for Houston-based Amaanah Refugee Services, said he has been enlisted by Houston ISD to assist the Afghan students at Heights as well as three elementary schools in the district. He serves as a tutor and translator.
The faculty at Heights has helped integrate the new students to life on campus and in the community in general. Eight of the Afghan students have joined the school's Mission Squash program, which teaches the sport of squash while also providing academic guidance, and they also have been playing cricket and soccer with their new classmates.
Some of the Afghan refugees helped represent Heights at the annual Houston Art Car Parade earlier this year, according to school librarian Anthony White, who has helped mentor the students. Karakoc, a campus instructional technology specialist at Heights, said some of the American students also have helped to make their new classmates feel welcome.
"It just enriches everyone," White said of the students' presence on campus. "We couldn't be happier that they're here. I know they have a lot of needs, and we're really trying to help them."
Karakoc said it's been a challenge to try to meet all those needs, such as helping the students overcome language barriers while adjusting to a new culture both in and out of school. She said many of the families face financial hardships and likely will need their teenage children to work once their rental assistance is exhausted.
But Karakoc, who immigrated to the U.S. as an 8-year-old, said helping the students also has been a rewarding and personal experience.
"It's been a big challenge, but it's been also just amazing and fulfilling in a way that I have never experienced as an educator," she said. "Because these students are so willing. They understand how precious an education is. They are just so grateful and so amazingly sweet and so easy to help."
Sahibzada said he has made some American friends and discovered he likes tacos as well as raspas, which are Mexican frozen treats. He wants to remain in the U.S. and become a computer scientist.
Mohadesa Ahmadi, a 16-year-old Heights student who has formed a friendship with Habibi, said she likes coding and wants to become an engineer.
Habibi said she wants to return to Afghanistan one day, but not permanently. She said American people are kind, so she wants to stay here as well.
"I want to go back to Afghanistan, not for all time, just for a week or something like that to see my family," she said. "Maybe when Afghanistan is in peace, we can go."
To get stories like this delivered to your email inbox, sign up here for The Leader Daily Newsletter.