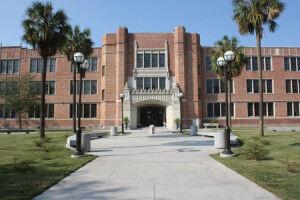 By Abigail Eastman
Sophia Castillo, an 11-year Houston ISD teacher who works at Heights High School, said virtual learning could never compare to in-person instruction. She said she's a different person when teaching in front of a screen versus teaching in front of a classroom full of kids.
Castillo teaches biology to ninth graders and, in some ways, the COVID-19 pandemic is the real-world version of the class she teaches. With HISD planning to rely solely on online instruction for at least the first six weeks of the upcoming school year, which starts Tuesday, Sept. 8, Castillo said she worries about how she will build the connections with her students that the classroom facilitates.
She also said it will be difficult for her incoming ninth graders to get up to speed on the technology used in the classroom, since her ninth graders last year had many months to learn how to work the programs. Now, Castillo will have to find a way to teach all of that virtually. She said online learning applications will be especially important, because unlike last spring, HISD will count all grades for students.
Castillo's case is not unique as HISD starts an unprecedented school year. Parents and students also have concerns and are making adjustments based on the pandemic, which could affect HISD's plan for the 2020-21 academic year.
The school district announced its "Reconnect Safely, Return Strong" plan in July and, in August, the HISD Board of Education approved a $54.6 million budget amendment to ensure students are equipped with computers and internet access and that campuses have enough purchase personal protective equipment, social distancing signage, plexiglass dividers and special education personnel. Face-to-face, on-campus learning is scheduled to begin Oct. 19, although that date is subject to change given the COVID-19 conditions in the Houston area at the time.
Students and families will have the opportunity to opt out of in-person learning when it begins, if they feel uncomfortable returning to campus. HISD said it has distributed 76,362 digital devices for students since the onset of the pandemic in March, with plans to distribute 22,750 more, and it plans to have distributed nearly 26,000 wireless hotspots by next month.
Parent's perspective
Tish Ochoa, a Heights parent of an incoming third grader at Wilson Montessori, said her daughter was set up for success last spring because Ochoa was able to provide the technology and assistance to support the transition to virtual learning. But she acknowledged there would be a widening gap in between those who have the resources to get online and those who do not.
After Spring Break, which came shortly after the onset of the pandemic in the Houston region, Ochoa's daughter was given a list of assignments at the beginning of each week and had two Zoom calls per week. While it took her daughter time to adjust to learning online, by the end of the year she was able to upload her own assignments.
Like Castillo, Ochoa said she worries about the connection between her daughter and her teacher, which she noticed was missing when classes went virtual in March. Even more significant, Ochoa said, was the lack of socialization between students. Her daughter was no longer regularly interacting with her friends and is now mourning the loss of school and being able to go back to be with her peers.
Over the summer, Ochoa was looking for a college student to help supervise and tutor her daughter. Virtual learning is a struggle because she and her husband both work full-time jobs and cannot necessarily commit the time to helping their daughter during the day or providing her with supplemental educational activities. Ochoa and other parents are trying to put together small groups of children to work with a tutor, both to help the parents and as a way for the kids to socialize.
Ochoa said HISD's decision to reopen virtually was the best choice. She said the plan was well thought out and took into account concerns about the safety of staff and students. But she hopes HISD puts together a concrete metric of case counts that will be frequently updated, so parents can have some sort of gauge to determine when students will return to school and under what conditions.
Student's life
Gabriella Taverna, an incoming senior at Heights High School, said her weeks last spring consisted of two classes per day from 8-11 a.m., when students and teachers met through Google Teams calls. The afternoons were reserved for assignments and getting extra help if needed from teachers, a system put in place by Heights.
Taverna said her classes really only lasted 15-30 minutes, and many of her friends stopped turning in assignments and showing up to class altogether. When asked about her workload, Taverna said she had two assignments per class per week, but the curriculum felt the same.
Given the option to switch back to in-person learning in October, Taverna said she most likely will continue virtual learning until at least January as allowed by the district.
Not only are her parents worried about the new coronavirus, but she nannies as a job. Virtual learning gives Taverna the unique opportunity to continue her nannying job while still attending school, allowing her to save money for college next year.
Castillo said she will make the switch to in-person learning once given the opportunity. She was originally nervous that she would have to have four separate lesson plans when the switch occurs — one virtual and one in person for each of her two classes — but HISD will be hiring separate teachers to lead the virtual classes. In HISD's reopening plan, there are plans to reconfigure classrooms in order to ensure a 6-foot distance between students.
Castillo said she can see no way of going back to school in a setting that would be conducive to social distancing. High school hallways and classrooms are crowded, she said.
She also said she is lucky enough to have a sink in her classroom, so she can make sure her students are washing their hands, but is worried about having adequate supplies in the school such as soap, paper towels and masks for all of the students.