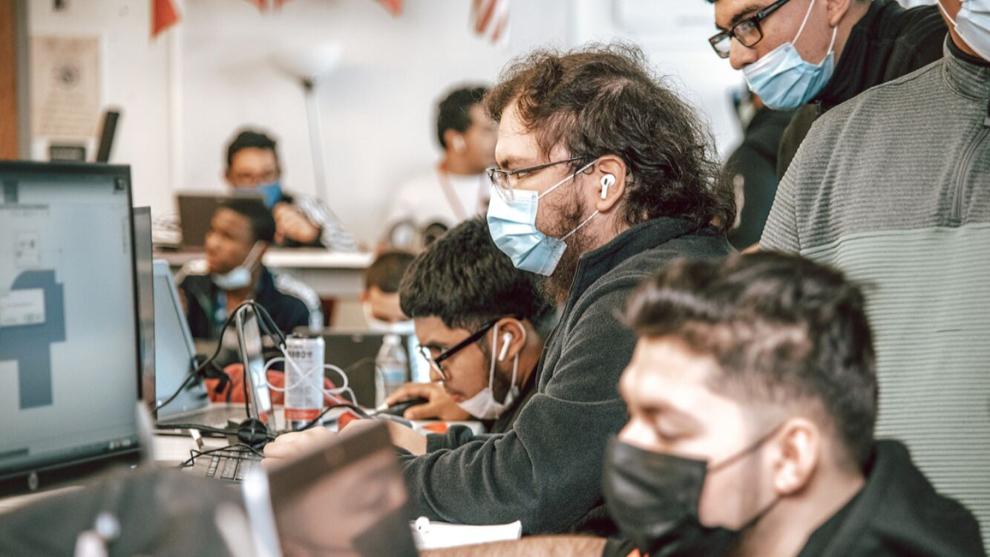 Since 2016, Waltrip High School Career and Technical Education teacher Stephanie Witherspoon has dedicated her time to ensuring students with engineering inclinations have the opportunities to succeed.
Her efforts, and those of her fellow teachers and students, have begun to earn the school's program national recognition. On April 6, SOLIDWORKS national representatives came by Waltrip to recognize the program's accomplishments. The school has had 23 students who have earned the Certified SOLIDWORKS Associate (CSWA) designation so far this year – the most in Texas, and a top-10 number in the nation.
"We've had some splashes of success (before), but getting it to the point where it looks like it's sustainable is really exciting," Witherspoon said of getting more and more students certified. "… Having the students buy in is the really cool thing."
SOLIDWORKS certifications involve working in fluid power systems design, computer-aided drafting and mechanical engineering and can open doors to jobs in the engineering field, according to Witherspoon.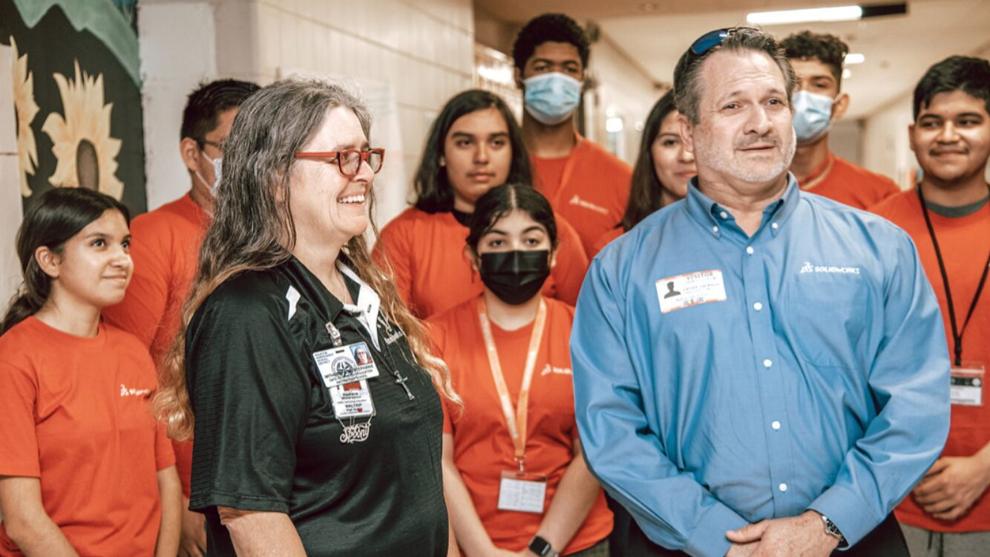 Waltrip's engineering program of study focuses on the design, development and use of engines, machines and structures. Students learn how to apply science, mathematical methods and empirical evidence to the innovation, design, construction, operation and maintenance of different manufacturing systems through Computer Animated Design, or CAD.
The SOLIDWORKS program has been in place at the school since 2016, and is better than ever, according to Witherspoon.
"We're kind of knocking it out of the park, and the students are really focused and motivated," she said last week. "It's really fun."
Starting in their junior year, Witherspoon said the school's engineering students can choose to begin the program by working through a series of projects aimed at developing a proficiency for 18 specific SOLIDWORKS-related skills. Once they master those 18 parts, then they move into assemblies. Then, after they can do assemblies quickly and understand how to get the data they need from it, they move into the testing environment.
Witherspoon and fellow teacher Adel Rakha oversee the program.
"We're a very big hands-on, minds-on program," she said.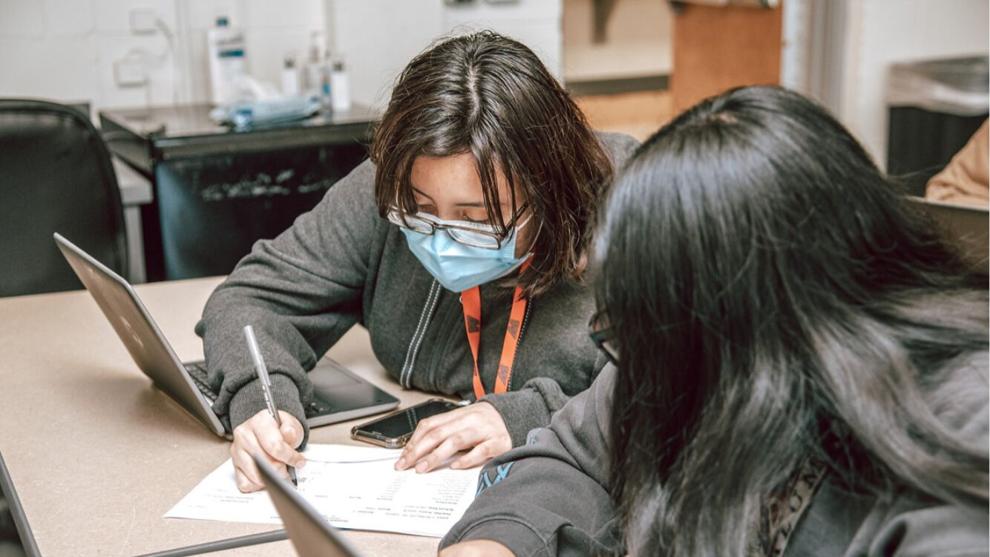 Among the 23 students who have already earned their CSWA this year are seniors Moises Gonzalez and Victori Rosilez, both of whom plan to attend Texas A&M and have been in the Waltrip engineering program all four years of high school.
"I have a lot of other hobbies like drawing, and in SOLIDWORKS you do a lot of that," Gonzalez said. "You can make your drawings come to life, and that seemed really fun to me."
Gonzalez plans to go into mechanical engineering, while Rosilez has her eye on studying biomedical engineering. Both said the introduction to tangible, practical skills they can use in the workforce has been a major benefit to being part of the engineering program and working toward their CSWA during their high school experience.
"We've experienced so many real-life situations," Rosilez said. "All my other classes, they say, 'You have to do this.' It's great, but here, everything I do I'm going to get to use out in the real world. My skills here are transferring over. … I can use every single thing I've learned here in the real world."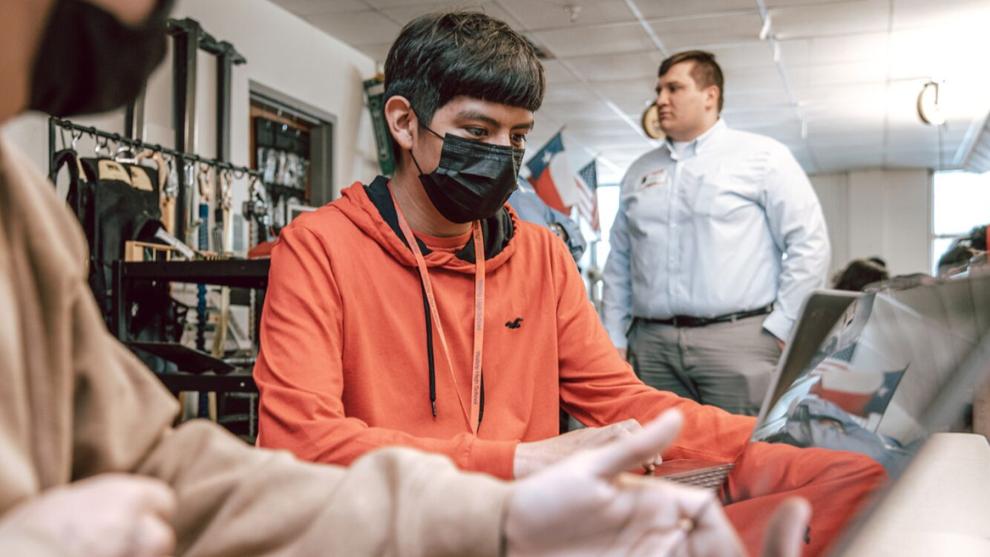 A cut above
What makes the Waltrip program even more unique, Witherspoon said, is the hands-on nature of everyone involved in the program. Over the last few years, she has helped implement a student mentoring program.
As part of the initiative, students who have already earned their CSWA certification can choose to stay on for an extra six weeks tutoring and helping students who are working toward their certification to give them peer-to-peer coaching.
"Students speak 'student.' It doesn't matter how carefully I choose my words; I don't speak (their language)," Witherspoon said. "They just get each other so much better than we get them."
In addition to the 23 who have already earned their certification this year, Witherspoon said that as of last week there were 15 students beginning their work toward earning it. One of those is junior Richard Billalobos, who plans to attend the University of Texas and study mechanical engineering.
"(My passion for engineering) started with my love of building things, ever since I was a little kid," he said. "My dad taught me all the little things growing up, and over time I just wanted to continue doing it and be an engineer like my dad."
And even if they are not planning to work toward an engineering field after high school, Witherspoon said the skills learned during their time at Waltrip can pay dividends no matter their future profession.  Students can also earn a Certified SOLIDWORKS Professional in Mechanical Design (CSWP) as well certification from the National Center for Construction Education and Research (NCCER), which is a work readiness and safety certification.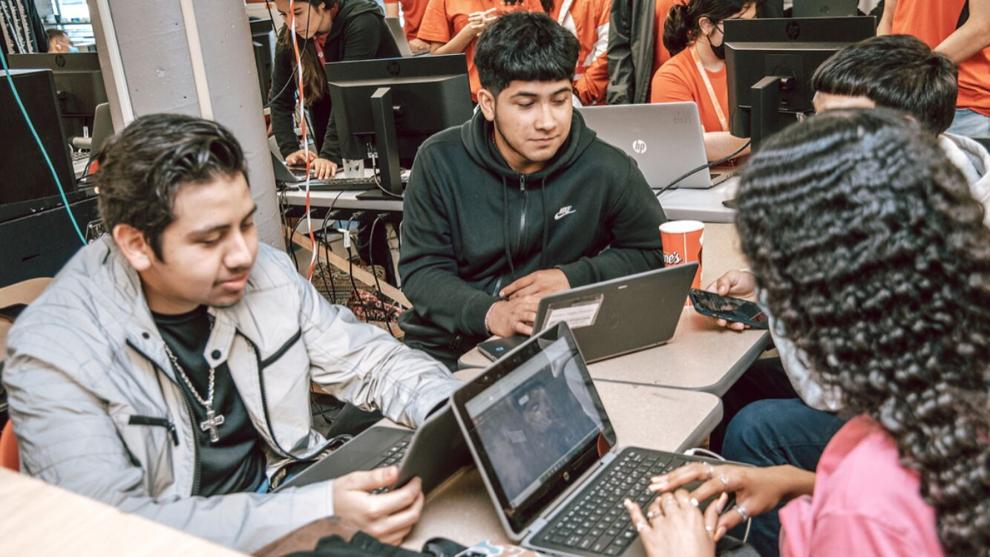 Junior Bianca Heath is one of those as she wants to study to eventually become a nurse. She is looking at Texas State, the University of Texas, Lamar and Prairie View A&M, among other schools.
"I know how to use SOLIDWORKS and I've learned the basics of safety, which can help me progress my skills and be a better nurse," she said.
No matter how the students who come through Waltrip choose to use their skills moving forward in their aspirations, Witherspoon said being part of it can only bolster their chances to be a productive part of the workforce while following their dreams wherever they wind up.
"We're equals in this endeavor," she said. "Getting them to understand that we're here to help and excited for them to learn has been really fun."
To get stories like this delivered to your email inbox, sign up here for The Leader Daily Newsletter.