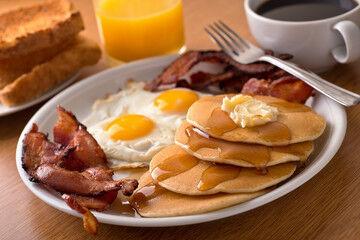 When the night's fast is broken in the morning hours, the food that's commonly thought of as breakfast items – eggs, toast, pancakes and more -are cooked and feasted upon.
But why do those food items qualify as breakfast? Why not chicken parmesan, a ham sandwich or chicken tenders? Common Bond Café's chef Jason Gould said a big part of why we eat what we eat for breakfast is convenience.
"We are always in such a rush in the morning to either get the kids to school or get to work that we have to be efficient," Gould said. "Eggs cook fast, cereal with milk offers variety and toast is more of a grab-and-go."
Gould the prevalence of on-the-go breakfast is why brunch has grown in popularity.
"We have the time to sit and enjoy a more composed breakfast meal and not feel rushed," Gould said.
Common Bond has two concepts in the Heights, Common Bond Bistro & Bakery at 449 W. 19th St., and On the Go by Common Bond at 601 Heights Blvd. Another on-the-go concept is set to open in Garden Oaks this year. The restaurant offers breakfast during the week from 7-11 a.m. and brunch on the weekends until 4 p.m.
But convenience might be the reason some breakfast items have stayed in our register. Digging a little deeper, Gould said breakfast foods are determined by heritage as well.
"Breakfast foods in America have changed a lot over the last decade or so," Gould said. "Breakfast tacos are a lot more accessible, kolache shops are popping up everywhere and Asian breakfast items such as Congee and Japanese pancakes are being featured on a lot more breakfast menus."
Even Gould, an "Aussie" as he says, has the ideal quick breakfast. He puts Vegemite, an Australian peanut butter-like spread made with leftover brewers' yeast extract, on sourdough.
And while breakfast food in America has expanded to include new food, even those have a base of the original. According to HowStuffWorks.com, what we eat in the morning can be traced back hundreds of years. Eggs, sausage and a version of what we know as pancakes were typical in ancient Rome. But even then, Romans didn't often eat early in the morning.
In an article on MentalFloss.com, Hannah Keyser writes that before the Industrial Revolution, there was no such thing as "breakfast food." In the morning, people generally ate what they readily had available before going off to work. When time rolled into the 20th century, efficiency was priority, which meant people didn't want to spend time cooking, they wanted to spend time earning.
The article also mentions whole wheats and cereal becoming popular because of how quick and easy they are to make, plus advertisers pushing that it wasn't good to start the day off with meat. However, meat-packing companies turned the tune and put out that it was better to start the day with meat, which popularized bacon, according to the article.
So it's thanks to ancient Rome, the Industrial Revolution and messages from companies trying to sell their products that we eat what we eat for breakfast.