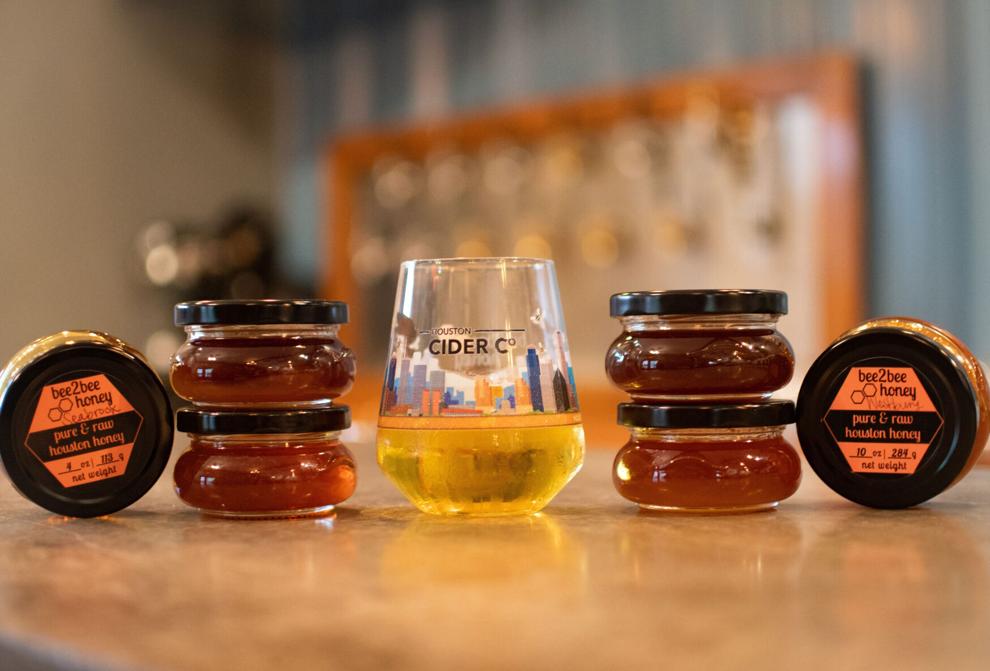 Houston Cider Company, 1125 W. Cavalcade St., and Bee2Bee Honey Collective are launching a collaborative cider on Friday.
The honey cider will come in a six-pack, with each of the ciders using six different Bee2Bee honeys sourced from six neighborhoods across Houston. A six-pack is $15 or $25 with the commemorative glass.
Customers will get to vote for the best of the six honey ciders until Dec. 31. The winning cider will be announced the following week with a $500 donation from Houston Cider, which will go toward the winning honey's neighborhood organization that will use the money for bee-friendly projects.
Taco team-up to benefit women's health
Tacos A Go Go and Mastrantos, 927 Studewood St., have teamed up to offer a specialty taco for the month of December, and proceeds from each taco sold will benefit the organization I'll Have What She's Having, which support women's health.
For the collaboration, Mastrantos executive chef Tony Castillo created the Chorizo Carbonara taco, which features house-made bucatini pasta, chorizo, garlic, onion, Taleggio cheese, queso fresco, cilantro and egg yolk.
The taco will be available at all Taco A Go Go locations, including the one at 3401 W. T.C. Jester Blvd., every Tuesday, in limited quantity, during December.
Tutu sandwich at Antone's
Antone's Famous Po' Boys is collaborating with former Houston prima ballerina Lauran Anderson for its holiday edition of "H-Town Originals."
The sandwich is called Tutu Turkey and is oven-roasted turkey breast with grilled onions and bell peppers, sliced brie, mayo and spicy mustard on toasted whole grain bread.
The sandwich debuted Tuesday and will be available throughout the month of December at Antone's, including the location at 2724 W. T.C. Jester Blvd.
Free smoothies for first responders, medical professionals
Tropical Smoothie Cafe, which has two locations in the area at 1717 W. 34th St. and 920 Studemont St., is giving free smoothies to first responders and medical professionals through Dec. 8.
This is the second time this year the company has given back. In April, it donated more than $1.4 million in smoothies to healthcare professionals and first responders, according to a news release from the smoothie chain.
Eureka Heights brew release and more
Cosmic Opera is back at Eureka Heights Brew Co., 941 W. 18th St. The citrusy pilsner is dry-hopped with Comet hops that give the beer hints of lemon rind and grapefruit. Four-packs went on sale Thursday afternoon.
Eureka is also collecting toys for Combined Arms: Operation Santa. You can drop off new, unopened toys in the tap room or in Eureka's drive-thru. The last day to donate is Dec. 10. Also, by buying Eureka's annual holiday brew, Holly Jolly Jorts, you can help the program as a portion of the proceeds from that brew will go toward Operation Santa.
Brunch and photos with Santa
On Saturday, Dec. 5, B&B Butchers & Restaurant, 1814 Washington Ave., is hosting a brunch and photo session with Santa.
From 9 a.m.-2 p.m., the kids can sip on hot chocolate and snack on cider bars and the adults can sip on specialty cocktails while waiting to take a photo with Santa. B&B provides a print-out of the photo with Santa to take home.
The brunch and Santa photo are a package deal at a cost of $45 for children and $65 for adults. Reservations are required and can be made by calling 713-862-1814.
Christmas party with 'Bad Santa'
B.B. Lemon, 1809 Washington Ave., is hosting After-Hours Tacky Christmas Party with Bad Santa from 7 p.m.-midnight Saturday, Dec. 5.
As DJ Melodic spins tunes on the patio, party goers can eat, drink and be merry. "Ugly'" Christmas sweaters are encouraged as there will be a contest with prizes.
The DJ will be on throughout the event, the kitchen will stay open until 11 p.m. and "Bad Santa" will stop by from 8-10 p.m.
The Bearded Baker officially open
The Heights is officially home to The Bearded Baker, which opened in November at 518 W. 11th St.
The bakery specializes in custom decorated sugar cookies as well as other cookie varieties. The bakery also sells small cakes called "cakeletts" in different flavors.
Holiday wine packs to-go
Postino WineCafe, 642 Yale St., is helping customers get into the holiday spirit with Mix-N-Match Holiday Wine Packs.
Customers can choose from four different wines — CVNE Cava, Averean Chardonnay, Clos La Coutale Rose and Pavette Pinot Noir — to create a two-bottle bundle for $30. Or you can get all four wines for $55.