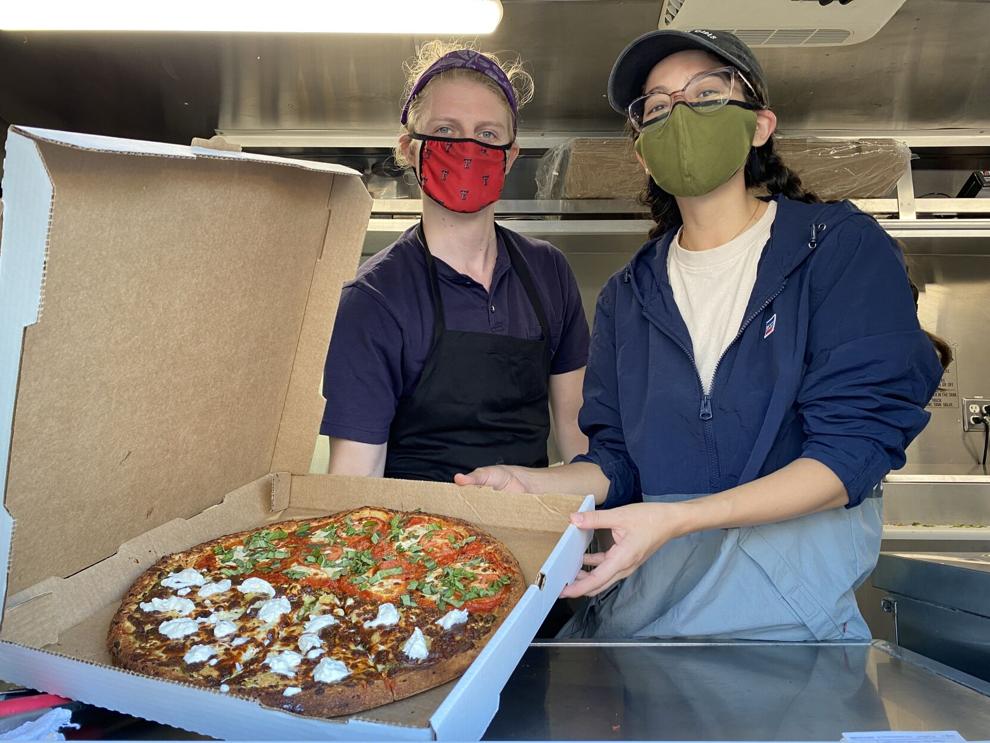 Houston has received global recognition for its culinary prowess. Its diversity seemingly knows no bounds, and restaurants across the Greater Heights have helped drive that innovation forward. The city is well-known for its Asian food and barbecue as well as Mexican and South American cuisine.
Increasingly, and perhaps quietly compared to the regional hubs of Chicago, Detroit, St. Louis and New York, Houston's pizza landscape has grown and changed dramatically over the last few decades, with a few mainstays anchoring both local traditions and nostalgic favorites.
Does Houston have a pizza identity? Does it even need one to succeed in one of the most ubiquitous food categories on the planet? We talked to several chefs and restaurant owners to get their takes on what makes a pie a Houston pie, and how they've carved their own niches in a competitive marketplace.
Forming the backbone
Agricole Hospitality chef and co-owner Ryan Pera, who oversees Coltivare, 3320 White Oak Drive, said he feels not having a regional label attached to the Houston pizza scene allows for greater creativity, and that chefs can utilize the city's many other widely-known strengths to enhance the quality and uniqueness of their pizza.
"There is definitely not a Houston-style pizza," Pera said. "One thing to call your own in a culinary pantheon for a city is enough, and I think barbecue has got that."
When Pera opened Coltivare in 2014, he said he felt it would succeed because the Heights had a need for Italian food and a pizzeria.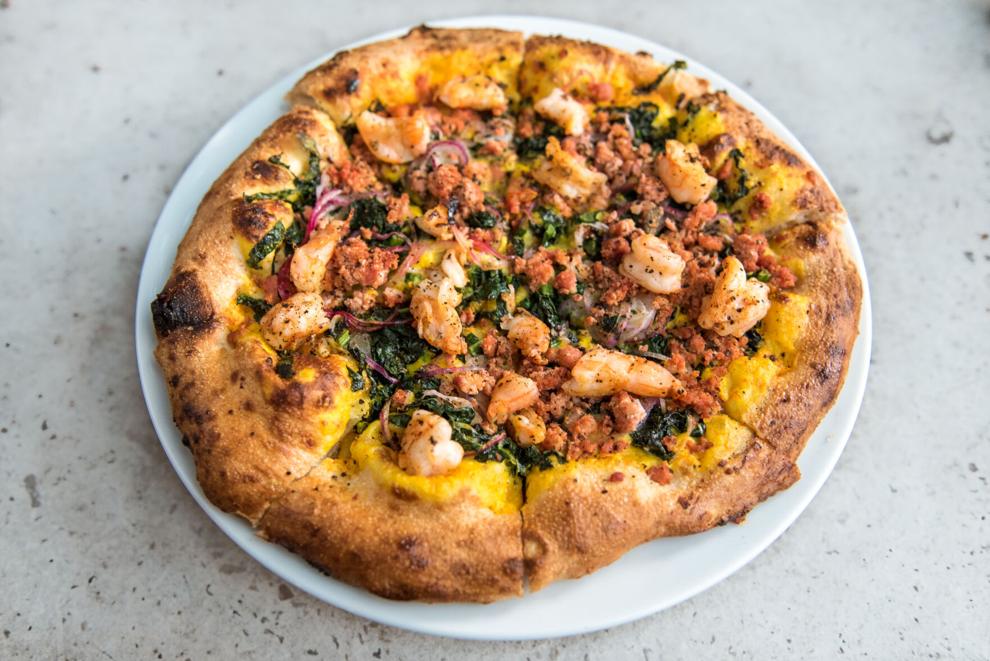 Pera and his team knew exactly what they were after when they began scouting the competition across the country, tasting pizzas in New York City, Seattle, Portland, Los Angeles and Chicago.
"We believe the crust is the backbone of Coltivare," Pera said. "We're looking for super crispy on the outside and super light on the inside. We want airy and risen and then shatteringly crispy on the outside."
Perfecting the crust took what Pera called "a little bit of baking finesse" employing an old-school, Texas-grown ingredient: sorghum, a sweetener used often in baking products from the Lone Star State.
"We're using it to feed the yeast," Pera said, "not necessarily for the sweetness itself. But that gives it a little rising power when it hits the oven and helps that fermentation process and gives it complex flavors."
Seasonality is also an important element for Pera, rotating menus to ensure the sourcing of the best ingredients while also matching the aesthetic expectations of the customer.
Two Coltivare pies that have distinct regional ties feature Gulf shrimp and spicy Calabrian chilies on one pizza and Austin-grown mushrooms and Texas pecans on another.
When in Rome
BOH Slice, 8200 Washington Ave., now serves pizza by the slice and made-to-order near the back of the Railway Heights Market. It is the latest project of chefs Ben McPherson and Chris Zettlemoyer.
Zettlemoyer said the dough at BOH, which makes Roman-style "pizza al taglio" or "by the cut", is cold-fermented for 72 hours. The result is a pillowy interior with a crunchy exterior.
Humidity and heat can wreak havoc on doughmaking, which is why Zettlemoyer said an ideal refrigeration temperature is between 37 and 40 degrees. The variability of the temperature in a kitchen can also play a critical role in whether or not the dough will rise properly, he said.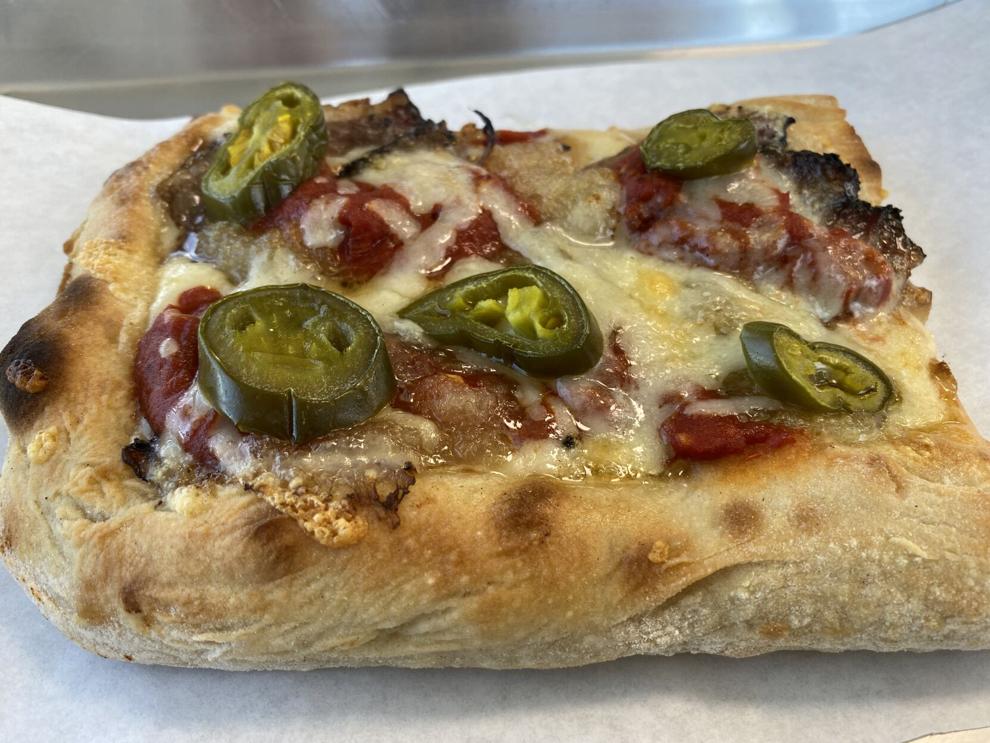 "Consistency is more what we strive for," he said. "Sometimes it's 97 in these kitchens and sometimes it's 76."
BOH Slice takes a more casual, build-your-own approach, as opposed to the more traditional and formal setting of BOH Pasta & Pizza downtown.
Zettlemoyer said he likes having a new concept that can play on local ingredients, like brisket and jalapenos, which have become popular choices for his Railway Heights customers.
He said the city's pizza scene mirrors that of Houston's global culinary palate.
"The pizza identity here is more like the whole identity of Houston," Zettlemoyer said. "It's so diverse and you can go to places and have pizzas with Indian toppings or Mexican-style toppings. We put the number of toppings that we have at (BOH Slice) into a formula in Google and there were 99 million combinations.This is the first place I've lived with a growing culinary scene where the pizzas are all over the place."
BOH's website boasts myriad local collaborators from where the restaurant gets its olive oil, meats and cheeses, most of which are from Houston or Austin.
A hometown favorite
If you grew up in Houston in the 1970s, you likely went to birthday parties or family gatherings where someone was serving Star Pizza.
Mike Pittman, Star Pizza's operations manager, said the franchise, which now has three locations, including one at 77 Harvard St. in the Heights, was one of the first to deliver pizza in Houston, preceding the arrival of national chains.
The original Heights location was along Heights Boulevard, and in 2003 it was moved to its current location in the Washington Avenue corridor.
Pittman said homemade sauces and cheese blends have helped Star Pizza develop the reputation it has today, and having a veteran crew ensures the quality remains across all of its locations.
Star Pizza does very little marketing, he said, and has relied mostly on word of mouth and online reviews.
"So far, knock on wood, we're riding out the pandemic," Pittman said. "We're seeing the light at the end of the tunnel a little bit."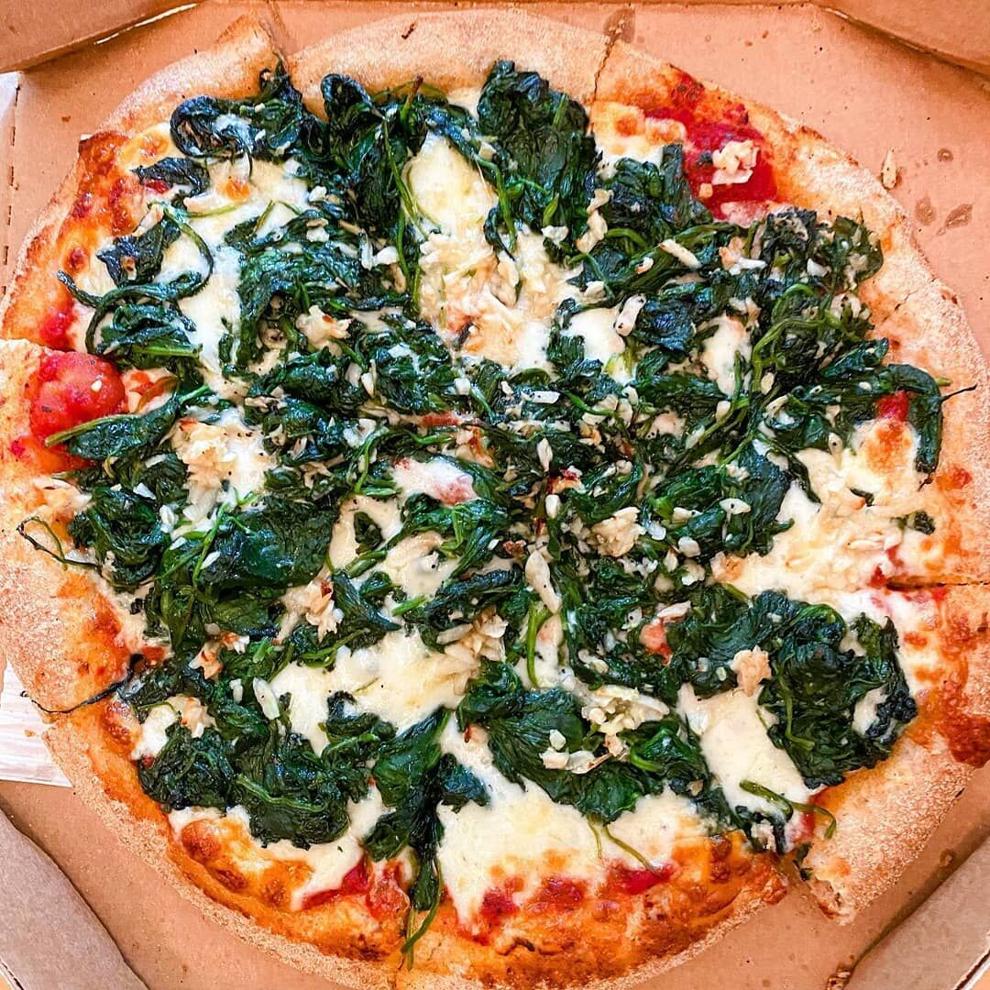 When Hank Zwirek, a native of Poland who grew up in Chicago, came to Houston to open Star Pizza in 1976, he offered both Chicago and New York-style pizza. He quickly found out that Chicago-style pizza, which has a thick, deep-dish crust, sauce on top and cheese and toppings in between, flopped among most Houstonians.
"Traditional Chicago pizza did not go over so well in Houston," Pittman said. "So we've had sort of Houston-ify Chicago pizza. We do get the occasional Chicago pizza aficionado that comes in and says, 'This is not authentic Chicago pizza.' We would never make the claim that this is authentic Chicago pizza. We call it Chicago-style pizza because it's pretty close."
Pittman said people will return to Star Pizza after decades away and are eager to share with him that in their view, nothing had changed about their beloved local pizzeria.
"The thing that gets me the most is people that keep coming back and they say, 'Gosh, it's just like I remember when I moved away 12 years ago,'" he said. "I used to pick up pizza with my parents from the original Star pizza in the early (1980s). And I remember the smell of the pepperoni pizza when I walked in. When I get a pepperoni pizza from work, it's the same."
From the "Starburst" pizza with ground beef, Italian sausage, pepperoni, mushrooms, onions and green peppers to a Salsa Verde with tomatillo sauce, Pittman said Star Pizza has left a deep imprint on the local pizza market.
"If the question is, 'Do I think that Star Pizza is Houston-style pizza?'" Pittman said, "I think 'yes' would be a fair answer."
New mom and pop on the block
One of the most intriguing new options for pizza in the Greater Heights comes from an unlikely source — a young couple with a food truck in the parking lot of a brewery.
Purple Flour Pizza was opened by Brad and Erika Egan in 2017, and the couple call their pizza a cross between "New York and Neapolitan-style pizza."
Brad worked at a local pizza joint during his college years in Lubbock and got a master's degree in engineering from Texas Tech University.
Following Brad's graduation in 2013, he worked his way up through the ranks after nearly four years to become a general manager at Pink's Pizza, but was disillusioned after an ownership change and pay cut.
One challenge for the Egans has been using a smaller conveyor oven as opposed to a larger brick oven. Climate control is even more difficult in the confined quarters of a truck, even with air conditioning running, especially with the typically sweltering Houston heat.
The truck initially traveled to events across Loop 610 before settling on its current location next to Greater Heights Brewing Company at 938 Wakefield Drive in Garden Oaks.
Erika said making connections with people in her neighborhood, especially those current and former lawyers and oil-and-gas industry veterans, have helped them, like Star Pizza, to build a reputation for quality and good service with very little advertising and word of mouth.
"Thankfully, because we're not traveling anymore, we have a normal clientele that's very regular and lives in this community," she said. "They now understand that, so their expectation is, 'Hey, it's not hot and ready, it's not pre-made,' and they appreciate that, but it's challenging."
One element of Purple Flour's business model is an insistence that pizzas be eaten as they were designed, something that the Egans will help grow and educate customers about the craft of making pizza from scratch.
"We've had people come up to the truck that have never ordered pizza from us before and they'll say something like, 'Can you make the crust a little thinner?'" Brad said. "What I tell them is I want you to order it, and then next time if you feel it should be a little crispier or brown around the edges, we'll do it. But the idea is eating it the way that the chef makes it the first time."
While competition in a crowded food genre like pizza can breed conformity and efficiency, it can also inspire niches that accommodate specific tastes. Erika said she sometimes likens Purple Flour's philosophy to that of the "Soup Nazi" from Seinfeld.
"I always view this world of customer versus business as a dating relationship," Egan said. "If we don't match, that's not your fault and that's not our fault, we just don't match. That's why there's hundreds of different places for sandwich shops, pizza or Mexican restaurants."