Candlelight Plaza resident Cassie Lemoine said she finds joy teaching second grade at Oak Forest Elementary. But it doesn't provide her with a creative outlet, which she finds crafting cheese boards, also known as charcuterie boards.
After ordering a cheese board for an event, she realized she could provide something just as good at a more reasonable cost that could be ordered for any gathering, big or small.
Lemoine created Cheese by Cassie about two months ago to be able to utilize her creative outlet as a side gig.
"I think it is in my nature to be more giving," Lemoine said. "I love to host things. I like to make sure people have something in front of them to snack on."
If through making these boards, Lemoine would be able to make just enough money to buy cheese for herself, she said she would be happy. In recent weeks, her business has grown. She started out crafting small orders, individual sizes or small groups sizes, and now she has added larger platters to her ordering form.
"People are getting more comfortable gathering because of the vaccine," Lemoine said. "I've been making bigger boards because of it."
While she makes traditional cheese boards, Lemoine also has been evolving her boards to fit different occasions.
"If someone is having people over for tacos, a traditional board isn't going to pair," Lemoine said. "If they're having Spanish food, I'll make the board more Spanish. I'm trying to provide a lot of variety but still making it fun for me."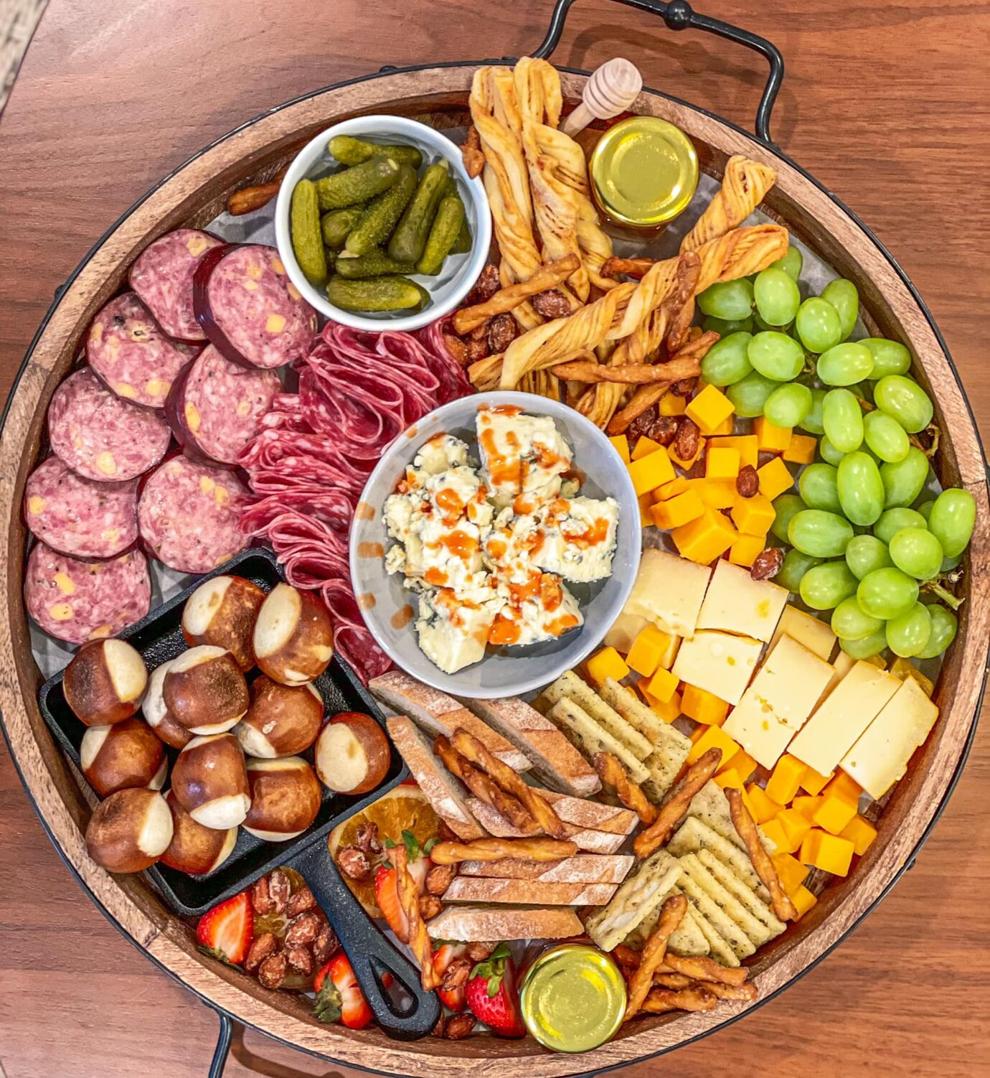 Cheese by Cassie offers a variety of boards, including a traditional board featuring hard, soft and semi-soft cheeses, charcuterie (cold cooked meats), fruit, olives, nuts and crackers; an Italian-inspired board featuring aged parmesan, mozzarella, prosciutto, capicola, grapes and traditional Italian crackers; a southern-inspired board featuring blue cheese, sharp cheddar, gouda, cheddar sausage, salami, green grapes, strawberries, seasoned pretzels and honey roasted pecans; a Spain-inspired board featuring manchego, cana de cabra, chorizo, jamon iberico, grapes, slice baguette, olives and marcona almonds; and a picnic board which is similar to the traditional, but with a twist. It features hard and soft cheeses, berries, peppered and regular salami and crudité.
The options come in three standard sizes. A small is a 12-inch round plate for $50 and feeds 2-3 people. The medium is a 15-inch by 10-inch platter for $75 that feeds 4-5 people. The large is a 22-inch by 12-inch platter for $90 and it feeds 6-8 people.
Lemoine doesn't plan to give up teaching, even if her business grows.
"In the summer I'm going to push the business and see how it grows and then take a step back if I need to," Lemoine said.
Find Lemoine's cheese boards on Facebook or Instagram @CheesebyCassie.