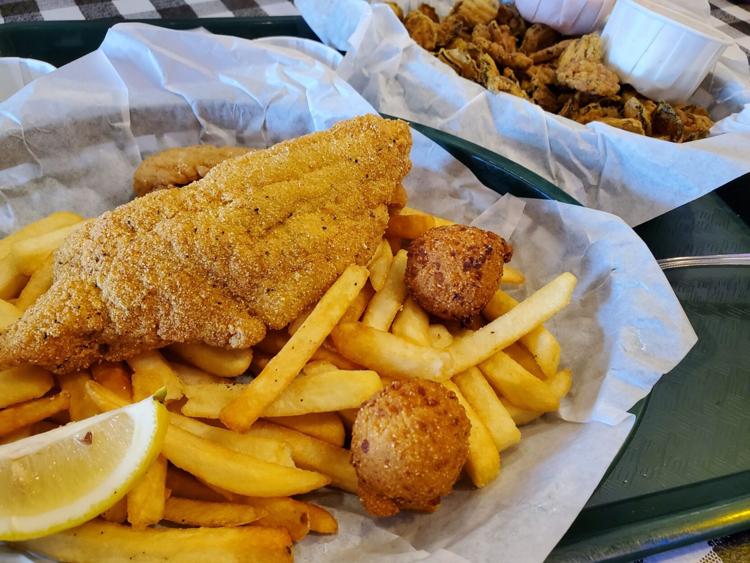 Flying Fish is exactly the kind of place you would go after a long day of fishing out on a lake. Everything about it screams "fisherman's paradise."
The restaurant known for its catfish, shrimp and oysters has a laidback diner feel with walls covered in fishing photos and fishing memorabilia along with a section dedicated to the "adopted" Big Mouth Billy Bass, the animatronic singing largemouth bass.
The décor transports you right out of the Heights and onto the lakeside.
More importantly, it was comfortable and clean.
I ordered fried catfish, which came with fries and hushpuppies. It didn't take long for my order to be ready.
Liking catfish is relatively new for me, and the more catfish I eat and enjoy, I wonder why I ever disliked it. There's good catfish and then there's bad catfish, and anything in the middle qualifies as bad — for me, at least.
The first few times I had catfish, it tasted almost muddy. People told me it was only a little different than chicken, but I thought they were insane.
For me, good catfish tastes fresh and not like I'm tasting part of the water it had been swimming in. Flying Fish delivers on this.
Its catfish filet was thinner than I expected, but it didn't take away from the flavor. The breading was light and the fish moist. The mild sweet taste of the fish went especially well with tartar sauce.
The fries were typical. I enjoyed the fried cornbread balls, or hushpuppies, more than ones I've had elsewhere.
The fried pickles I ordered on the side were different. The pickles were thin and, after being battered and fried, were more like fried pickle chips. The Cajun seasoning covering the pickles made up for the only mild pickle taste.
My lunch mate ordered the seafood gumbo and gave it a thumps up. He mentioned liking the okra that was added to the bowl.
I also tried Flying Fish's chicken tenders. The tender had thick breading, which reminded me of Whataburger's, both in look and taste.
Flying Fish is the perfect outpost for laidback seafood.
But being there may also cause you to suddenly want to go fishing.
Flying Fish
Address: 1815 N. Durham Dr.
Hours: 11 a.m.-9 p.m. daily
Pricing: $6.95-$22
Kid-friendly: Yes
Alcohol: Yes
Healthy options: No
Star of the show: Fried catfish