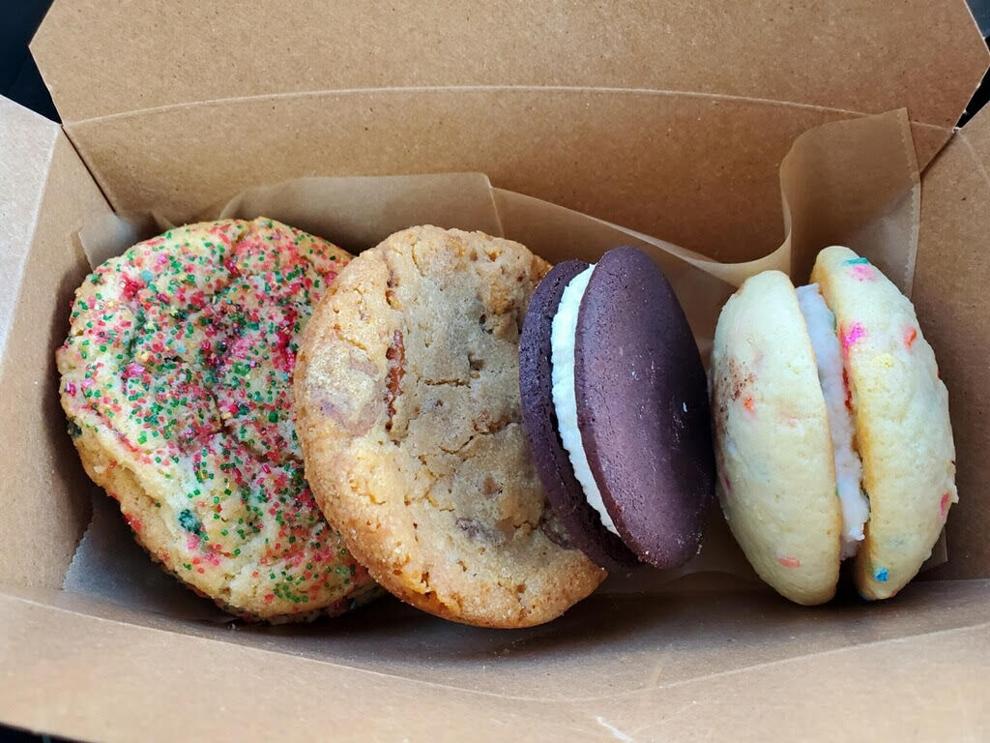 Cookies are more fun at Fluff Bake Bar, which has a selection of classic cookies with an upgraded twist, along with staples you can't find anywhere else.
The other dessert options at Fluff are just as good, too.
The Unicorn Bait cookie is one of my favorites. It's a sugar cookie with birthday cake crumb and covered with sprinkles. If I had to bet, I would say it is pretty enough, and delicious enough, to bring even a unicorn out of hiding.
The birthday cake crumb and the amount of sprinkles really elevate this simple cookie. The cookie is soft and sweet. The times I've purchased this cookie, it didn't last very long.
A cookie you can only find at Fluff is The Couch Potato. It's filled with potato chips, milk chocolate chips, pretzel sticks, cornflake crunch and mini marshmallows. Does it make you feel like an actual couch potato after eating it? Yes. But is it worth it? Yes.
The salty and sweet combination of ingredients is really what made me love this cookie. It's like stuffing your mouth with different snacks and all the different flavors end up working.
The Birthday Cake Whoopie Pie almost became my favorite after I first tried it. It's two birthday cake cookies sandwiched with vanilla buttercream. With the creaminess of the buttercream, the cookies are given an extra softness.
Biting into it is a lot like eating a slice of Funfetti cake. So, if you don't have time for cake, this handheld option is the perfect replacement.
Fluff's SHO cookie is its version of an Oreo. It's hard to compete with a lifelong favorite of mine, but I really enjoyed Fluff's version. The filling tasted pretty similar to that of an Oreo but without all the preservatives. The chocolate cookie sandwiching the filling reminded me of the cookie part of ice cream sandwiches.
Of the non-cookie selection at Fluff, I love the Cup|Cakes, which is Fluff's idea of what's next for the cupcake. It's basically cake in a cup. I've tried both the Birthday Cake and Veruca Salt flavors.
The Birthday Cake is Funfetti cake with chocolate buttercream, sprinkles and cake crumbles. As my fork went through the layers in the cup, it picked up a little bit of all the ingredients. It is really like a slice of cake in a cup, which makes it easy for storage and portion size.
The Veruca Salt is devil's food cake with salted caramel buttercream, pretzel crunch and chocolate crunchy pearls. As much as I love Funfetti cake, this one ended up being my favorite of the two because of the salted caramel buttercream.
If you're the type of person to eat some cookie dough as you bake cookies, the Booty Call Brownie is worth a try. It's a brownie topped with chocolate chip cookie dough. The dough does not contain raw eggs.
Eating it is a lot like one might think — it's like eating cookie dough on top of a brownie. What I never knew before is how much the two would complement each other. The dough makes the whole brownie sweeter, so I ended up sharing my brownie so I wasn't too sugar-wired.
What I like most about Fluff is that there's always something new and different to try. Even if it's something that's been done, like birthday cake, Fluff still puts its own spin on it.
Fluff Bake Bar
Address: 1701 W. 15th St.
Hours: 10 a.m.–6 p.m. Wednesday–Saturday, noon–5 p.m. Sunday
Pricing: $2.35-$5 (this does not include full cakes/pies)
Kid-friendly: Yes
Alcohol: No
Healthy options: No
Star of the show: Unicorn Bait