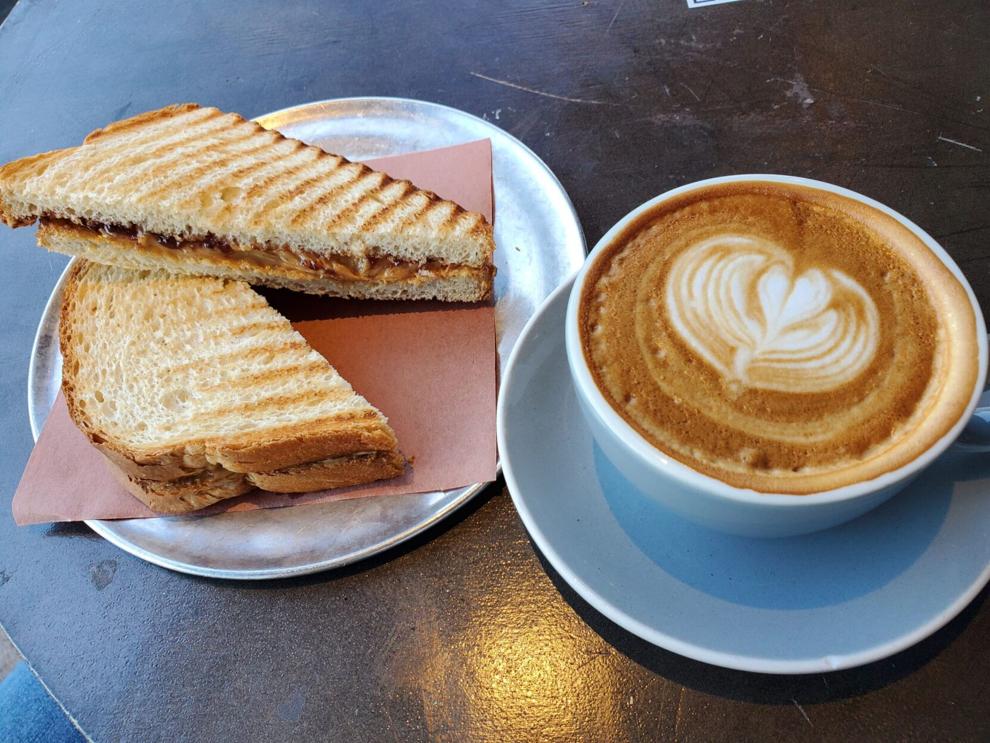 Maybe it's the constant flow of tunes playing over the speakers. Maybe it's the friendly faces that greet you over the register. Or maybe it's the deep smell of coffee that weaves into your clothes and stays with you even after leaving that makes Slowpokes such a perfect place to hang out and grab a drink and food.
Slowpokes first hooked me with its coffee offerings, then I was reeled in by its small bites. Now I hang off the line, happily, for a majority of what the shop has to offer. While I can't say I've tried everything, or that I'm in love with everything I've tried, most of what I've sipped or chewed at Slowpokes I've liked enough to order more than once.
And because Slowpokes happens to be where I've spent a lot of time over the last couple of years, I can add that it's a great place to settle in and study, read or meet with a friend.
When I drink plain coffee, I like it black. I usually go for the Americano if I want something strong and easy. It has just the right amount of bitterness and caffeine that I love about coffee. If I want something with more depth and a wider flavor palate, I'll go for a pour-over. Slowpokes has both house blends and guest blends that come from Ethiopia, Guatemala, South America and more. Personally, I lean toward Guatemalan blends because they usually have more hints of chocolate.
Lately, I've enjoyed the flat white. It's what I choose when I want something that tastes like coffee, but there's a tiny sweetness that takes the edge off.
If I just want something sweet, I'll order the caramel macchiato. I've had this one both hot and iced and I can't choose which I prefer.
I've had lots of latte flavors, but when it comes to the quality of the lattes, I have found it depends on the barista. I've never had a straight-up bad latte at Slowpokes, but I have had really amazing ones if certain baristas are working.
My favorite latte flavor is lavender with honey. It has a nice, florally sweet taste that isn't too sweet. If I'm feeling plain, I'll get vanilla. It's just a good simple choice if you're not sure what you want. I also enjoy the hazelnut and mocha flavors. These are also great to get iced during the summer.
Slowpokes' tea comes from Tea Sip in the Heights. Depending on the weather outside, I like getting hot or iced tea. I lean toward the fruity flavors because I don't add sweetener to my tea. So the fruity teas already have a natural sweetness.
The shop also carries local craft beer from Eureka Heights Brew Co., Saint Arnold Brewing Company, Karbach Brewing Co. and more. They always have local offerings and they often rotate. There's also a selection of wine available.
From the kitchen I have a few favorites, too. The breakfast taco comes in a corn tortilla and is filled with scrambled eggs and your choice of toppings. I love adding avocado. I'm not big on eating breakfast, but these simple tacos were always welcome when I'd drop by the shop before work.
The Avocado Mash is a slice of sourdough with avocado, arugula, grape tomatoes, lemon, oil and salt. Out of everything I've had, this is probably my least favorite. The bread was a little tough, making it hard to eat.
The Chicken Pesto Panino is in the running to be my favorite sandwich from Slowpokes. It comes on a pretzel baguette and stuffed with chicken, fresh mozzarella, arugula, avocado, pesto and aioli.
My favorite sandwich is the PB&J. It's not the most complex item on the menu, but it's the sandwich I order most often when I settle into the shop to do some work. It's peanut butter and strawberry jam on sourdough. The bread is toasted and, in my experience, has a different thickness every time I order it. Sometimes the bread is thin and really toasted. Other times it's a little thicker and only lightly toasted. I like it either way.
The Slowpokes Salad, consisting of mixed greens, carrots, blueberries, grape tomatoes, cucumbers, apples and almonds, is perfect if you want something light and fresh. The Chicken Mozzarella Salad, with mixed greens, grilled chicken, fresh mozzarella, grape tomatoes and cucumbers, is perfect if you want more protein.
If I just want a snack, a Slow Dough Pretzel is my go-to. It's a large soft pretzel that comes with a side of dipping sauces. The sauces rotate.
Slowpokes also keeps an array of treats brought in my local bakeries, like croissants, muffins, cookies and more. Grabbing a muffin is never a bad idea.
Slowpokes
Address: 1203 W. 34th St.
Hours: 7 a.m.-9 p.m. Monday-Friday, 8 a.m.-9 p.m. Saturday-Sunday
Pricing: Coffee, $3-$5; food, $6.50-$14
Kid-friendly: Yes
Alcohol: Yes
Healthy options: Yes
Stars of the show: Lavender latte with honey, PB&J