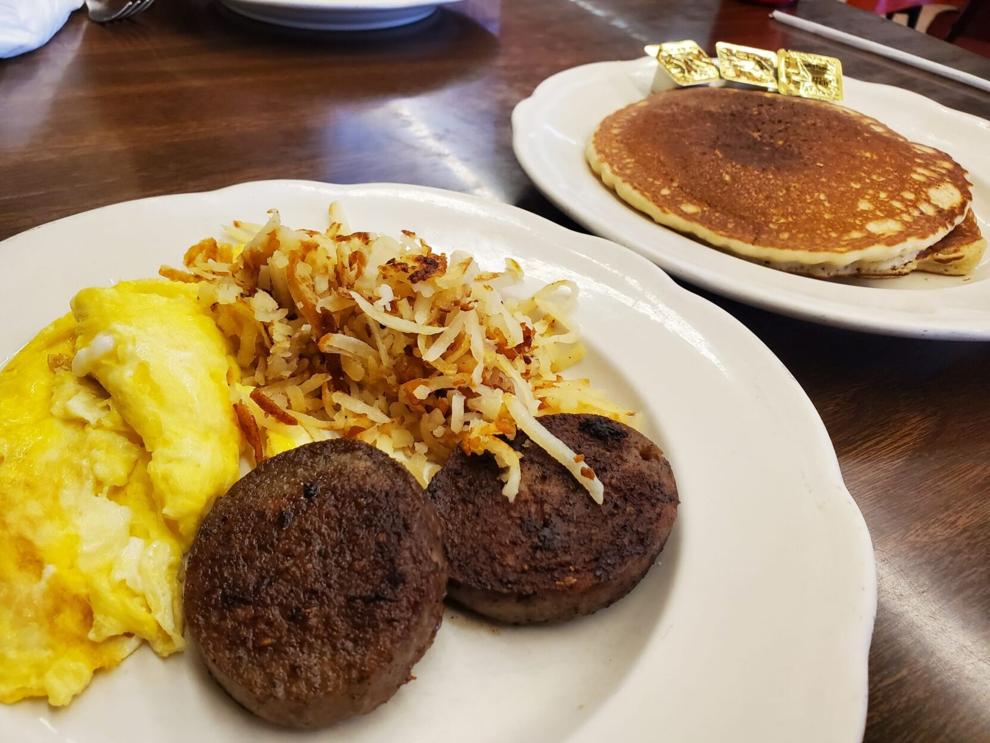 The Heights is a hot spot for any new or niche restaurant and bar concept, but it wasn't always so.
When I was growing up a neighborhood over in Oak Forest, the Heights was a laid-back, come-as-you-are kind of neighborhood. And while that vibe hasn't disappeared, it's places like the Yale Street Grill that have helped maintain it.
Because if the grill is anything, it's old-school and casual. Half-eatery, half-shop full of antiques, the space transports patrons into the previous millennium.
As I sat with my breakfast partner in a booth, I couldn't help but remark that the space layout reminded me of an old 1950s diner. Booths are in a row on one wall, tables are in the middle and a long section of bar seating seems more appropriate for sipping a milkshake than an alcoholic beverage.
The menu is a long list of omelet options, eggs and protein options, pancake and waffles, and more. There were lunch selections as well, but at 9 a.m. on a Saturday, all I wanted was some pancakes.
The pancake combo comes with two eggs, bacon, ham or sausage, hashbrowns and two pancakes. I got my eggs scrambled and chose sausage. The grill has different pancake flavors available, so I got one regular and one banana nut pancake.
While waiting I ordered an orange juice, which came in a chilled glass. This little detail was appreciated because I usually order orange juice with ice, which might be strange to someone who's never done that, but the juice is always best ice cold. The chilled glass didn't have the same effect ice does, but it made it colder than orange juice I've had at other places.
Breakfast was soon at the table and I dug in. The eggs were good, but nothing special. The sausage was round patties that had a nice layer of almost-burned meat on top. The hashbrowns were warm and instead of the top brown pieces being crispy, it was mushy.
When it came to the pancakes, I couldn't tell the two apart at first. Because the regular pancake rested directly on top of the banana nut one, which didn't bother me, it was like the banana seeped into the top one. After the second bite, I realized the difference could be found in the density of the pancake.
The regular one was fluffy and only trapped a hint of banana into its flavor. The banana nut one was thinner, but like a normal pancake had been squished, so in a way it was denser. I would order the regular pancake again, but maybe try other flavors the grill has, like blueberry.
Service was quick and friendly and once I got the bill, all I had to do was walk to the counter and pay. It was a good start to my weekend.
Yale Street Grill
Address: 2100 Yale St.
Hours: 7 a.m.-4:30 p.m. Monday-Friday, 7 a.m.-5 p.m. Saturday-Sunday
Pricing: $5.25-$11.95
Kid-friendly: Yes
Alcohol: No
Healthy options: Yes
Star of the show: Regular pancake