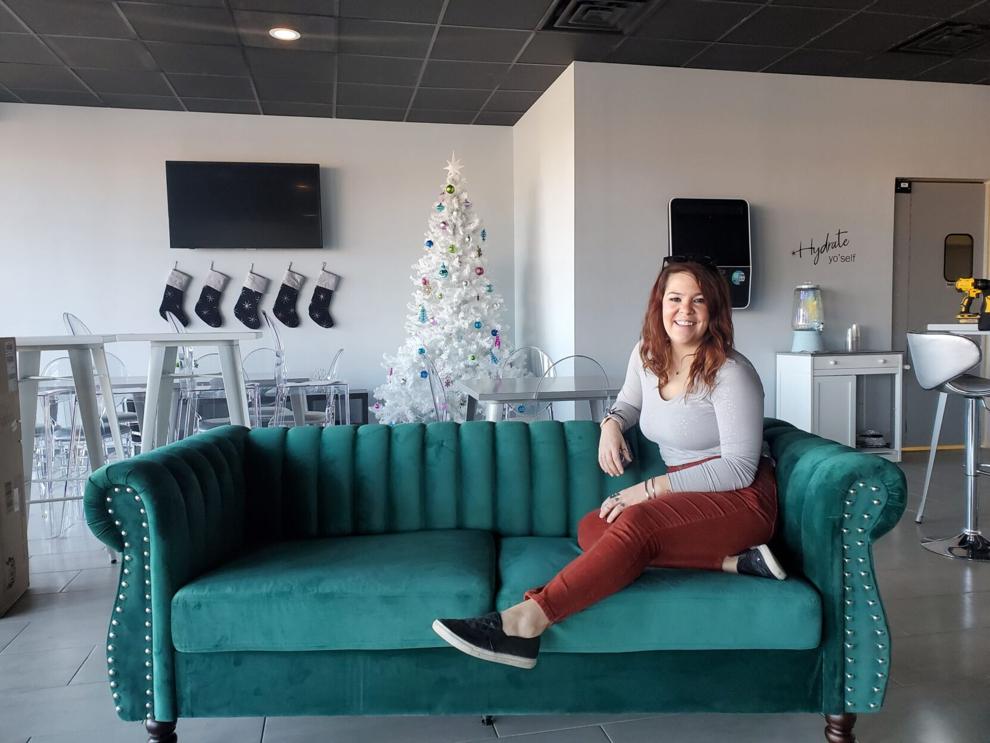 A long career in the hospitality industry has given Marin Slanina a breadth of knowledge on how to create the concept she's envisioned for years.
And last Saturday, Star Sailor, a one-stop shop for craft beer, wine, foods and retail products, had a soft opening at 1710 W. 18th St. Beginning this week, it will be open Thursday through Saturday, with a grand opening celebration on Dec. 19.
The name of the concept is a nod to Houston being the "Space City," as astronaut literally means "Star Sailor."
"I have been working in the hospitality industry for years," Slanina said. "I've been working for small business owners, helping them get their new spaces off the ground, open new locations, staff it, train it, set up standard operating procedures then watch it grow."
Slanina helped Urban South HTX open in Sawyer Yards last year, and when its taproom had to close in March because it was deemed a bar after the onset of the COVID-19 pandemic, Slanina said she felt it was time to open her own space.
"I knew that I needed to find a location that I could receive and obtain every permit that the state requires and the city requires to never be deemed a bar, but be deemed a restaurant and a space that we'd be able to offer all things local under one roof," Slanina said.
The permits Slanina acquired for Star Sailor allow her to sell beer, wine, cider and mead either on site or to-go. It has a full kitchen, and it's able to be open late and run delivery operations.
While Slanina said she recognizes that opening a new concept during this time is risky, she said her knowledge and experience made her ready to accomplish it, along with the help of other people on her team.
Six of the eight taps at Star Sailor are filled with beer, two of which are local, including one from Eureka Heights Brew Co, 941 W. 18th St., and Holler Brewing Co., 2206 Edwards St. The beer on tap will rotate regularly.
A lot of breweries have pivoted from draft to cans and bottles, Slanina mentioned, so Star Sailor also stocks plenty of packaged beer.
"We can customize six-packs, customize baskets, you can just take one home, you can take 20, I don't care," Slanina said. "But there is a 25 percent off discount if you walk out the door with it."
The customized baskets Star Sailor will create are based off the customer's needs. If a basket is for someone who had a bad day and likes bubble baths, for example, then Star Sailor would create a basket with a bottle of rose, chocolate-covered strawberries, bath soap and a candle, tie it up with a bow and deliver it.
The menu currently is made up of meats and cheeses, salads and sandwiches, but the intent is to provide a house menu during the day and then bring someone in for brunch, dinner and late nights.
The space also consists of a small retail corner sourced from Houston makers. There's soap, leather goods, insulated mugs, candles, hot sauce and more. By giving these creators this section at Star Sailor, Slanina wanted to give people who normally could only be found at pop-ups and markets, which aren't always reliably held anymore, a reliable place to sell their wares.
"I took what Houston's all about, which is diversifying, collaborating and community, and put all of those things into one roof," Slanina said.