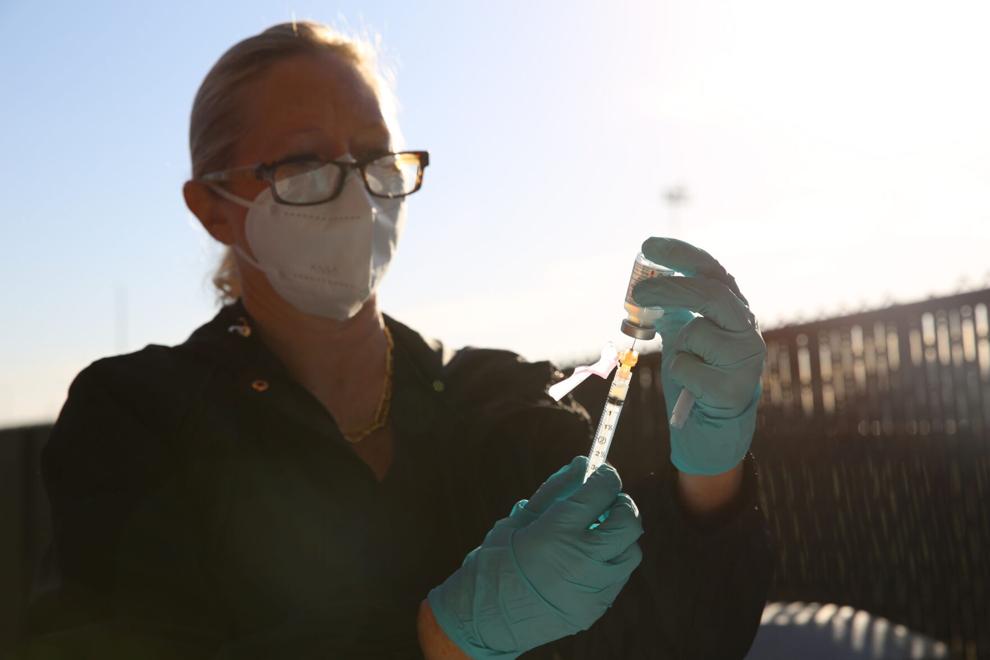 Oak Forest resident and emergency medicine physician Dr. Theresa Harring was among the first Houston residents to get the COVID-19 vaccine. She was notified in early December that her hospital system, Houston Methodist, would be distributing the vaccine, and she signed up online.
"I went to Methodist West to get the vaccine," Harring said. "My arm at the area of the injection was moderately sore for the first day. After that, no side effects."
She was scheduled for her second dose of the Pfizer vaccine this week.
For others, persistence was key. An over-65 area resident said she and her husband saw the news report about the City of Houston vaccination clinic.
"Thanks to a Twitter post, we knew the phone lines had crashed and immediately drove to Bayou City Event Center," she said. "We arrived to the area around 10 a.m., waited with a long line of cars, and finally received our forms at about 11:15 a.m. Our vaccination time was scheduled for 2:50 p.m., but we did not receive the Moderna vaccine until 4:20 p.m. It was definitely worth the wait."
With limited – and unpredictable – supply and thousands, perhaps millions of Houston residents who want the vaccine, a lot of people are coming up short in their bid to get the first dose.
After launching online registration allowing high-risk Houstonians to schedule appointments to receive free COVID-19 vaccinations, the Houston Health Department announced this week that vaccine clinic appointments are booked for the rest of the month and they are taking no additional appointments at this time. The existing appointments are based on vaccine availability and may need to be adjusted based on the department's allotment.
The Harris County Public Health portal to sign up for a vaccination is closed to the public and is only being used for those who have been contacted by the department to receive the vaccine.
There has also been early confusion about who is eligible for vaccination. The Texas Department of State Health Services (TDSHS) outlines that 1A and 1B groups are the allowed groups. The 1A group is described as direct care and includes hospital, long-term care, EMS 9-1-1, home health, outpatient, ER/urgent care, pharmacies, last responders and school nurses. It also includes residents of long-term care facilities.
The 1B group includes those 65 and older, or 16 and older with at least one chronic medical condition, including pregnancy.
Heights resident Mark Sternfels has a genetic immune deficiency that puts him at high risk for complications if he contracts COVID.
"The effect has been our household has been on a pretty strict quarantine since March," Sternfels said. "It's been difficult for all of us but particularly so for my 13-year-old daughter. She is missing out on a normal seventh grade but more importantly, she's very aware of my illness and the danger COVID poses and this weighs on her. If I can give her peace of mind that I'm safe because I'm vaccinated, then I absolutely (had) to do it."
Sternfels received the Moderna vaccine on Dec. 28 at his doctor's clinic.
"There wasn't so much a line as there was just a steady stream of scheduled patients about every 30 minutes," he said.
Side effects included a moderate headache, gone by the end of the next day, and more soreness at the injection site than Sternfels was used to with the flu shot.
"The soreness eventually subsided but it took at least a week before it was completely gone. It never bruised on the surface even though it felt like one," he said.
The state says Phase 1C is under consideration with an additional supply. The CDC defines the category to include all other essential workers, including those in transportation and logistics, water and wastewater, food service, shelter and housing (e.g., construction), finance (e.g., bank tellers), information technology and communications, energy, legal, media and public safety (e.g., engineers), and public health workers.
A group that has been vocal about being prioritized for a vaccine is Houston's teachers.
"We continually hear how important it is to get teachers and students back to in-person instruction, so it makes perfect sense to protect the people that would be on our school campuses," Texas AFT President Zeph Capo said last month.
Thus far, teachers not in the 1A and 1B groups are not eligible to be vaccinated.
There was some early confusion at vaccination sites about priority for those not in 1A or 1B who work in "congregant settings" like schools. This initial misunderstanding, as well as widely shared sign-up links to interested parties, allowed some teachers and school workers to receive a vaccination.
In a statement, Houston ISD said its nurses and first responders are currently receiving COVID-19 vaccinations.
"HISD is also working with the City of Houston Health Department on vaccine availability for priority groups, such as those who are 65 or older with certain chronic medical conditions," read the statement. "Additionally, we are looking into ways to make the vaccine available to other employee groups including our teachers."
Starting Monday, Jan. 4, all HISD campuses offered COVID-19 BinaxNOW rapid COVID tests.
The TDSHS website lists more than 70 locations in Houston offering vaccinations starting with Week 4 distribution, which is the most recent. These include the Kroger pharmacy at 1440 Studemont St. with 100 doses, the Heights Emergency Room at 101 North Loop West with 100 doses and the UT Physicians Multispecialty Clinic at 925 N. Shepherd Dr. with 100 doses. A complete list is available at https://www.dshs.texas.gov/coronavirus/immunize/vaccine.aspx.
Harring said she was originally part of the Moderna vaccine trial but received the placebo.
"I have done my own independent research about the Pfizer and Moderna vaccines, and they are built on solid scientific evidence," she said. "There is no reason they should not be safe for all people, but there will be hesitant populations. We have been looking for a cure for COVID, and while this vaccine isn't a cure per se, it's the closest thing we have. I really hope everyone steps up and lifts their sleeve so that we can end this craziness and start getting back to normal."