Aneida Alexander has been going to The Heights Hospital for all her healthcare needs. She said she likes the people there and their attitudes and the fact it is so close to her home.
The 73-year-old resident of the Houston Heights Tower, which is less than one block away from the hospital at 1917 Ashland St., rode there Tuesday afternoon on her motorized scooter. But Alexander did not make the short trip to receive treatment for her kidney disease or irregular heartbeat or arthritis.
She just wanted to show support for Dr. Felicity Mack and see how she was doing, because Mack, some of her fellow physicians and their support staffs were not allowed inside the building. The company they work for, which operates on multiple floors of the medical facility, was locked out Monday morning for nonpayment of rent, according to notices attached to the front entrance.
"I am so disappointed in whoever is running this show," Alexander said. "Because I know that the people that I have contact with seem very professional. They seem to want to help the people that are here, in the neighborhood, and they want to do the best."
Mack and a few staff members were stationed outside the hospital on Monday and Tuesday to greet patients, tell them what was going on and provide some minimal care, such as dressing wounds and administering COVID-19 tests, she said. The doctor said she and her employees were not allowed inside the building at all Monday and were permitted to briefly enter Tuesday in order to retrieve some supplies and paperwork.
Mack, who said she operates as a sole proprietor and is not paid by the hospital, said she and other employees did not receive any notice about the lockout and found out when they reported to work Monday morning.
"Us as physicians, we don't really know the real estate side of things," Mack said.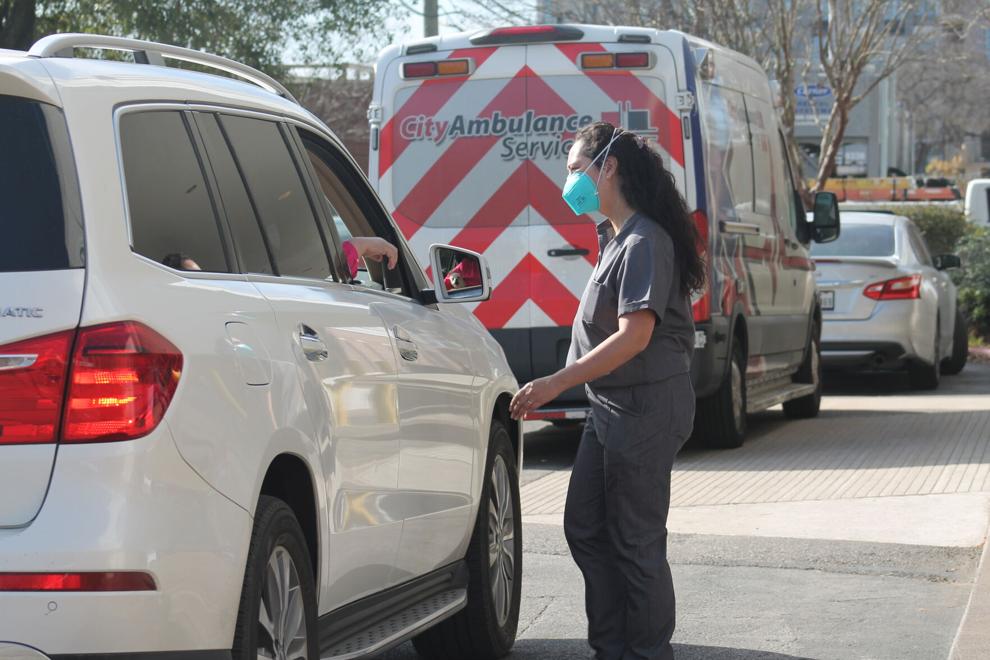 The tenants listed on the lockout notices are 1917 Ashland Ventures, LLC, which owed more than $461,000 in delinquent rent and other fees, according to one posted notice, and The Heights Hospital, LLC, which owed more than $1 million, according to the other notice. The notices said both companies have lease agreements with 1917 Heights Hospital, LLC, which is the property owner, according to the Harris County Appraisal District website.
The notices ask the allegedly delinquent companies to contact Houston attorney Miles Cohn in order to pay the owed amounts and regain entry to the building. Cohn represents a Nevada company that filed a Jan. 8 lawsuit against the managers of 1917 Heights Hospital, alleging those managers owe roughly $3.5 million in interest related to a $28 million promissory note they signed for the property in January 2019, according to Harris County court documents.
The Nevada company, Arbitra Capital Partners, LLC, sued Dharmesh Patel and James Day, who are managers for 1917 Heights Hospital, according to court records.
Cohn did not immediately respond to a Wednesday voicemail seeking comment.
"Arbitra has been advised that 1917 Heights Hospital, LLC, as maker of the note and owner of The Heights Hospital, has failed to pay crucial management and maintenance expenses for this property, including invoices for utilities, elevator repair and even property insurance – and that insurance as a result has been cancelled," the lawsuit alleges.
Court documents show 1917 Heights Hospital and Day were sued in July by Houston-based IntegraNet Physician Resource, Inc., which alleges they defaulted on a loan amounting to $300,000.
U.S. Rep. Sheila Jackson Lee, who serves the Heights and has an office across 19th Street from the hospital, has pledged to help ensure that community members such as Alexander continue to receive care amidst the lockout and legal disputes.
"This morning, I reached out to the representatives of the owners of the loan on the building," Jackson Lee said in a statement released Tuesday. "The owners are in Lake Tahoe, Nevada. I wanted them to instruct their local counsel to do the right thing, which is to allow doctors to be able to practice in the building for 45 days with the proper procedures in place, so their patients can be treated and that the doctors' ultimate move is done orderly.
"Right now, the owners of this loan are crushing patient care in the area surrounding the Heights community," she added. "I ask that these parties get together in the name of good medicine and the dignity of these patients."
At least one other healthcare provider continues to use the hospital building. Kiley Cedotal, the senior vice president of operations for Cobalt Rehabilitation Houston Heights, said it remains open on the fourth floor and is treating patients.
Mack and her staff members, who she said were volunteering without a guarantee of being paid for their work, had set up outside because they wanted to continue serving their patients and the community in general. She said her office had been administering about 100 COVID-19 tests per day and seeing between 30-50 patients per day in the clinic or urgent care.
Mack said she and her staff have tried to contact patients who had appointments scheduled, letting them know those appointments had to be canceled, and she wanted to be there to greet the patients who could not be contacted and showed up expecting to receive treatment.
As a show of appreciation for the hospital employees' dedication, Mack said a home health company they work with provided lunch Tuesday to the medical professionals who were stationed outside a building they could not enter. 
"We're like a family," Mack said. "We are here for the community, and they're here for us."