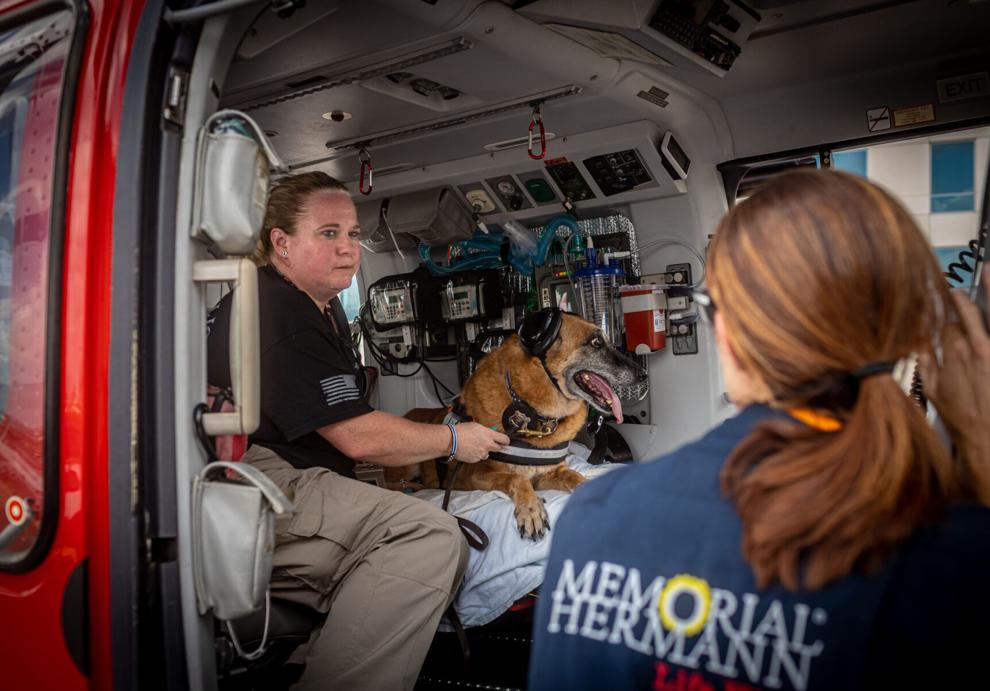 Kristin Uhlin, a senior officer with the Houston Police Department and lead trainer with its Narcotics Division Canine Detail, said the bond between an officer and their police dog, or K9, is a strong one.
"They live with their handlers," Uhlin said.
And while HPD has been relatively lucky — the last HPD K9 lost in the line of duty was Officer Rony, who suffered a serious injury to his leg during a 2018 chase — Uhlin said the nature of the work is dangerous. K9s work with the bomb squad, patrol squad and narcotics squad.
"They are all in harm's way," she said. "Especially in Houston, seconds matter, just like with human life."
That is why the rollout of the K9-Casualty Care Course and Transportation Service by Memorial Hermann Life Flight is significant. It is the first air ambulance service in the nation, outside of the military, to provide training, treatment and transportation for injured K9 officers.
The program, which has been in development since 2016 under the leadership of Chief Life Flight nurse Rudy Cabrera and Life Flight outreach education coordinator George Tarver III, operates under the four pillars of teach, train, treat and transport.
Both the K9 handlers and the Life Flight crew were trained as part of the initiative.
Through the K9-CCC program, K9 handlers received emergency care including wound packing, poison control, CPR and tourniquet use. Each handler got a K9 specific Individualized First Aid Kit (IFAK) put together by hospital staff, including wound packing material, gloves, a CPR mask for human-to-K9 CPR and a tourniquet.
The IFAKs were donated to Life Flight by We Ride to Provide, an organization honoring fallen police dogs.
The handlers were also trained on when to call Life Flight for a severely injured K9.
"It's our hope that through our program we are able to reduce the number of police canine fatalities by providing handlers with advanced first aid training and IFAKs," Cabrera said.
Life Flight paramedics and nurses participated in specialized training developed and approved by Houston veterinarians Dr. Jeff Chalkley and Dr. Michael Seely.
Seely, who is chief of staff at VERGI 24/7, said they already treat K9 officers there for less severe situations.
"We primarily see them for work-related injuries," he said.  "Mild soft tissue traumas, sprains/strains, wounds and gastrointestinal upset are the most common reasons."
Seely said a K9 assessment for serious injury would follow the same protocol as with humans – ABC (Airway, Breathing and Circulation). The functions are the same, but the technique differs.
"In the critical situation, Life Flight getting them to us quickly will definitely improve their prognosis," Seely said. "We will be able to stabilize and move forward with any lifesaving procedures much more rapidly, helping decrease possible complications and improving short-term and long-term outcomes."
Cabrera said the purchase of a specialized mannequin dog helped crews learn to do an IV and CPR as well as other tasks.
Uhlin's K9 dog, Sita, who recently died from old age, was a test dog for the program and trained with Life Flight crews who practiced securing and transporting her.
"She was very social and had a sparkly personality," Uhlin said. "They wanted to see how she'd be if they flew her."
Sita was a successful first "patient." Airus, the 7-year-old German Shepherd who was on hand at a recent media event for the program, also performed well.
Critically injured K9s within Life Flight's 150-mile radius will be transported to one of three veterinary hospitals: Texas A&M University Veterinary Medical Teaching Hospital, VERGI 24/7 Animal Emergency and Critical Care Hospital or Westbury Animal Hospital.
Launched in 1976 as the second air ambulance program in the country, Memorial Hermann Life Flight was the idea of the late Dr. James "Red" Duke, who also envisioned a service for dogs. It is fitting then that the simulator K9 is named Jake, after the beloved Catahoula who used to go on rounds with Duke.
Agencies were able to enroll in training programs, which began in April 2019. So far, more than 100 K9 handlers and 40 emergency medical services and fire personnel have been trained on treating injured K9s.
The Life Flight team is conducting three to five training classes each month and estimates there are approximately 200 police canines in the Greater Houston area.