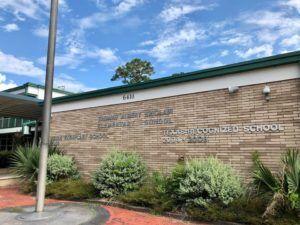 A free, drive-through COVID-19 testing site opened Monday at Sinclair Elementary, located at 6410 Grovewood Ln.
The site is open from 8 a.m.-4 p.m. through Wednesday, July 22, and is being operated by the Houston Health Department and Texas Division of Emergency Management. Appointments are required, according to the Houston Health Department, and can be made by calling 844-778-2455 or visiting txcovidtest.org.
There are a few other testing locations in the area, including a free site offering rapid results that opened that opened Friday at the Ibn Sina North Shepherd Community Clinic, located at 5012 N. Shepherd Dr. Self-swab tests will be administered by appointment between 9 a.m.-4:30 p.m. Monday through Friday, and results will be available on-site within approximately 30 minutes. Those who wish to be tested at North Shepherd Community Clinic must register in advance by calling 832-426-3760 to schedule a time slot for testing. A personal vehicle is not required.
Other free testing sites in the area include Houston ISD's Delmar Stadium at 2020 Mangum Rd., where the Houston Health Department is administering up to 650 tests per day Monday through Saturday in a drive-through format. The site is open to anyone, regardless of symptoms, and an access code can be obtained by calling 832-393-4220 between 7 a.m.-4 p.m.
Free drive-through testing also is available at the United Memorial Medical Center location at 510 W. Tidwell Rd. between 9 a.m.-4 p.m. on weekdays. More information is available at 1-866-333-COVID or at ummcscreening.com.
The Avenue 360 Health and Wellness testing location at 2150 W. 18th St. is a Federally Qualified Health Center where patients pay what they can afford, based on income and family size, and are not denied services due to lack of insurance or an inability to pay. Call 713-426-0027 for more information.
Local health officials have reported a total of 55,769 COVID-19 cases in Houston and Harris County, with the disease having caused at least 535 deaths and 18,490 patients having recovered. In the six zip codes served by The Leader — 77007, 77008, 77009, 77018, 77091 and 77092 — there have been a total of 2,953 cases of COVID-19 with 19 deaths and 467 recoveries.
As of Monday, according to data compiled by the SouthEast Texas Regional Advisory Council, there were 1,757 COVID-19 patients in Harris County hospitals and 659 in intensive care.