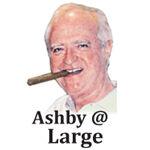 THE STORE – Just nipped in to buy a few things: anti-depressant, case of vodka, a book on self-hypnosis, but everyone is looking at me strangely. When a woman noticed I was coming down her aisle, she abruptly turned and ran away. A father and son backed up several paces before running out the door. Why? It's because I suffer from PPS, or Post Pandemic Stress. Oh, sure, others may just pick up where they left off before March of 2020, when Dr. Anthony Fauci officially kicked off the Covid-19 season by throwing out the first syringe. Not me. I still wear three masks, which is probably why everyone here in the Salvation Army Gift Shop is looking at me with those frightened stares. They are maskless, defying all warnings from experts on the matter and, instead follow the advice of Gov. Greg Abbott who said, "True Texans don't fasten their seatbelts, don't obey speed limits and don't wear masks," or something along those lines.
My problems began when experts at the CDC said I no longer had to wash my mail in the hot cycle. I couldn't go cold turkey, so I just let the letters and packages soak in a sink of lye for 24 hours. Heat kills germs, although my newspapers were a little crisp after baking at 400. Then the experts said we could not get the virus from hard surfaces. What? After 14 months of scrubbing down my dashboard, the front sidewalk, the doorbell and the chimney (Santa could be a carrier), now they tell me it's unnecessary. Like most people, I've got bottles of disinfectant in the car, at the front door, the back door, around the house and two in my pockets. Disinfectants were difficult to get. Do the experts know how hard it was to hang around the Walmart parking lot waiting for a little old lady to push her cart in my direction? MACE stings.
We were told to stay at least 6 feet away from everyone else, although in my case even before the pandemic most people stayed at least 6 feet away. Deodorants are expensive. Some businesses had markings on the floor telling customers where to stand apart. It must have been terrible for barbers and pickpockets. For some unknown reason there was a rush on toilet paper, but Gov. Abbott added toilet paper to seat belts and masks. In the midst of our suffering, Texas got hit with Ice Storm Uri. It was due to frozen windmills and solar screens, according to Gov. Abbott. (He seems to crop up in a lot of our agonies.) Recently he signed two new bills passed by our Legislature outlawing frost bite and cold weather. I feel better and warmer already.
Many restaurants got by during the shutdown by running curb pickups and home deliveries of food. I shall miss returning home or going to my curb to find that my dinner is 13 pounds of kale. Some eateries opened up outdoor dining. Customers could sit at tables and watch 18-wheelers drive by their elbows. Disposable paper menus were introduced so that no one had to handle the soup stains left by previous customers. But busboys still used the same rag to wipe off all the tables. And giving and taking your order through masks could be a communication problem, especially if you don't like kale. I went through withdrawal trying to watch late night TV shows with no audience to clap and laugh. Stephen Colbert noted that, with the new CDC guidelines, he could now exercise, jog and go to the gym. "Funny," he said, "I never did that before." No one was there to laugh.
Covid-19 gave Americans new heroes and villains. First was our still-President, Donald Trump. He and his wife, Melania, secretly got vaccinated in January, which accounts for the millions of Americans who say they won't get vaccinated. They really did, but won't tell anyone. Then there is the aforementioned Dr. Fauci. I accidentally turned on the remnants of the Rush Limbaugh Show and heard the wannabe guest host lambasting Dr. Fauci as a fraud and charlatan. I'm not sure how many millions of lives the radio host saved, but it must have been enormous. The CDC, which has long been hailed as "the gold standard" of public health, has come under a torrent of criticism by right-wingers. Can they spell CDC? Asians are getting beat up because Trump kept called the pandemic "the Chinese virus." Maybe his pickup dinner from the Beijing Palace didn't include chopsticks. Now there is a big brouhaha among the Trumpsters whether the virus started with an accident at the Wuhan Institute of Virology or at the rat meat market down the street. With millions of people all over the world dying, with our lives turned upside down, some may ask, "What difference does it make?" They are probably the same people who don't watch Fox News.
Facebook said its employees could continue to work at home if their jobs allowed it, but if they moved to a less expensive area, their pay could be cut. Amazon wants their wage slaves to return to their jobs at least three days a week. Earlier, when everyone was ordered to work at home, I wasn't going to let no gubment tell me what to do, so I went to work at my office. Then it hit me that my office was in my home. But everyone else stayed home. This made it easy for telemarketers, hard for surgeons. Speaking of surgeons, at least 179 workers at Houston Methodist Hospital refused an order to get vaccinated. That's my kind of health care worker. I can't stand to be treated by a vaccinated nurse wearing a mask, and not coughing.
As to what to do with my 45 masks and 15 bottles of disinfectant, I'll just hang on to them and wait for Covid-20 to come around.  
Ashby is stressed at ashby2@comcast.net