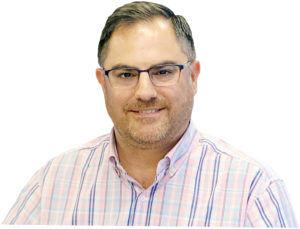 If you work in the news media, you get all sorts of "pitches" for story ideas. Usually, these come in the form of emails from public relation mooches who have no shame.
"Hey Jonathan, hope your week is off to a great start!" It was until you emailed.
"Good morning, Jonathan. I hope today finds you healthy and feeling less stressed from these crazy times." What? Why would today find me feeling any healthier than yesterday? And if it does, it's because I ate kale last night, skipped breakfast and took a 4-mile walk before taking my blood-pressure medicine this morning. And that's really none of your business.
The tactic from the PR types is to craft some "bulk-personal" email that sounds empathetic and catches your attention, because what comes next is always – and I mean always – the biggest stretch of a story idea you've ever heard.
If you want evidence, I've got it. Right after I was asked if I was feeling less stressed from these crazy times, this is the exact next set of sentences:
"I was hoping we can partner up on this local, visual and informative (fun) holiday story. The pandemic could make us all Grinches, but instead it has fired up local homeowners to go COVID Crazy with NEW holiday decoration trends sweeping our area and the nation. No 'bah-humbug' here. Many are determined to go all-out and make this the most festive holiday season ever."
Are you still wondering what local, visual and (fun) holiday story our newspaper was proposed? Wait no longer:
"The local organization pros at UNITS Moving and Portable Storage want to help families store and protect their new 2020 holiday treasures so they created the 12 Days of Holiday Organizing Tips."
This is a real email I received this week. We went from COVID crazy to no bah-humbugging to organizational tips.
The end goal is that we'll write a story in our vaunted newspaper about the company that has portable storage units, but I'm fairly certain it would drive our readers COVID Crazy.
Another PR & Marketing manager asked us to consider writing a story about National Entrepreneurship Month, which wouldn't be such a bad idea if we didn't have to spell "entrepreneurship" a dozen different times in a single article. This was the pitch:
"As COVID-19 has changed various plans for everyone, I wanted to see if you would be interested in doing a story covering Junior Achievement's recent National Entrepreneurship survey, which reveals teens' attitudes about starting their own businesses, what fears they have, what they need from present day entrepreneurs."
Wait a second. Teens are starting their own, legitimate businesses now? I suppose they need something to do with this joke of a virtual learning approach we've taken. I'm all for teens earning a buck, but are we really interested in their fears of starting a new business just yet? Heck, I'm still trying to figure out how to run mine, and I've been a teen three times over.
Not to make light of their plight, but I got another pitch from a PR agency looking to shed light on the continued problem of workplace bullying.
"Bullying is not just child's play, but also the No. 1 type of workplace harassment reported," read the email. "The rise of COVID has brought with it a dramatic rise in workplace bullying… I would be happy to arrange an interview with #NotMe so you and your audience can hear more about these troubling trends…"
Again, I'm sure this is an important story, and I don't want to downplay the problem, but I'm confused. I thought most people were still working from home, and if there's a rise in workplace bullying, shouldn't we be talking about the children throwing iPads at us?
As you might guess, our newspaper has chosen to write about exactly zero of those stories, mainly because they make no sense and our readers would not benefit from them. And that's when I got what might be the most incredibly valuable public relations email every drafted in this entire history of marketing.
This one came from a marketing agency representing a pest control company (you've probably seen their relentless commercials on TV).
The story we were asked to write focused on rats, which have apparently taken up residence in all of your homes. This is such an important story that the PR team felt we should tell our readers all the signs that could mean you have rats in your homes. Prepare to be amazed as I publish what our newspaper received from this agency.
Here are some of the most common signs of rats that people tend to notice in and around their homes:
Droppings scattered in corners;
Gnaw marks on drywall;
Nesting materials… may indicate the presence of a rat nest nearby.
Dark, greasy track marks along baseboards;
Squeaking or scratching sounds coming from behind a wall or in the ceiling, especially at night;
Pets staring at the wall or ceiling;
An actual rat sighting, whether alive or dead.
Oh, and Jonathan, if you're interested in doing a story to let your readers know about these innovative and secretive ways to determine if you have rats, please contact Tiffani, our public relations team member, to reach out for an interview.
We have officially gone COVID Crazy.
Email jonathan@mcelvymedia.com