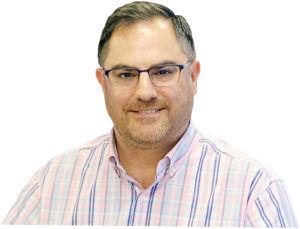 Many of you will turn to this page today hoping I add some sort of perspective to the culmination of two years of political campaigning and what it means for the future of our country.
Too bad. So sorry for the tricky headline. Literally, you can go to any other news medium in this hemisphere and read about politics until you can't stand another drop of dopamine or you have tears streaming down your face. Maybe I'll muster an original opinion in the weeks to come, but today, I really need to tell you about the tears streaming down my face. We could all use a good laugh right now, even if it comes at my expense.
The story dates back to high school, when I regularly came home with pounding headaches. Turns out I could hardly read which side of a triangle was the hypotenuse, which is probably why I made my one and only academic D in trigonometry. Of course, I could have worn glasses that spotted water on the moon, and I still wouldn't have mustered a C in that ridiculous waste of a semester in Mrs. Pruitt's class.
Yes, right at the point in my life when looks were nearly as important as oxygen, I left the eye doctor with a set of frames and every moniker associated with wearing glasses. Except I didn't care a single bit.
Here's the thing: I grew to love wearing glasses, mainly for superficial reasons. I happen to have eyebrows that will, one day, need their own lawn-service contract, and what better way to hide the growth than dark rims? My three children have cost me so many nights of sleep that I now carry a set of duffel bags under my eyes. Again, glasses equal medically necessary camouflage.
And who are we kidding? Glasses make all of us look a bit wiser, and I'll take any dose of the help I can get.
I've worn glasses for more than three decades, and for those of you who can relate, you know the problems that arise. When the optometrist initially broke the bad news, I was told to wear glasses for reading. Today, I take them off to read and need them for seeing road signs and the faces of my children across the room. In fact, I was prescribed with "progressives" two years ago, which is a culturally sensitive way of saying "bifocals."
Fast forward to two weeks ago, when I had my annual visit with the machine that blows bullet wind into your eye to make sure you can still blink.
"Have you ever considered contacts?" asked the optometrist.
For a few years now, my wife has suggested I make the switch. Every once in a while, she and I will make a trip not conducive to glasses, and she's tired of my excuses. Once, she wanted to snorkel at a beach not named Galveston (Look! I found a coat-hanger!), and I begged off because goggles don't fit over glasses, and goggles without glasses are as worthless as trigonometry. We also took a winter trip to Wyoming a few years ago, and the only thing I saw on our snow-mobile trip was fog and ice hanging from said eyebrows.
"Why not," I answered the good doctor.
A week later, I was summoned back to the optometrist for a "training session" on wearing contacts. After watching a 4-minute video that teaches one to contort your arms and throw your pupil into the back of your skull, I was handed two tins of solution and a set of foreign objects to attach to my eyeballs.
It didn't help that I have spent the past 46 years trying to avoid touching those eyeballs. In fact, the entire existence of the eyelid hinges on keeping foreign objects away.
After 20 minutes of unsuccessful coaching, I looked in the mirror and saw a river of tears strolling down my face, my nose had filled with mucus, and my inability to place a piece of plastic between two lids was downright embarrassing.
Once I start a project, though, I have a hard time quitting, and eventually, I had both contacts somewhat attached and the blessing of the poor lady who watched the entire ordeal. I also ordered a 6-month supply.
For the first time in 30 years, I could drive a car without glasses. I had no ruthless shards of plastic piercing the bridge of my nose. I had eyebrows larger than even I knew.
You can imagine how exciting this all felt, and you can also imagine how painful it was to realize I now could not see the numbers on my watch. I could not see the letters on my phone. I could not hold my arm far enough from my body to read the word "hypotenuse."
Oh sure, the doctor told me I would now need reading glasses, and she even gave me the correct strength to purchase. I went to a pharmacy and bought three sets, because I'm no idiot, and I'll never be that guy who can't find his reading glasses. Of course, I couldn't see those glasses when I purchased them, and two pairs ended up being brands made specifically for women.
So I brought the one, and only, useful set of new reading glasses back to my office and put them on when I sat back at my computer. The words on my screen were the size of a Freightliner.
That's right, I needed one set of glasses to read a book or my phone. I needed an entirely different set for seeing my computer. I literally went from one set of all-purpose glasses to now wearing contacts and carrying two sets of glasses in my pocket.
To those of you who wear contacts and have perfect eyebrows, Godspeed. Either our family is going to take a lot snorkeling trips, or I'm going to put on my glasses each morning so I can clearly see the six months' worth of contacts going to waste.
Email jonathan@mcelvymedia.com