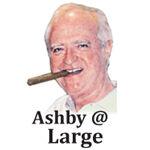 To: Gov. Greg Abbott
From: Agent Slime Ball
Re: Operation Evade
As per your instructions, I have toured Texas to determine your chances to be elected President in 2024. True, you "are just looking into it," according to a press release from your campaign manager. My first step was to run man-on-the-street polls. Fully 2 percent said, "He's my candidate." Another 5 percent said, "I'll vote for Abbott if I can find the one place in my county where I can vote." An even 10 percent asked if your running mate was Costello. The rest of those polled variously said, "You've got to be kidding," "Get out of my face," or "That's fake news, right?"
UT students noted that, although you were a graduate of UT, you didn't take a stand on keeping "The Eyes of Texas," nor whether campus statues of Confederates should be removed, and refused to say if higher education is necessary. I also polled the Aggies, but found they thought "herd immunity" meant their cattle were safe. I found strong support for your candidacy among those with tattoos and who refuse to wear masks or shoes. Speaking of masks, some Texans say your handling of the Covid-19 pandemic was "indefensible." Restaurant managers feel you were wishy-washy on the rules. "His indecisions make Hamlet look like George Patton," said one. "I've seen better flip-fops on the beach," said another. Many restaurant owners noted their bartenders have taken to drinking heavily. I tried to poll school teachers, but most were in ICUs with the virus. When asked if you should run for president, health care workers often just cried. I have yet to find your own medical experts, but three of the four of them said you never asked their advice on re-opening Texas.
Being one of two states to open up most businesses 100 percent and making masks optional has drawn condemnation from the so-called "experts." CDC Director Dr. Rochelle Walensky warned state officials against lifting public health restrictions too quickly. She said, "I am really worried about more states rolling back the exact public health measures we have recommended to protect people from Covid-19." More at home, your re-opening order has led to many fights between clerks and customers. But bored doctors in hospital emergency rooms say, because of the angry interpretation of your vague orders, business is booming. It seems they have had little to do this past year.
President Biden struck a historical note in saying such actions were "Neanderthal." Companies including General Motors, Toyota, Target, and Macy's say their employees in Texas will keep face masks on at work. So are several of our largest cities – including Austin, which is being sued by our under indictment attorney general, Ken Paxton, to get with the governor's program. The Houston ISD along with several other major school districts rejected your order. Houston Mayor Sylvester Turner called the action "a national embarrassment." Comments like "RIP Texas" and "I HATE IT HERE" started trending on Twitter. A Dallas health care worker died from Covid-19. Her daughter invited you to the funeral. Don't go. Other true Texans congratulated your patriotism because your call for freedom came on March 2, Texas Independence Day, although they did not point out that Texas has more pandemic deaths than any other state, and has the next-to-lowest vaccination rate, better than the Mariana Islands.
You scored some points when you went to the border and declared: "The Biden Administration is recklessly releasing hundreds of illegal immigrants who have COVID into Texas communities." Also, in a tweet: "The Biden Admin. must IMMEDIATELY end this callous act that exposes Texans & Americans to COVID." The "hundreds" you referred to appear to be 108 immigrants who crossed the border between Jan. 25 and March 1 and were tested positive and held, for an average of about three positive cases of COVID-19 per day. According to The New York Times and The COVID Tracking Project, in that same time period, Texas as a whole recorded more than 400,000 new cases. But who's counting?
Cynics claim that your ordering this huge change in our lives is simply a distraction from the disaster of the 2021 storm that occurred on your watch. OK, so 14 million Texans had to deal with no power, no heat in 11 degree weather, 57 deaths and counting and total misery whose effects are still being felt. No matter. The bars are open! You proclaim constantly and accurately, "It wasn't my fault," which would make a good bumper sticker for your presidential campaign. You charged the fault mainly lay with ERCOT. Just don't mention that you appoint the Public Utility Commission which regulates ERCOT. You also blamed power companies, phases of the moon, the press and, of course, the tree-huggers. You said on -- where else? -- Fox News, "This shows how the Green New Deal would be a deadly deal for the United States. Our wind and our solar, they got shut down and they were collectively more than 10 percent of our power grid, and that thrust Texas into a situation where it was lacking power on a statewide basis." Experts disagreed, to put it mildly. Your efforts on TV to distract Texans failed to reach millions of your constituents. They didn't have electricity or the cable.
There are many Texans who feel you are vulnerable even for re-election as governor. Harris County Judge Lina Hidalgo is one. And asked whether his interest in running for governor was sincere, Matthew McConaughey said, "It's a true consideration." Beto O'Rourke might run, and no doubt several others are quietly taking their own polls to test the waters --- where there is water. Some might object that you live in the Texas Governor's Mansion. So did Edward Clark, Francis Lubbock, Andrew Hamilton, Pendleton Murrah and several others. They were not only governors, but Confederates. Finally, I suggest you stop saying, "The Buck Stop Here." Even Buck disapproves.
Ashby deflects at ashby2@comcast.net