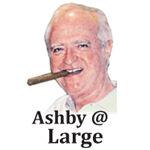 THE CAR TRUNK – Are you ready? I am, all locked and loaded: club, pepper spray, shield, Molotov cocktail, MAGA cap and T-shirt. "Stand up and stand by." That's what our leader, President Donald J. Trump, told the Proud Boys, and if you are any kind of true patriot and not one of those Chardonnay-sipping, Tesla-driving, commie-perverts, you, too, are answering the call to arms. In case you've been in self-quarantine and are still trying to find the Oscars and March Madness on TV, in the first chaotic Presidential debate between Trump and Joe Biden, Chris Wallace, the Fox News anchor who moderated the debate, asked Trump, "Are you willing tonight to condemn white supremacists?" Trump initially dodged the question but finally asked, "Who do you want me to condemn?" Biden suggested the Proud Boys. "Proud Boys, stand back and stand by," Trump declared. Joe Biggs, a Proud Boys leader, wrote on his Telegram channel: "This makes me so happy."
Mr. President. I am ready, although actually I knew nothing about the group.  Maybe they are proud members of the Boy Scouts. No, I discovered they are a militant organization that is fervently pro-Trump. The Boys are part of what the Southern Poverty Law Center calls "a fascistic right-wing political bloc." The Anti-Defamation League compares them to a gang. Their founder once said, "I cannot recommend violence enough," and its members have brandished guns, committed criminal assaults and engaged in rioting. Facebook, Twitter, YouTube and Instagram have banned them.
It appears the Proud Boys are to be part of "an army" of 50,000 poll watchers, Trump called for, beginning with early voters. This election there is a twist to our voting process. Because of the covet-19 virus, many voters don't want to stand in line on Election Day along with coughing and sneezing mask-less citizens. These Americans want to vote early by mail. But for months we have been told by President Trump (who along with his wife, votes by mail), that the postal service can't handle the projected huge increase in mail-in voting, that your vote will end up in a Dumpster. The solution is to forget the postal service and hand-deliver your ballot to a drop-off site.
As a true red-blooded American, I am ready to help. Since mail-in voting has already started, I go to my nearest polling place, one of 11 in Harris County, to ensure safety, but find it shuttered. Why? Gov. Abbott ordered that only one location can be used for drop-off mail ballots in each county. That seemed odd since there are 254 counties in Texas and we'll only have 254 drop boxes for the entire state? Out in West Texas some voters would have to drive 100 miles to cast their early ballot. Harris County covers 1,777 square miles, has a 4.71 million population with 2.4 million registered voters. County Clerk Chris Collins projects that as many as 1.5 million will vote, a record. He has already received more than 207,000 requests for mail-in ballots, another record, and some want to take their ballots to a safe drop box.
The only place voters in Harris County can take their ballots is NRG Arena. So that's where I need to stand guard. With some effort I locate the arena, behind a row of barbed wire and past the Rottweilers. "Is this the official county drop-off for mail-in ballots?" I ask some guy with a long, black beard. (These Boys must have hit puberty early). He is carrying a bazooka, machete and holds a sign: "Vote if you dare." He looks at me suspiciously. "No, this is a dry cleaners for sloppy fry cooks. I'm not here and this conversation never happened." I ask: "But why is it so hard to drop off a ballot?" He replies, "For security reasons. Abbott says with just one location in each county, we can control who votes. You know that millions of illegal aliens are planning to vote, and the ballot box is sacred, just like Willie Nelson, Lone Star Beer and high school football. Now leave."
Frustrated, I go home and check the news. Abbott's proclamation for one-county, one-box also requires the early-voting clerks allow poll watchers "to observe any activity conducted at the early voting clerk's office location relation to the in-person delivery of a marked mail ballot." That's a long way of saying that Gov. Abbott is empowering voting clerks to let poll watchers hang around the polls and intimidate. OK, that's where we Proud Boys come in. We have the governor's authority to frisk, harass and run off any traitorous Texans who try to sneak in. "The state of Texas has a duty to voters to maintain the integrity of our election," Abbott said in a statement. "These enhanced security protocols will ensure greater transparency and will help stop attempts at illegal voting." I think his "enhanced security protocols" include land mines.
Abbott has said before that voter fraud is "rampant," although so-called "experts" on the matter disagree and note that study after investigation show voter fraud is practically zero. Still. on 25 Jan. 2019, our embattled attorney general, Ken Paxton, breathlessly tweeted a "VOTER FRAUD ALERT" stating that the Texas secretary of state had discovered some 58,000 non-citizens voted in Texas, with 95,000 non-citizens registered to vote. Three hours after Paxton's press release, the Texas GOP thundered in an email: "We knew it was happening and now we have proof." President Trump sent out his own tweet: "These numbers are just the tip of the iceberg." Alas, the numbers were bogus – they included naturalized citizens, those with working permits, visas, etc. U.S. District Judge Fred Biery of San Antonio blocked the removal of any voters and, according to his ruling, only 80 of the original 98,000 names on the list had been identified as ineligible to vote, and apparently they hadn't voted.
My fellow Texans, vote as if your life depended on it – and it may.
Ashby watches at ashby2@comcast.net