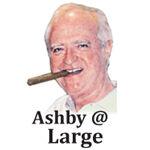 THE LAUNDRY ROOM – Sheets, sheets and more sheets. This place looks like a Klan gathering. When a heavy freeze was predicted for Texas, we put sheets over all our outdoor plants to protect them from the cold. Afterwards, we took off the sheets and, sure enough, all the plants were as dead as the Texas Democrat Party. Now I have to wash piles of dirty sheets. You might have the same problem, and we can blame it on, uh, nobody, for the days and days of no power, no heat, no TV and, worst of all, no WiFi. Add to our misery no food in the fridge or in the pantry, and icy streets and empty store shelves awaiting anyone who ventured out for supplies. We couldn't drink the water until we boiled it, and couldn't use the ice in the freezer for drinks. Oh, and sea turtles were suffering from the cold, so thousands of them had to be taken to a South Padre sanctuary.
To think that all of this is dumped on us in a parade of miseries. I guess we could start with the Galveston Storm of 1900, but in more recent times we have endured Rita, Ike, Allison and Harvey. The Astros are hated. Harden, Springer and J.J. Watt left, with Texans QB Deshaun Watson not far behind. It's been a solid year since Covid-19 hit us, with its catastrophic health, economic and mental chaos. What's next, an earthquake?
When the freeze hit, Texas was ready with strong leadership to take full responsibility. From the Washington Post: "Gov. Greg Abbott directed his ire at one particular failure in the state's independent energy grid: frozen wind turbines." The Post noted Abbott's accusations were contradicted by his own energy department, which blamed failures to winterize the power-generating systems, including fossil fuel pipelines. "In other words, rotten policy and management are to blame." Nevertheless, Abbott appeared on Fox News, telling national viewers that renewable fuel sources were to blame. He said that now there was even more reason to abandon the push against climate change. OK, tree huggers, you're responsible for my luke-warm vodkas.
The conservative Wall Street Journal supported Abbott, writing: "Gas and power prices have spiked across the central U.S. while Texas regulators ordered rolling blackouts as an Arctic blast has frozen wind turbines." U.S. Rep. Dan Crenshaw tweeted that "this is what happens when you force the grid to rely in part on wind as a power source." Texas Agriculture Commissioner Sid Miller on Facebook: 'We should never build another wind turbine in Texas." OK, let's look at the facts. These are Texas' top electric generation sources in all of 2019: natural gas is by far the leader, then coal, wind, nuclear, solar, other gases and hydroelectric.
Others pointed out the obvious. Paul Krugman, in The New York Times, blasted Texas' GOP leadership in a column, "Texas, Land of Wind and Lies," writing, "And if you're expecting any change in the policies that helped cause this disaster, don't count on it — at least as long as Texas remains Republican." New Yorker magazine had an article, "Texans in the Midst of Another Avoidable Catastrophe," which is pretty self-explanatory. CNN News: "Texas Republicans criticized for misleading claims that renewable energy sources caused massive outages."
Taking full responsibility, Gov. Abbott boldly declared: "This was a total failure by ERCOT. ERCOT stands for Electric Reliability Council of Texas ... and they showed that they were not reliable. These are specialists, and government has to rely upon these specialists to be able to deliver in these types of situations." Our guv also said: "This is something that I declared in advance. This is something that our team had been talking to them about in advance, knowing, in advance, the ultra-cold we were going to be dealing with." So Abbott knew about the potential problem, did nothing, but it wasn't his fault.
Incidentally, former Texas governor Rick Perry claimed Texans would rather endure blackouts in freezing weather than have the federal government regulating their power grid. It reminds one of Lt. Gov. Dan Patrick's observation that older folks should be willing to die to keep the Texas economy running for younger citizens. Patrick, 70, didn't volunteer to lead by example.
As we know, ERCOT was created strictly within Texas, covering about 90 percent of the state, to avoid crossing state lines and thus falling under federal regulations. But its officers don't seem to stay in-state. One third of ERCOT's 15-member board with a 16th board position currently remaining vacant, do not live in Texas. One calls Maine home, another lives in Illinois, one in Michigan. One was listed as an economics professor at the University of Cologne in Germany and at the University of Maryland, and another lives just over the Texas border – in Canada. Apparently the ERCOT can't take the heat, so to speak. Due to possible safety threats, state officials pulled down most of the ERCOT webpage that revealed photos and biographies of each board member. After the storm, they resigned.
The only bright spot in this man-made catastrophe is Ted Cruz's vacation. Our junior U.S. senator got caught taking his family on a vacation to Cancun. Even though, in the depths of chaos in his home state with all hands on board, Cruz had HPD bodyguards escort him through Bush Intercontinental. When news of his planned five days on a sunny beach became public, he caught unmitigated scorn and came home after one day. You would have thought he had encouraged a mob to storm the U.S. Capitol.
For frozen days, vaccination stations were closed as were many grocery stores, restaurants and adult bookshops. We couldn't wash dishes or clothes, take a bath or even flush the commodes without filling the toilet tank with trucked–in water. Now that the freeze is over, everyone is taking sides, pointing fingers and offering solutions. Maybe Sen. Cruz can help me wash sheets.
Ashby is thawing out at ashby2@comcast.net