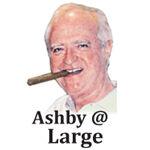 THE GROCERY STORE – The last of the yogurt. No loaves of bread. Even in these weeks after the Big Freeze of 2021, bottles of water are MIA. We've seen TV shots of Texans lined up to shop, only to find, like Mother Hubbard, the cupboard is bare. How long will it take to get back to normal so we can wear masks and stay 6 feet away from everyone not in the same bed? If there is any bright spot Texas has given America, it is industrial strength schadenfreude, pleasure derived from another person's misfortune.
Texas is the state the other less fortunate countrymen (and countrywomen, these days you have to be PC) love to hate. So, when we stumble, as we often do, laughter goes forth from Boston to San Diego. And it brings out a chorus denouncing Texas exceptionalism. "It's time to bury the myth of Texas exceptionalism," trumpets a headline in the Washington Post" over a story by a Texan, Karen Attiah. "In high school debate, the question of whether the Lone Star State should secede from the union was a yearly issue. I argued absolutely yes. 'We are fine on our own! We have our own power grid!' Well, I was wrong."
I, personally, never debated power grids in high school, which shows the backwardness of Texas schools. But some folks like to call out our exceptionalism in the wake of ERCOT's independent grid.
Ryan Heath in Politico: "The arguments for Texas exceptionalism, for tech exceptionalism (against regulation), and American exceptionalism no longer hold." And Renuka Rayasam, also in Politico: "Texans have long seen this independence as a point of pride. Texas' independent grid was created a century ago in the image that Texans have of themselves: stand-alone, free from federal oversight and largely deregulated. But this week's blackout has come as a rebuke to that idea -- or, at least, highlighted the limits of Texas as a brash, go-it-alone state, big enough not to have to rely on the rest of America."
Carlos Kevin Blanton, head of the history department at Texas A&M University, observes that Texas' history as an independent country has become a part of its proud identity. "I think a go-it-alone attitude within a republic of states is always a very tricky situation." The reality is that Texas was "ailing" with its finances, border security and other issues before it joined the rest of the country: "It was a failing state." Julian Lee in BloombergOpinion: "Green energy isn't to blame for Texas's power problems. It's the state's exceptionalism that has made the situation worse than it might otherwise have been."
Chris Hooks, an Austin-based writer, recently had a piece in the Houston Chronicle – before the freeze: "It's a radically diverse and generally peaceful place, and if it were a country it would have the 10th largest economy in the world. The simplest is Texas exceptionalism -- the idea that there is something about the state and its people that tends toward greatness over time. It's more than a sense that there is a lot that's unique about Texas; it's a kind of tautology that explains everything without saying anything. Great people who are from Texas are great because they are from Texas."
There is also American exceptionalism, which is undergoing examination if not ridicule, but within the U.S. the Big Freeze has highlighted a lot of put-downs on the Lone Star State. OK, this is not a time to be defensive. We must admit our short comings. Almost, one in five Texans is uninsured, and our public school system is often ranked as one of the 10 worst in the country. We rank 37th in health care and 43rd in education. Our state government is run by people with delusions of mediocrity. However, we have the most cattle in the country – 13.1 million, or about one head for every two Texans. We are first in the number of our high school football players suiting up in the NFL, and in executions.
Being the target of our jealous neighbors means we are singled out for fame or blame. For instance, can you imagine a Broadway musical, "The Best Little Whorehouse in Vermont," if there is one? How about "The South Dakota Chainsaw Massacre?" Does anyone yell, "Remember the Grand Canyon?" There is also the kick-your-mother racket. If there was a book called "I Loved Playing for the Dallas Cowboys," only Cowboys' owner Jerry Jones would buy it, but he'd probably purchase enough to put it on The New York Times Best Seller list. No, you need to write, "The Ugly Truth About the Dallas Cowboys," a kiss-and-tell expose. Recently a book came out, "Cult of Glory: The Bold and Brutal History of the Texas Rangers," which includes episodes of the Rangers' brutality and racism. It must have sold well to those who hate the Texas Rangers.
Two examples of exceptionalism or maybe pride: One of my brothers was an international banker who spent years abroad. He came to visit us and, after a few days, said, "Do you know how many times in TV ads here I see either a Lone Star Flag or a map of Texas?" Actually, I didn't. But he's right. And a Paris hotel manager, Phillipe, asked me, "Lean," (he always called me that), "when I ask Americans where they are from, they always say 'Boston' or 'New York.' But you people always say, 'Texas.' Why is that?" We love our state flag and the state's shape (like in the TV ads). A Houston hotel has a huge roof-top swimming pool in the shape of Texas. Do gift shops in Cheyenne sell door mats the shape of Wyoming? They're the same shape. This is not to denigrate Wyoming, which has just as many U.S. Senators as Texas, and I'll bet theirs are much better than ours.
We'll get out of this, as Travis told Crockett -- as soon as we can buy yogurt.
Ashby compares at ashby2@comcast.net