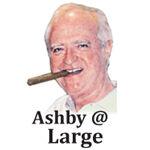 If you paid one dollar in 2020, a single dollar, in federal income taxes, you paid more than FedEx, Nike and Houston's own Kinder Morgan put together. A new study finds that at least 55 of America's largest corporations paid no federal income taxes last year on billions of dollars in profits. This outrage came about, not through illegal dealings, not through cooked books or crooked accountants, but due to totally legal loopholes. For this, we can thank the First Deadbeat, Donald Trump. The sweeping tax bill passed in 2017 by a Republican Congress and signed into law by Trump reduced the corporate tax rate to 21 percent from 35 percent. But dozens of Fortune 500 companies were able to further shrink their tax bill -- sometimes to zero – because of a range of legal deductions and exemptions. The list of tax-dodgers reads like a Who's Who of American industry: Salesforce, Archer-Daniels-Midland and Consolidated Edison were among those also named in the report which was done by the Institute on Taxation and Economic Policy, a liberal-leaning research group in Washington.
It's not just last year that they escaped paying taxes. Twenty-six of the companies listed, including Fiserve, Duke Energy and Dish Network, were able to avoid paying any federal income tax for the last three years even though they reported a combined income of $77 billion. So they were profitable in 2018, 2019 and 2020 but paid zero federal taxes or less over those three years. How did they do it? The usual way such things are done in Washington: lobbyists with bottomless expense accounts and campaign funds.
On top of the 2017 tax cut, we had the $2.2 trillion CARES Act, passed last year to help businesses and families survive the pandemic, which included a provision that temporarily allowed businesses to use losses in 2020 to offset profits earned in previous years. Lobbyists smelled blood and everyone wanted in on the goodies. Starting in early 2018, senior officials in Trump's Treasury Department were swarmed by lobbyists trying to make sure their clients were covered by the tax cuts. Get this: The crush of meetings with lobbyists was so intense that some top Treasury officials had little time to do their jobs. The CARES Act was written sloppily, passed quickly and signed immediately. It allowed Trump's Treasury Department to mold the act its own way. "Treasury is gutting the new law," said Bret Wells, a tax law professor at the University of Houston. "It is largely the top 1 percent that will disproportionately benefit -- the wealthiest people in the world." Sen. Elizabeth Warren said on Twitter "This isn't rocket science: giant corporations that report billions in profit shouldn't be able to pay $0 in federal taxes."
FedEx took advantage of provisions in the CARES Act, using losses in 2020 to reduce tax bills from previous years when the tax rate was higher. It said those provisions "helped companies like FedEx navigate a rapidly changing economy and marketplace while continuing to invest in capital, hire team members, and fund employee pension plans." That sounds nice, but follow-up studies showed many companies saved billions by taking care of their top executives. They bought discounted future stock options and then deducted their value as a loss. Tricky but, again, perfectly legal under the law. Another ploy: For years U.S. corporations have in effect hidden their profits by storing them off-shore or setting up satellite companies in such countries as Ireland and the Bahamas.
This brings us to our favorite saying, "What's in it for us?" You could be a grocery clerk, so you hire a good accountant with no scruples. First, you establish yourself as a corporation. Your spouse and kids are the board of directors. You rent a post office box in Bermuda under your corporate name, Monumental Agricultural International (the "International" part comes from the avocadoes you stack from Mexico) and have your paycheck sent to Bermuda. Since you were laid off for five months in 2020 due to the pandemic, the CARES Act allows you deduct your losses. Deduct business expenses (your overalls), entertainment (visits to that men's club) and not only save on taxes but actually get a rebate. Yes, a rebate. Those aforementioned 55 Fortune 500 companies received a combined federal tax rebate of more than $3 billion for a tax rate of about negative 9 percent. So Uncle Sam owed them money.
You may be asking what all the Trump tax loopholes are doing to our budget. There are several ways of looking at them, all bad. One result is that the federal government may collect hundreds of billions of dollars less over the coming decade than previously projected. Two: The Congressional Budget Office says that the deficit for 2020 is 16 percent of U.S. gross domestic product which is the largest it's been since 1945. Three: The Trump tax cut reduced revenue by lowering taxes on personal income, small businesses, and corporations. These cuts are projected to add $1.5 trillion to the debt between 2018 and 2027. Remember that Trump promised to eliminate the federal deficit, but the deficit jumped more than 60 percent under his presidency, and topped $3 trillion in 2020, partly as a result of the tax law. Don't tell you grandchildren what we are doing to their financial future.
So start up your own corporation, hire the right lobbyists and accountants and… Wait. Along comes Uncle Joe Biden with his leftist ideas of making everyone pay their fair share of taxes. He wants to increase the corporate tax rate, get rid of those off-shore tax dodges and use the extra tax dollars to pay for his grand scheme to pave our roads, cure cancer and bring everlasting peace to the world, or something like that. Needless to say, Republicans in Congress are fighting Biden tooth, nail and lobbyists' campaign contributions. Get busy with your own tax dodge. And don't drop the avocadoes.    
Ashby pays his taxes at ashby2@comcast.net