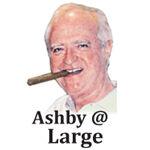 THE FRONT DOOR – It's got to be here somewhere. By the mailbox, under the door mat with the house key that doesn't work. Maybe on the curb. I am looking for my dinner, and so are a lot of other people. Food delivery, be it groceries or ready-to-eat dinners, have been around for years, but the Covid-19 pandemic really touched off a rush. Here are a few eye-opening stats from Comfy Living: 
• Consumers spent $11 billion on pizza delivery in the U.S. last year. (I question that figure.)
• Of Grubhub's users in 2018, 59 percent were men who ordered at least once a week.
• The worldwide revenue of the online meal delivery market reached $107.4 billion in 2019, and that was before the virus hit. It's expected to reach $182.3 billion by 2024.
• Over one in four food delivery drivers admits to eating the food they deliver.
• Cauliflower pizza rose 650 percent in popularity last year. (Both vegetarian and vegan-friendly meals have grown immensely in popularity on meal delivery. Yuk)
There are several problems with using food deliveries. First, obviously, is that there is better than a one-in-four chance that the deliverer has already eaten a chunk of your cauliflower pizza. Oftentimes, like maybe often, what you ordered is not what you get, and it's hard to exchange a wild boar meatloaf sandwich for a ham-and-cheese once the driver has departed. One service I use never rings the doorbell to alert me that my order is on my doorstep. An hour-old hamburger just doesn't taste the same. Tipping is awkward. Some companies include it in the cost. Others let you decide. How can you? The deliverer has dumped and run, while muttering what a cheapskate you are. If the bag tag reads: "Howard Hubcap" and you aren't, do you track down Howard or just eat his mousse of foie gras with truffles?
In this economy, you find all sorts of deliverers. The district attorney for Bucks County, Pa., said Gregg Shore, a high-ranking prosecutor, had been making food deliveries for DoorDash during work hours for the county. Shore's annual salary was $125,435, before he was demoted. Maybe the county is a lousy tipper. Revenue in food delivery in the U.S. is expected to reach $26.527 billion this year, and should reach $32.325 billion by 2024. But we are also-rans compared to the Peoples Republic. In 2020, China generated revenue of $51.514 billion just that year. Of course, there are a lot more Chinese than Americans, but we can guess what they ordered. On Super Bowl Sunday, 48 million Americans order food straight to their door.
During this pandemic, many food delivery companies advertise "no contact." I tried Chow Now which guaranteed no contact. The driver simply slowed down and threw my lunch out the window. Air Apparent also promised virus security, but its drone was way off target and my neighbor made me go over and scrap the baccalà all'aviglianese off his driveway. A chicken delivery shop, Buffalo Wings, sounded good, but buffalos don't have wings. So what part of the buffalo are they selling? A pork sandwich shop turned me off just by its name, Meals That Squeal. I skipped Liver Delivery. Ditto for
Leftovers R Us.
DoorDash, GrubHub, Uber Eats, Postmates, and Waitr are the leading food delivery services. Waitr is the least popular competitor, sharing only 1 percent or 2 percent of the other customers. An interesting thing about Waitr, it originated in Lake Charles, Louisiana, where it was founded with support from McNeese State University. Odd. In February 2020, 16 percent of parents used meal delivery apps. The next month the pandemic arrived and that figure climbed to 20 percent. Men order more food than women do, but they're close. Only 36 percent of female Grubhub consumers used their service weekly, and their top food choices is Chinese. Men mostly ordered burgers. The world's largest pizza delivery consisted of 30,000 pizzas delivered via the DHL delivery service to American military personnel deployed to Afghanistan so they could celebrate Independence Day in 2012.
All of this expanded food delivery brings up a question: What do we do with the containers -- Styrofoam, cardboard, plastic bags? Has anyone done a study on the increased amount of these containers tossed in the garbage cans and deposited in landfills, there to sleep for the next 1,000 years? When ordering meal delivery on a date, 41 percent of women prefer pizza. Cheap dates. Only 29 percent of men felt the same. Women were also more in favor of sushi compared to men. When it comes to barbeque, 25 percent of men preferred it, as opposed to only 11 percent of women.
In the past, the main reason people ordered fixed meals for delivery was because they didn't feel like cooking, and during this pandemic many don't like to go to grocery stores either, so we also have an increase in ordering groceries delivered. But again there are problems. Push the wrong button on your order and you get 13 heads of cabbage. The store may be out of an item and substitutes. Instead of carrots you get celery, maybe no shoestring fries so you get shoestrings. There may be a delivery fee from $5 to $10. Some delivery services also accept tips, so factor in another $5 for that. Ultimately, your regular shopping trips would cost about $5,200 per year, while a delivery service would add up to about $5,300 or more per year. Incidentally, some years ago there was a company in Houston called TeleFood. You called up, this was before WiFi, tweeter and electricity, and placed a grocery order to be delivered. It didn't last, but there still is a TeleFood grocery delivery company – in Karachi, Pakistan.
We shall see if, once the pandemic is over, we return to our normal and smaller amount of food deliveries, either ready-to-eat or groceries. Probably not. We are spoiled. I just hope my neighbors don't smell the cauliflower pizza.
Ashby grubs at ashby2@comcat.net