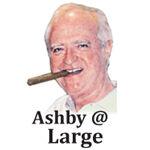 Hello, New Neighbor, and thanks for signing up for Good Fences. It is the neighborhood hub for trusted connections and the exchange of helpful information and services. Your emails have been carefully filtered to include only news etc. for your neighborhood, Golden Years Glen, interspersed with a few helpful commercials. -- Good Fences
Murry in the Heights -- My little doggie, Cuddle Bear, is missing. He is gentle and snuggly for a pit bull. I tried to get the vet to put a chip in Cuddle Bear's ear, but the vet no longer will treat him after an unfortunate misunderstanding that required 16 stitches – on the vet, not on Cuddle Bear. My pet is easily identifiable by his 4-pound spiked collar, snarl and an occasional foam around the mouth.
J.J. in Westwood -- Does anyone have a used toothbrush? Mine broke.
Walt in Toxic Park -- A warning! Last night someone broke into my garage and stole four new tires, a leaf blower and the video cameras I installed to prevent burglaries.
W.W.W. in the Galleria -- For rent: One parking spot in the Galleria.
Sissy in Conroe -- Need an accountant to prepare your IRS taxes? I am currently between jobs as a bookkeeper at Enron and the Trump Organization, and am wearing an ankle monitor, but just until next week, so that should pose no problem.
G. Abbott in Austin – I am currently looking for 51 Democratic legislators who have disappeared just before a vote to issue an AK-47 plus two crates of ammo to all Texans 12 and older. This came after their cowardly vote against my bill to prevent voter fraud, which is rampant, limiting voting from 3 a.m. to 3:30 a.m. in the basement of the Governor's Mansion.
Advertisement: We do AstroLawns. If you have a lawn made of AstroTurf, we can clip that sucker in no time flat so that you won't need it trimmed for a year or so. We also clean out gutters. Not those across your roof, that's too dangerous. Just those along your curb. Hedges, yes. Bushes? They died and their house is for sale. For our services, just call 1-WEED-THE-PEOPLE and in no time a truck will pull up in front of your house with a trailer full of equipment, plastic bags and 13 Guatemalans unless ICE gets there first.
Mark in Place – For Sale: A nice set of alligator boots. Alligators get wet, too.
ERCOT in Despair – This is a warning! Due to an unexpected heat wave in Texas that may push temperatures into the 80s through October, some if not all lines and gas and coal generators may be out of action. Solar, hydro and windmill-powered plants may keep in operation so long as there is water, wind and sun. But who can count on that? So there could be a rolling blackout in much of Texas. We suggest you: Buy ice. Turn off your a/c, fans and lights. Buy more ice. Move to Canada.
Dan P. in Austin – I want to object to all those rumors that I plan a coup and take over the governor's office. To those of you who still believe this silly rumor, meet me at midnight on Tuesday at the Capitol. Bring your January 6th gear.
Jack "The American!" Wingnut in South Side – What this neighborhood needs is more patriotics who put America first! To show your patriotism, put a 20-foot-tall Statue of Liberty in your front yard so that everyone can see it! If your homeowners association objects, I also sell tanks, F-16 fighters and grenade launchers.
Sleepless in Seattle – Need air conditioner now! It's 118 degrees here and Seattle never gets this hot. If only we had a power grid and leaders like Texas.
Team in Trouble – Can you throw a football? Maybe in college, even high school? Looking for a quarterback with no pending felony sexual assault charges.
Attention customers of Occasional Cable (former Disable Cable, but the FCC, those wussies, yanked our license after that unfortunate blackout during December and most of January): Many of you have complained that you are only getting the test pattern on your TV, and your WiFi, iPhones and iPads aren't working. If that is the case, simply turn on your computer and go to www.whiny.troublemaker.com.
Lonely in Mar-a-Lago – I need 20,000 votes in Florida and 12,000 patriotic vote counters in Arizona. Mexico will pay for it.
Wanted: A Caddillac converter. I need to convert my Cadillac.
Note to Good Fences customers: Some of you have noted that many of these messages are not specifically aimed at your neighborhood. Actually the messages cover most of southeast Texas and beyond. We are working on that.
Advertisement: How many times have you said to yourself, "My neighbor keeps playing loud music all night."? Well, we at Bend Me Your Ears, Inc. have just the solution. Call for an appointment.
Martha in Accounting: My husband, Coldcut, has disappeared. He is 6 foot 11, has dyed red hair and a tattoo on his left arm reading "Trixie." If you see Coldcut, tell him I've moved.
Attention customers of Occasional Cable: There has been a rash of complaints that, if your cable is down and you can't get online, how can you get online to complain that you can't get online? That's what we call a Catch-22. Some of you have suggested a really obscene act. Others have hired Vito the Enforcer while a majority have just changed cable service. We know who you are.
Going Crazy in Bellaire -- Need a babysitter to take care of your 4-year-old? Lucky you. My 5-year- old needs a summer job.
Gasping at Methodist – Needed: One mask. Hurry.
Unnamed in Channelview -- For sale. Four new tires, a leaf blower and a slightly damaged set of video cameras. Meet me at the Walmart parking lot on Sunday at 3 p.m. Alone. Remember, good neighbors make good fences.
Ashby is neighborly at ashby2@comcast.net