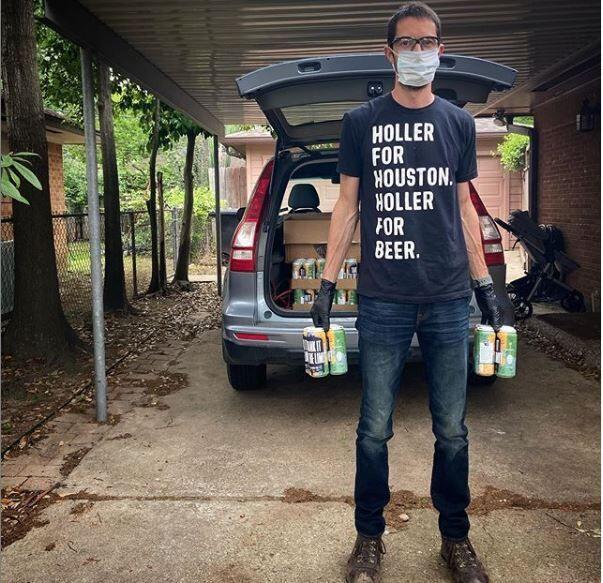 John Holler knows what he's doing is illegal, and he keeps doing it anyway.
Because if he weren't delivering beer to his loyal customers, he wouldn't be doing any business at all.
Holler, the founder and owner of Holler Brewing Co. at 2206 Edwards St., said his operation is mostly in "hibernation." The local craft brewery has stopped production and furloughed its dozen or so employees, and it's not opening its doors for to-go sales – which all breweries in Texas are allowed to do during the social distancing restrictions brought on by the COVID-19 pandemic.
The state's breweries are not allowed to deliver beer to customers, but that's what Holler has been doing. He said he's taking 50 orders per week and, while wearing a protective mask and gloves, making personal deliveries of canned beer on Fridays.
Holler said he knows all his deliver customers and knows they are of legal drinking age. If they appeared to be younger than 30, he said he would ask for identification.
"I'm not comfortable setting up a shop and having customers leave their houses and come and congregate, and I'm not comfortable sending employees in to run it," Holler said. "So the one way we can move product safely, to minimize contact and have as few people involved as possible, is this delivery. To us, it's just an extremely practical and at this point necessary thing for us to do.
"I wish it were completely above board and legal," he added. "But at this time, I have no choice but to do it anyway."
COVID-19 has been a buzzkill for the craft beer industry, much like it has for many other businesses. Houston and Harris County ordered the temporary closure of bars, restaurant dining rooms and taprooms on March 17 in an attempt to limit public gatherings and slow the spread of COVID-19, the upper-respiratory disease caused by the new coronavirus.
Representatives of four area breweries said their sales have significantly decreased during the last month. So they've been forced to adapt in an attempt to stay afloat – by reducing their staffs, operating hours and/or beer production, by making their products more accessible to customers or, in Holler's case, by bending the rules.
"I think right now, the key to staying alive is keeping it interesting and having a presence on social media," said co-owner Shayn Robinson of New Magnolia Brewing Co., which opened Nov. 22 at 1616 Bevis St. and had to postpone its grand opening event that was scheduled for April 4.
Although its sales have decreased by about half, according to Robinson, he said New Magnolia has actually gained customers during the last month because it's in a residential area with lots of foot traffic. The same advantage applies to some other local breweries, including Eureka Heights Brew Co. at 941 W. 18th St.
Eureka Heights has set up a drive-through operation in front of its taproom, and co-owner Casey Motes said it's also benefitted from distribution agreements with grocery stores and liquor stores, which for the most part are conducting business as usual. Eureka Heights also has been utilizing its lighthearted personality and creative names and can designs.
The Heights brewery released a new IPA this week called "What Day Is It?" in reference to the disorienting nature of the Houston area's stay-at-home order. Eureka Heights also has continued its Wednesday night trivia events by holding them virtually on Facebook Live.
"They can still do something fun for half an hour," Motes said of his customers. "They can get a break and almost pretend like they're out with some friends hanging out."
Because Eureka Heights fans cannot actually congregate in the taproom, Motes said the business has suffered financially. The closure of bars and dining rooms also has had an impact, because Motes said Eureka Heights distributed kegs to about 500 of them throughout the region.
The sales and events coordinator for Walking Stick Brewing Co., which opened in late 2018 at 956 Judiway St., said the business was hitting its stride and setting monthly records in sales before the pandemic brought that trend to a halt. Tiare Austin said the Garden Oaks brewpub is now limited to selling crowlers to go and is open only two hours per weekday with extended hours on weekends.
Food trucks still operate regularly on the Walking Stick patio, according to Austin, who said the brewery tries to strike a balance between keeping its customers satisfied and safe.
"It's a tricky situation," she said. "You want to promote social distancing and staying at home, but you still want people to buy your beer."
That's why Holler has opted to make weekly deliveries even though they are not permitted by law – at least not yet. Holler is the treasurer of the Texas Craft Brewers Guild, which is petitioning Texas Gov. Greg Abbott to temporarily loosen some of the regulations that apply to breweries, including their ability to deliver directly to customers either in person or through the mail.
The online petition, which as of Wednesday morning had more than 17,000 signatures, also asks the state to temporarily suspend excise tax payments and to issue excise tax credits for beer that goes unsold and must be disposed.
Holler said he realizes the state government has "competing priorities right now," but he's hopeful nonetheless. Last year, he and the brewers guild successfully lobbied Texas lawmakers to allow to-go sales for all beer producers in the state.
"There's no good reason why it should not be allowed," Holler said of beer delivery. "The case is very compelling, and I hope that we get some explicit guidelines telling us that this is OK."