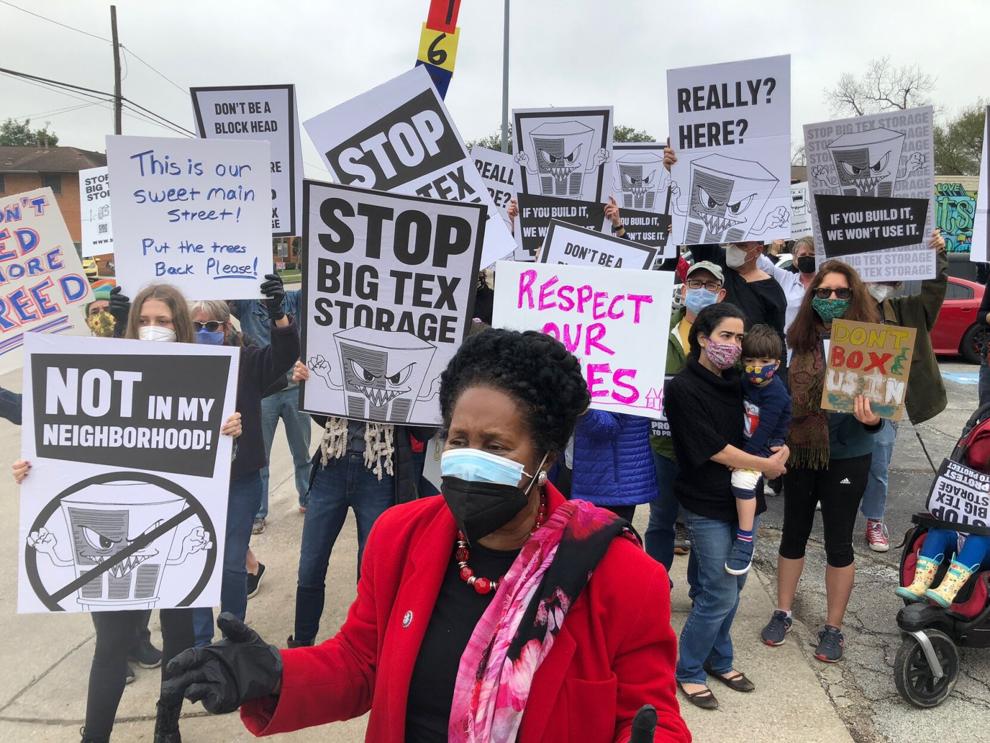 Heights residents picked up a heavy hitter last weekend in their ongoing fight against a seven-story storage facility planned for the neighborhood. But after the owner of Big Tex Storage reached a compromise of sorts with the Houston Heights Association (HHA), preventing the business from setting up shop on East 11th Street appears to be a long shot.
U.S. Rep. Sheila Jackson Lee, who represents the Heights as part of Texas' 18th Congressional District, joined about 50 protesters who gathered last Saturday near the under-construction property at 730 E. 11th St. They carried handmade signs, chanted and expressed their opposition to Big Tex Storage, which is in the process of building a self-storage facility at the former site of a historic theater and church that was demolished in December.
"I was glad to join Heights residents protesting to preserve the historic culture and architecture in the Heights neighborhood," Jackson Lee wrote on Twitter. "We will move forward with our fight against the development of an eyesore building on the main thoroughfare in the Heights that was forced upon local residents with no input and complete disregard for the Heights' history and culture."
Jackson Lee told her fellow protesters she would reach out to the developer and "see what could be worked out," but it's a local property matter that may be out of her hands as a federal lawmaker. Property owner Bobby Grover of Grover Ventures had met earlier in the week with the HHA, an organization that serves both residents and businesses in the neighborhood, and the HHA said in a statement Wednesday that Grover committed to tailoring the facility to make it more compatible with the character of the neighborhood.
But the HHA said Grover was unwilling to budge on his plan to make the storage facility seven stories in height. The HHA said it left the meeting with "varied levels of comfort" with other aspects of the project, such as Grover's plan to reduce the amount of metal siding compared to other Big Tex Storage facilities in Houston, to locate parking in the back of the facility, provide privacy for backdoor neighbors and leave the adjacent alley intact, to mitigate flooding risks, traffic volume and sound and light pollution, to address safety and crime concerns and to make the facility pedestrian and cyclist friendly. The HHA said Grover also expressed an interest in enlisting a local muralist to create artwork on the property.
"We let him know our preference is for him to build a shorter building that would be more in scale with our neighborhood, but unfortunately that is not possible due to the number of units required," the HHA said. "… While he is not making any concessions on the size of his building, we feel like we were able to establish a middle ground on certain aspects of the design."
Houston does not have zoning laws, and the property is outside of the Heights' city-designated historic districts, meaning developments there are not required to adhere to the design standards of a historic district.
Margaret Wallace Brown, the director of Houston's Planning & Development Department, said earlier this month that the property owner had followed all the city's rules for development and nearly completed the permitting process. She added, "There is nothing that will stop him unless he decides not to do this."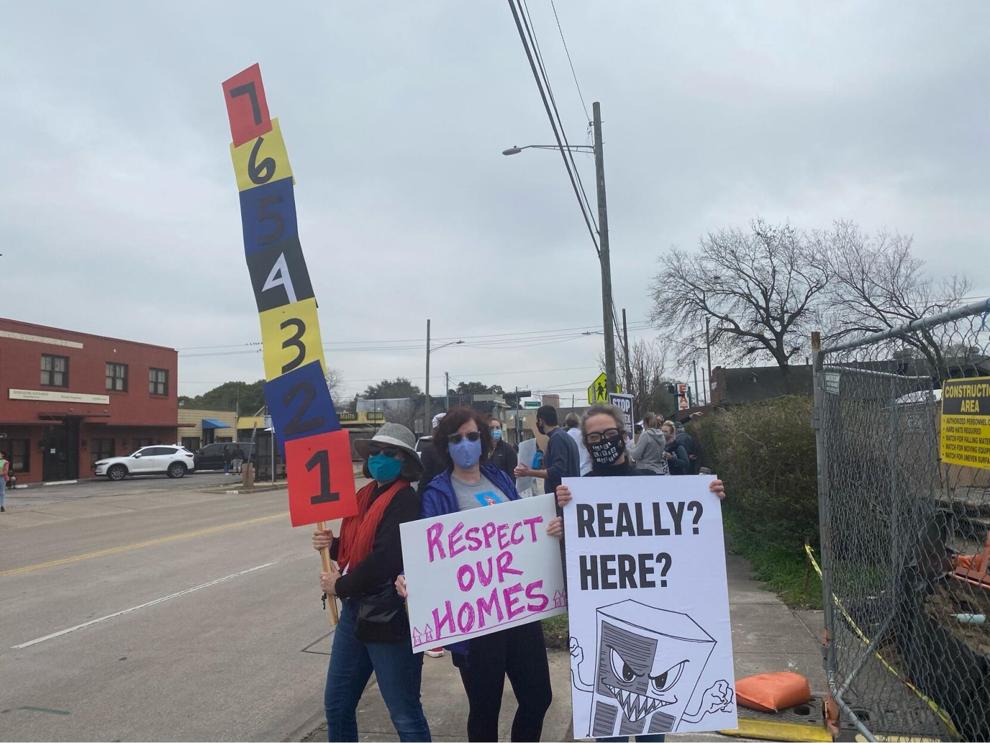 Grover indicated he intends to move forward with the development in a statement provided to The Leader on Tuesday. But opponents of the project – including the nearly 5,000 community members who have signed an online petition called "Stop Big Tex Storage" – have at least gotten his attention.
"I understand the concerns of those who showed up and signed the online petition and I remain committed to becoming a responsible and positive business for the Heights," Grover said.
Two of the petitioners, Heights residents Fred Lindner and Viula Torgerson, said they oppose the Big Tex Storage development because it is not compatible with the scale of surrounding buildings and does not fit with the pedestrian-friendly aesthetic of the neighborhood. The city plans to add bicycle lanes to that stretch of 11th Street while reducing the number of vehicular lanes from four to either three or two, depending on the intersection.
Grover said Big Tex Storage will comply with the city's transit-oriented development rules and a "good number" of its pedestrian-friendly guidelines. Still, Torgerson characterized the planned facility as a "giant, corrugated, windowless bunker."
Big Tex Storage has existing locations in Montrose, River Oaks and Garden Oaks, with the latter self-storage facility located at 3480 Ella Blvd.
"The petition should be seen by Bobby Grover as a de facto boycott of his business," Torgerson said. "That's 5,000 immediate stakeholders, people who live around that location that refuse to use his business. And he can't even hope to pull people from other parts of the community. If you look around, within a 5-minute drive, there's 16 other storage units available. He's not offering anything so special. You don't get a free cocktail and concierge services to move your stuff in."
Even if the Heights is stuck with a Big Tex Storage facility, the outcry of neighborhood residents could have a tangible effect. Jackson Lee said city leaders should consider adopting a compatibility or quality-of-life ordinance that would provide neighborhoods with increased protections from unwanted developments, adding that zoning "may be something we have to look at."
Torgerson said demonstrations such as last Saturday's could end up having a similar impact.
"One of the important things about this protest and this process, even if he builds what he's trying to build, other businessmen like him that don't live in this community, don't spend time in this community, don't care about this community, they know, 'If I try to do this in the Heights, they're going to give me a really hard time,' " she said.