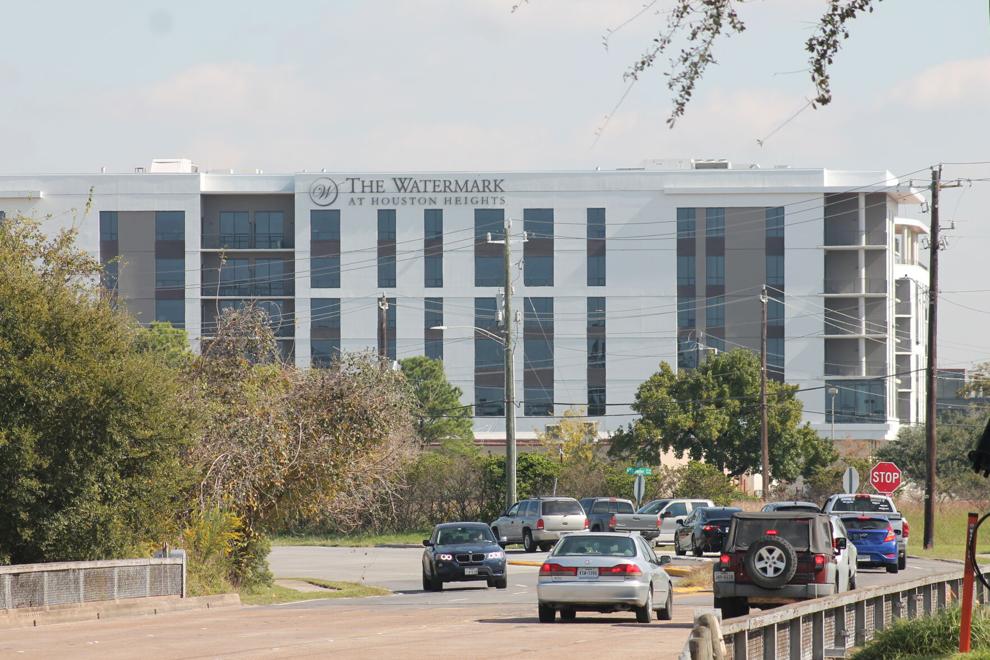 Carolyn Gowan grew up in the Heights and also raised her family in the area before she and her husband, Damon Gowan, relocated to Galveston to retire.
Now 84 years old and a widow, Carolyn Gowan said she's planning a return to the neighborhood so she can be closer to her children, grandchildren and great-grandchildren in the Houston area. She also wants to live in luxury, so she put down a deposit earlier this year for a seventh-story apartment with a downtown view at The Watermark at Houston Heights, a senior living community that's under construction at 1245 W. 18th St.
When the building opens next year and Gowan moves in, she'll have access to five on-site restaurants, a beauty salon and spa, heated outdoor swimming pool, exercise facilities, courtyard with a garden, art gallery, movie room and library, among other amenities.
"We joked about it because Mother has been on many Viking ocean cruises … and it seemed like it was going to be a Viking Cruise, just on land," said her daughter, Denise Gowan. "All the amenities really seemed upscale and very nice."
Carolyn Gowan is among the 55-and-older residents of Greater Houston who has signed up to live at The Watermark at Houston Heights, a seven-story, 220-unit community that's expected to open in the first quarter of 2022 in Shady Acres. The project is the first joint venture between Houston-based developer Hines and Watermark Communities, which is headquartered in Tucson, Arizona, and offers independent living, assisted living and memory care for seniors.
Meg Meliet, the director of senior living and healthcare for Hines, described the property as more of a luxury resort than a retirement community. Along with health and wellness services and the aforementioned amenities, the community will offer a full bar, yoga and Pilates studios, a virtual reality lounge, golf simulator, putting green and top-floor terrace deck that faces Downtown Houston to the south.
Residents will have the option to age in place, meaning they can shift from independent living to assisted living while staying in the same unit. The memory care wing and most of the amenities will be located on the second floor, with parking underneath the building on the ground level.
To get to the front entrance on the second level, there are two driveway ramps from 18th Street that Meliet said provide a "grand sense of arrival."
"We're really building this for the next generation of seniors, so we did not build this like a traditional senior living community," Meliet said. "We want it to feel like a high-end resort, a luxury multifamily project, and hopefully you feel that when you walk through."
Meliet and two representatives for Watermark – executive director Raymond Baylor II and sales director John Parker – declined to divulge the cost of the project or say how many of the units have been reserved at this point. A sales center for the property opened in the late spring at 1527 W. 18th St., and appointments can be made by calling 281-817-0097.
Parker said the monthly rental rate for apartments at The Watermark at Houston Heights ranges from $2,695 for a studio space to $7,545 for a 1,500-square foot unit. There also is a one-time membership fee, the amount of which was not disclosed in promotional materials provided to The Leader.
The 1.9-acre property is valued at more than $28 million, according to the Harris County Appraisal District.
Parker said meals are included in the monthly cost, much like on a cruise, and $500 from each monthly payment is reserved for a flexible-spending account that can be used on amenities and services, such as Watermark University, a program in which residents can learn skills like computer literacy and knitting.
"It's all about choices," Parker said.
Carolyn Gowan as well as Jimmy and Mary Davenport, an elderly couple who plans to move to The Watermark at Houston Heights from a high-rise apartment near the intersection of Kirby Drive and Westheimer Road, said the property offers good value for its price and is comparable to other senior living communities they have considered. They also said they are looking forward to taking advantage of not only the amenities on the property, but also the surrounding area.
There are several restaurants and bars within walking distance of The Watermark at Houston Heights, along with shopping opportunities a short drive away.
"The Heights is growing. You can drive around and see construction everywhere," Jimmy Davenport said. "It's very active and a fun area to go and visit."
Gina Magana, a resident of the nearby Clark Pines neighborhood, said it seems odd to have a senior living community in an immediate area otherwise known for its nightlife. There are multiple bars within a few blocks of The Watermark at Houston Heights, some of which have live music on the weekends.
"I just think it's weird that it's an elderly residence there," she said. "It doesn't seem to be a good fit."
Gowan and the Davenports said they are not concerned about nearby noise and traffic. Meliet said the property was targeted because it's in a gentrifying area with a mix of aging residents who want to stay in the Heights area along with young professionals and families whose parents want to be close to them.
Baylor said The Watermark at Houston Heights has been met with positive feedback from the community, in part because it's "something they've never seen before" in terms of aesthetics and amenities. He also said Watermark allows residents to build their own unique culture at its properties, allowing them to be as formal or casual as they'd like.
Meliet said she expects the senior living community to be a leading part of the transformation of the immediate area during the next few years.
"This community is being developed because of the partnership between Hines and Watermark and has not used any of the data that you (typically) use when we develop these communities," Baylor said. "The data gets you what's already available. … They chose the idea of utilizing theory. The theory is saying, 'What can we do that no one else has done?' You work off of theory, and that's where you get innovation."